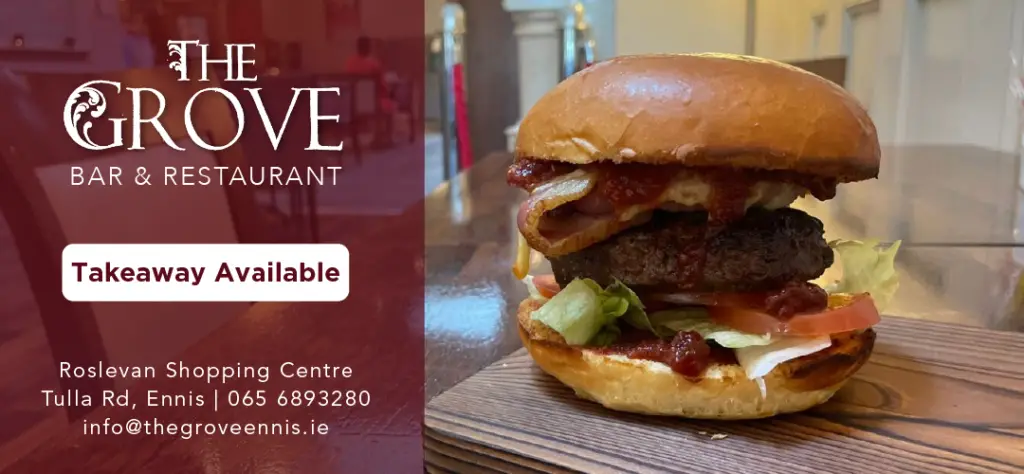 *Cllr Gerry Flynn. Photograph: Eamon Ward
An additional candidate running in Shannon Town plus a public backlash from giving his 'honest opinion' on The Venue project has Cllr Gerry Flynn braced for a battle in the local elections.
On Friday, the people of Clare will head to the polls to elect 28 county councillors to be their voice and representatives. Gerry Flynn has held such a role since 2004 but he's expecting a tough outing this time round.
It follows an eventful few months for the Independent candidate who received overwhelming support from his colleagues on the Social Development Strategic Policy Committee (SPC) when Dermot Hayes publicly sought a no confidence vote in him. "I've been fifteen years in the housing brief, in 2014 I was appointed Chairman of the Social Development SPC which includes housing and a lot of people ran away from the crisis around the housing, I didn't I stayed in there. When I took over as Chair in 2014 there was over 3,000 people who needed a roof over their house and now I can safely say that figure is a net figure of just over 1,000.
"I feel my stewardship has delivered and it has created a situation where people have roofs over their heads and I work very closely with my colleagues in Clare County Council and with the officials and members of the policy commitee to make sure we were on top of it. During that period it's worth saying I've had three different housing Ministers, Alan Kelly, Simon Coveney and Eoghan Murphy, the continuity from the Government is where the problem was, I had the courage to stay with what was a poisoned chalice but I stuck with it and that's the kind of character I am, I don't run away from difficult issues".
Similarly Flynn was painted as the villain at a meeting discussing the future of The Venue project in Shannon as members of the crowd booed him following his input. "I only know one brand of politics and public representation and that is the truth. It would have been very easy for me as Cathaoirleach of the Shannon Municipal District to stand in front of the crowd and tell them what they wanted to hear, instead of that I told them the truth and I would prefer win the election telling the truth than be in a situation where I'm telling a lie and get elected. If you haven't integrity and honesty in public life, you have nothing. I've been in difficult situations before, I've been at public meetings before and you're not going to please all of the people all of the time, that's not my job, my job is to give the people fair and honest representation".
A town council representative from 1999 to 2014, Gerry was first elected as a Fine Gael candidate but left the party in 2004. He explained the reasons for his departure to The Clare Echo, "In 2004 I was surplus to requirements for Fine Gael as they saw I was a threat to their sitting councillors. For me I loved the politics and representing people and I felt the only way forward was to be a county councillor, I had no option but to go Independent, like that I never put up a poster, I always felt my work and the work I had been putting in would stand to me and it always had so I've been lucky enough".
As the current Cathaoirleach of the Shannon Municipal District coupled with his SPC commitments, Flynn revealed that he has been restricted with the amount of the MD that he has been able to cover. "There is no way I will be able to canvass all of the District in a proper fashion. I am at a bit of a disadvantage from that point of view but I do trust in the people and the people in the immediate Shannon area who have seen the effort I have put in and the results on the ground. I trust the people to make the right decision and I hope that decision is to re-elect me but who knows, it's an unknown time for me and all I can do is put my best foot forward and I'm hopeful more than confident. There have been a number of people who haven't seen the benefit of what I'm trying to do".
Since 2004, Gerry has been Chairman of Standing Orders, the non-paying role is important to ensure accountability, he maintained. "I did bring the fight to the officials in barring the public and media from meetings, it's been a big thing with me, we are accountable to the public these are public meetings so the fourth estate as we call the media, they have a right to be at these meetings and report in a fair and balanced way, in general we're very lucky in Co Clare that we have a very good press. How can you have a good press if you deny them access, there has been a lot of issues around that, my role which is a non paying one is functional, I have a good handle on it and without it you would have anarchy on it".
Five outgoing councillors have announced their retirement from local politics including two Independents, James Breen and Christy Curtin. Cllr Flynn said it's important the Clare public ensure Independent voices are returned to the local authority later this month. "An Independent county councillor in my opinion has to work at least 30 to 40 percent more than somebody connected to a party. The party is supported by the taxpayer, the Independent isn't. Within a party structure, you have the whole spin doctor affect which kicks in especially towards election time, at election time it seems that these people who may not have been be putting their shoulder to the wheel for the last five years suddenly will put legs under chickens to get a vote and I think that is not good, my view of Clare County Council and I think I'm experienced enough to express that view is that Independents do work very hard because if they don't they will very quickly become irrelevant, the spin doctor machine and resources that parties have means they can easily cast aside Independents and that's why I would urge voters in Co Clare to vote for Independents because I do think it is the way to go and we've seen how effective it has been and is in Government as we speak".
Fine Gael's decision to run Shannon's Garret McPhillips will affect the voting base of Flynn and Cllr Mike McKee. Cllr Flynn is of the view the backing of Tony Mulcahy to McPhillips will be significant. "Garret is being supported by former Senator and Cllr Tony Mulcahy that will have a huge impact in relation to how Shannon sees Garret. They will see Garret as a very credible candidate and the support from Mulcahy will have a savage impact in how Garret performs. I'm expecting a very tough battle, I don't believe there are three seats which used to be the case many years ago in Shannon, we would normally get three seats, I think two seats, whoever is returned I think there is a possibility to elect two candidates to Clare County Council and I'm only looking at the figures and the boundary change. I certainly would be concerned and I know I would have a battle on my hands, I'll leave it in the hands of the people and hopefully I'll get some votes in my direction".
In 2016, the Miltown Malbay native considered contesting the General Election but opted against doing so, he revealed that finances would deter him from running for the Dáil. "If somebody or a group of people came to me and they said 'look Gerry we certainly would back you and we would be in a position to raise revenue' I certainly would love to have the chance to represent Clare at national level. As a full time Independent with no other income only from the Council it would be very difficult for me to go forth and borrow an enormous amount of money to compete with the political parties. I've always looked at the big picture and also I'm not going to put my family's future at risk on an ego trip as people might see it. I feel I have served an apprenticeship at County Council level, I'm actually the best attendee in Clare County Council, I've attended the most meetings and I'm on top of the pile when it comes to putting in motions. I've a 100 percent record and people can check that. I don't travel around the country drawing expenses, I haven't drawn expenses in a number of years so I think I am good value for money".
Five years ago, Gerry declared his desire to continue in the housing brief but if elected this time round, the sixty five year old would be tempted to put on the mayoral chains. "This time round I cannot actually say what way the lie of the land will be until the election is over because I can't say that I'll be returned, every time there is a County Council election you're looking at approximately 23 percent turnover between people deciding not to run and people that are defeated. When the election is over if I am elected I would hope that there is a sufficient amount of Independents to form a group and from the point of view of seniority I would be the next person in that group to be considered to be Mayor of Clare".