*Musicians gather at the Yellow Submarine in Corofin on Sunday afternoons.
On a recent Sunday afternoon at The Yellow Submarine restaurant in Corofin, more than a dozen musicians gathered. Tunes began as they sometimes do at such a session, a fiddle player picking up the first bars of a tune, some players joining in immediately, still others holding back for a bit, listening, listening until they felt they, too, were ready.
By Deborah McDermott
The previous night, Dysert flute player Mick Nestor and his friends could be found at Bofey Quinn's, where they had played so many Saturday nights before COVID 19 silenced the music. Now they are back. Others, too, joined in that night, performing jigs and tunes all evening long, encouraging members of the audience to sing a song they might know.
Welcome to the weekend in Corofin.
"I'm hugely glad there's music again," said owner Niall Cleary of Bofey Quinns. "When you open the door and you hear traditional music, there's a feeling of being alive. The music is going, the fire's going, and everything's right with the world".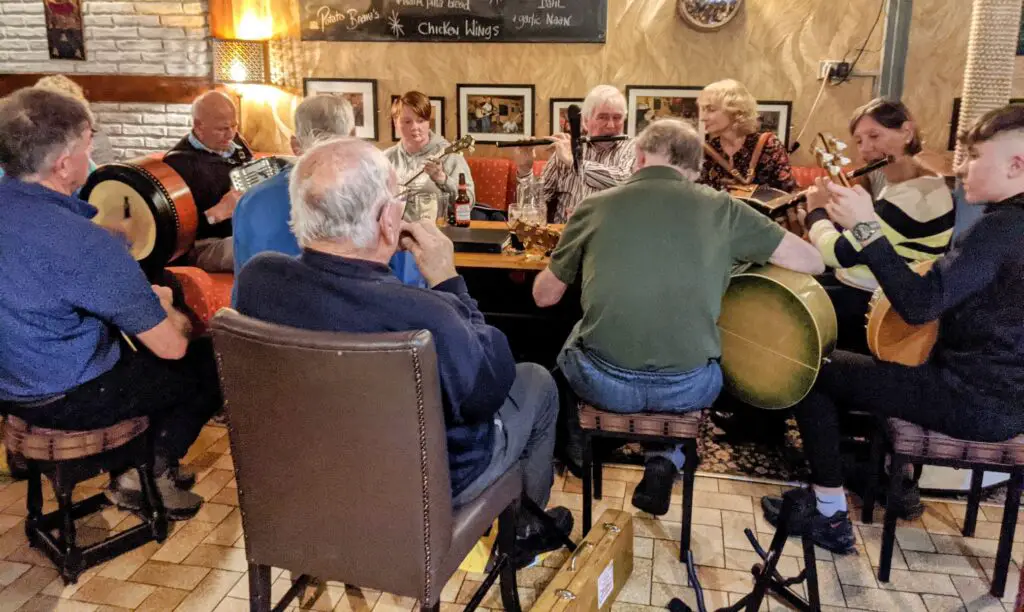 Everything is right with the world, indeed, said a number of those who come to play. For them, being able to gather again after 18 months has been a balm in more ways than one. Not only are they doing what they love, they are also able to finally again socialize with other musicians. And this is no small part of the joy.
"There's an important social aspect to playing, checking in with people. 'How are you getting on?' said Vincent Fogarty of Corofin, who plays the bouzouki ("so there's a little bit of Greece in Ireland!"). "That 18 months had a negative effect on musicians and on music. I am lucky. I have a family. But those living on their own must have had a hard time."
An accomplished fiddle player who first picked up her instrument at 9 years old, Laura Ugur has been organizing the Sunday afternoon gatherings at the Yellow Submarine since music began outdoors last summer. She said she was delighted to be among her musician friends again.
"Music is my lifestyle and it's my social outlet as well. The lockdown had left empty spaces. A lot of people felt that," she said. "It was surreal at first to get together. We weren't sure how to talk with each other. We didn't recall the tunes quickly. But after the first few weeks, things settled in again."
"COVID was tough. There was nowhere to come out to," said Nestor, a North Clare native who grew up at a time when neighbors gathered at someone's home for house dances and "soirees," when socializing and music were intimate parts of daily life. "Suddenly, your freedom was taken away. It wasn't possible to meet people. It's a social thing for us. We do it for the camaraderie. But I do feel sorry for those who do this for a living."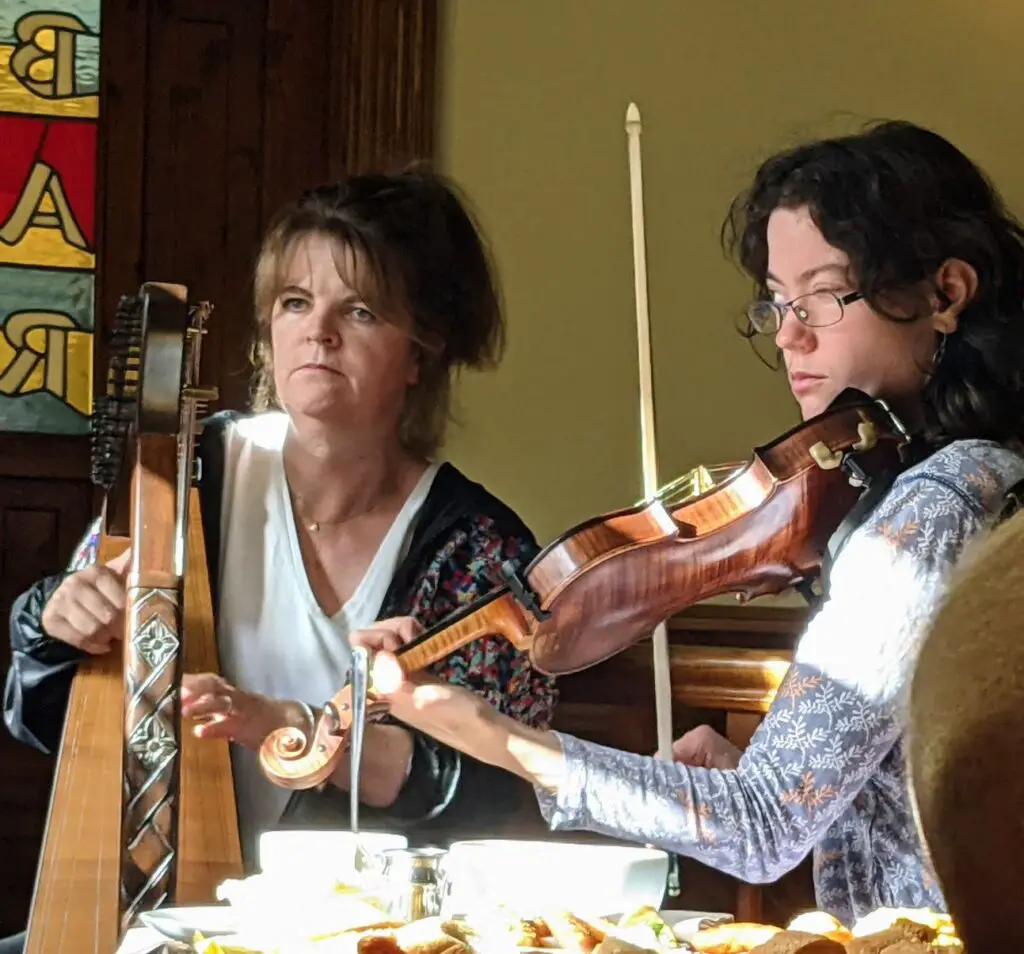 As Ugur intimated, gathering again meant not only getting into the social groove. It also meant reintroducing in a group setting the jigs and reels that make up Irish music – in other words, getting into the musical groove as well.
Thibaut Caron, who owns the Yellow Submarine, has been playing the bodhran since 2000 and frequently attends the Sunday afternoon sessions.
"It's essential for me to have music, but during the lockdown musicians had to stop playing out," he said. "For some of us, it took a few sessions to get it right. I experienced memory rushes. Someone plays a tune. It's a tune that's played a lot. So it comes back, and the memories connected with it."
"The first lockdown was great," said Fogarty. "You could learn some new tunes and practice. But then there was another lockdown and another.
"Everyone's lamenting that after 20 years of playing music, 18 months can destroy your ability to play," he said with a laugh.
Ugur said she herself probably knows 100s of tunes, but it's that feeling of sitting down with her peers and plucking a tune while others join in that is most satisfying to her.
"There's a lot of joy, really," she said. "And I think things are going to pick up a little more again."
***
Bofey Quinns: Saturday night, 8:30-10:30 p.m., traditional music session; Friday night, 8:30-10:30 p.m., Irish band with vocalist
Yellow Submarine: Sunday afternoon, 1-3 p.m., traditional music session; Thursday afternoon, 2-4 p.m., beginner session focusing on tin whistle and guitar. Open to anyone.