Shannon's long-term security from flood risk is to be aided following the granting of multi-million euro funding.
An upgrade of the Shannon estuary flood defences, and the construction of new defences for Shannon town will ensure the protection of homes, businesses and the airport from one in 200 year tidal flood events. The process of procuring consultants to progress the design has already begun
Minister of State at the Office of Public Works and Flood Relief, Kevin 'Boxer' Moran was in Co Clare and during this visit, Minister of State Minister of State for Trade, Employment, Business, EU Digital Single Market and Data Protection, Pat Breen praised the joint work of all the groups involved in securing the funding. "Shannon town and the airport have some protection from coastal flooding from embankments owned by both the airport and the OPW. However these embankments are not constructed to modern engineering standards.
"It is therefore essential that these embankments are upgraded and strengthened in order to provide protection to both Shannon town and one of the county's most important infrastructures – Shannon Airport. The agreement between Shannon Airport Authority, the OPW and Clare County Council to bring forward the work for the airport and the town as one joint project is both practical and economical, and I believe the best solution available".
A previous report conducted by Clare County Council, the OPW and Shannon Group highlighted that unless €14.6m was invested in the embankments, a staggering €693m worth of damage could result.
Meanwhile, a new tender for the Ennis South Flood Relief Scheme has been finalised with construction to commence in spring 2019. This scheme will provide protection for 74 residential and 10 non-residential properties.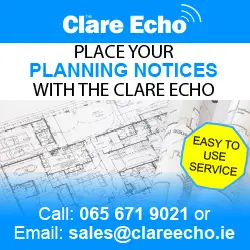 Breen added, "The Springfield Clonlara flood defence works are also progressing, perhaps not as quickly as I would like, but it is expected that following a further environmental assessments and review, an updated planning application is expected for this project in early 2019. The original planning application for two earthen embankments, two new sluices, a pump station and associated works was withdrawn in October as further assessment of environmental matters were required. If there are no further delays and the project progresses through planning in a timely manner, this project should go to tender in late 2019 with construction beginning in 2020."