Mullagh native, Sean McMahon has been appointed as the Teaching Council's new Chairperson.
Deputy President of the Irish Teaching Council since 2016, Sean was elected as Chairperson at a meeting on Monday and now swaps roles with outgoing Chair, Noelle Moran.
High-profile roles are not new to the Clareman, he served as President of the INTO from January 2014 to August 2015. He previously chaired the Teaching Council's Investigating Committee in relation to Fitness to Teach during his time as Deputy President.
A past pupil of Coore NS and CBS Ennistymon, Sean studied at Mary Immaculate College later graduating as a primary school teacher in 1979. For the past six years, he has been on the college's Board of Governors and also sits on Governing Authority of the Limerick Institute of Technology.
Married to Geraldine with five children, his teaching career began at Rathdowney Boys NS in Laois followed by an eleven year stint at Annagh NS. In 1990, McMahon was appointed teaching principal of Mullagh NS. He completed a Master's degree in Rural and Community Development from University College Galway in 1989. Implications for rural communities of school amalgamations was the focus of his thesis.
McMahon said it was an honour to become Chair of the Teaching Council. He takes on the post during a challenging time for education as schools begin preparing to reopen with COVID-19 proving to be a tense period for relations between the Department of Education and principals.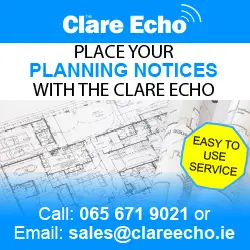 "In Ireland, we have a proud and powerful record in education which, as a nation, we have always treasured and nurtured. Building on that proud tradition, teachers almost instinctively know that we must embrace the innovations of technology, old and new, to ensure that all learners receive an education that stretches all and breaks none. Never has this been more obvious than in the current climate where the teaching profession is continuing to rise to the challenges of these unprecedented times to connect with pupils across a wide variety of innovative digital platforms," Sean stated.
"In this vein, I wish to see the Council enhance its promotion of the profession in tandem with its regulation. I believe that facilitating vibrant conversations between stakeholders will be key to the success of this objective".
Doora school teacher, Mary Curley and Anne Howard of Shannon have also been appointed to the Teaching Council.