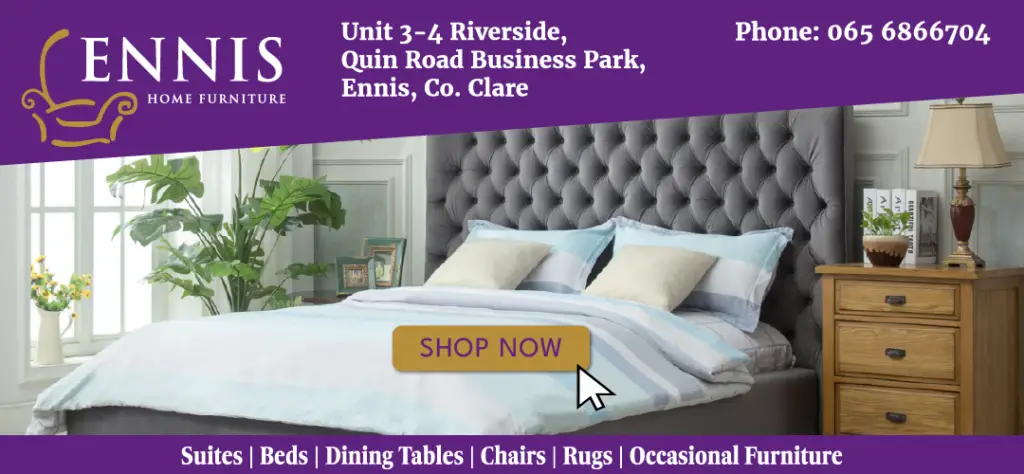 *Bunratty Castle Hotel is among the hotels in Clare where Ukraine refugees are residing. 
MOVEMENT to use accommodation other than hotels to house refugees has been done too slow in Ireland, a Government TD has said.
Clare TD, Joe Carey (FG) has said the country has a legal obligation both in Irish and European Law to continue to assist Ukrainians fleeing the war but felt a better approach is needed in how they are accommodated.
He stated, "I think it's the right thing to do notwithstanding the challenges that are there in terms of accommodation. I believe we've moved too slow in terms of the provision of medium-term accommodation as opposed to a hotel situation, I look forward to more permanent opportunities being rolled out in the time ahead".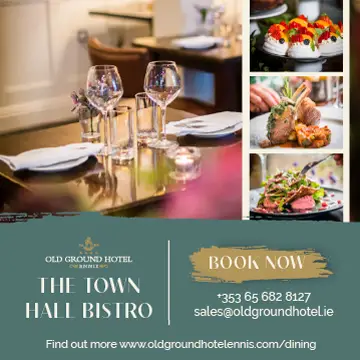 Speaking to The Clare Echo at Treacy's West County Hotel where several Ukrainian refugees are residing, Deputy Carey acknowledged that the potential of hotels not renewing their accommodation contract due to late payments from the State and the oncoming tourist season may result in mass homelessness among refugees posing "a massive challenge" but maintained "the State have responded really well up until this point".
Deputy Carey commented, "You do have to look at the accommodation situation, there is a challenge, Government have responded and will have to redouble their efforts to ensure accommodation remains available, I know some accommodation providers like hotels are wondering if they will extend their lease or not but that is up to the individual owners of the hotels, up to now those contracts have worked out, I'm sure the Department of Integration is trying to square those off.
"No one would have foreseen that this war would have gone on this long or even it breaking out itself, the Russian position has got more entrenched and there is a prediction of another wave when the winter quells, it is a massive challenge right across Europe and we're no different, I think the Government have responded really well to this point, we need to reflect on where we are and make sure we make accommodation available into the future".
Lisdoonvarna based Cllr Joe Garrihy (FG) has previously labelled it the biggest humanitarian crisis of our lifetime, the North Clare town's population has doubled as it has welcomed among the biggest cohorts of Ukrainians in Ireland.
Not enough resources have been provided by Government to areas like Lisdoonvarna and Ballyvaughan where large numbers of displaced Ukrainians have arrived, Carey acknowledged. He pointed to a €50m national fund split among communities to allow for "a whole range of improvements" in dealing with this population growth. "I want to compliment them and Joe Garrihy in particular for his leadership in this and for rolling up his sleeves and bringing the community of Lisdoonvarna and North Clare with him, they do amazing work with Lisdoonvarna Fáilte. Government have thankfully recognised that, they've drafted a scheme and allocated €50m, there is a significant amount of money coming to Clare in that, it's not a silver bullet either, those schemes need to be flexible enough to respond to the various pinch points that arrive in the provision of services and activities for people among the Ukrainian population".
Despite an altering rhetoric online, Deputy Carey insisted it was important for the people of Clare and beyond to continue to give a warm welcome to refugees. "There are heightened tensions particularly online, the overriding feeling I've received from people especially those who work or are engaged with the Ukrainian population and people fleeing from war torn countries is a positive one, that needs to be recognised. A good friend of mine is fostering two Ukrainian teenagers at the moment, it is a really positive experience and it is good for those young boys and the family to provide shelter at this really challenging time. It's a humanitarian crisis, we've a moral obligation to respond to that, I think we are. Challenges do arise as a result but I think we as a country have a moral obligation as well as a legal one".
When pressed on what areas in Clare had additional capacity, Carey replied, "It's not really for me to say, you have a whole Department dealing with this night and day in conjunction with Clare County Council and different stakeholders, it is their job to identify accommodation and opportunities, they are doing that, it is a real challenge but they have a job of work at hand and they are getting on with and doing that".