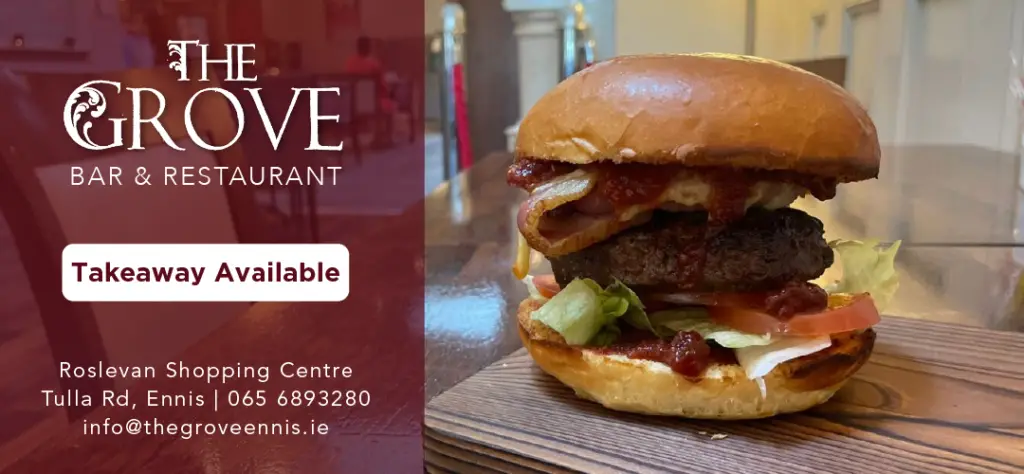 Shannon hosted their annual Masters competition on Saturday last, sponsored by AON Insurances.
Patrick J Moroney (9) emerged as the winner on a score of 131. Broadford native Moroney is a former Broadford and Clare hurler and he has represented Shannon Golf club in a variety of competitions over the years.
He won the Masters title from Derry O'Neill (24) on 133. In third spot with 135 was David Richardson (10) followed by Jamie Hodge (6) on 137. Colm Hanley (3) won the gross on 147. Kevin Meehan (11) won the front 8 with 66 while the back 18 was won by Michael Corry Junior (6) on 67
The golfer of the year award has been won by Moroney on a score of 408. He becomes only the third member to win both the Masters Trophy and golfer of the year in the same year. The ladies Masters was also held on the same day and incoming vice captain Suzanne McMahon became golfer of the year with Joan Hoctor winning her first Masters title.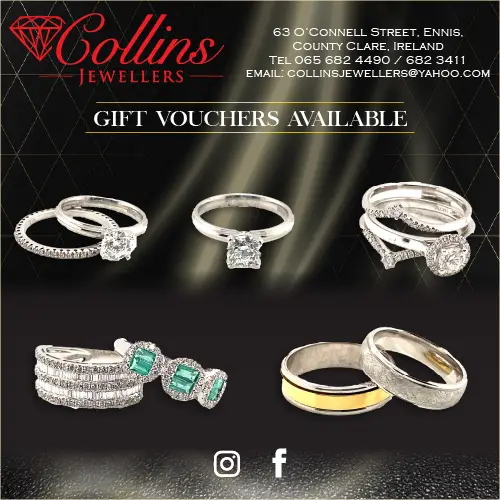 In the green tee singles last week, Conor Flynn (13) was the winner with 38 points while the Wednesday open singles was won by Kieran Boland (13) with 39 points.
Kilrush Golf Club:
Last week's men's competition at Kilrush, sponsored by ESB Moneypoint, was won by Patrick O'Dea (19) with 41 points from Dominic Enright (14) with 40, Martin P. Brennan (25) with 40 and Darragh Bolton (19), also with 40 points.
The ladies competition sponsored by Martin Ward was won by Miriam Saunders (29) with 42 point from Joan O'Malley (21) with 38 points. The category winners were Anne Brennan (11) with 35 points Ursula Lineen (26) with 36 points and Edel Crowley (30) with 32 point. The 12 hole winner was Hanora O'Dea-Kilkenny with 30 points.
Woodstock Golf Club:
Last week's open singles at Woodstock was won by Mike Cronin (19) with 48 points. Cian Moloney (10) was second with 41 with third spot filled by Brian Gilligan (3) with 40 points. Tony Cleary (scratch) won the gross with 38 points
The winner of the ESB sponsored club championship was Stephen Clancy (21) with 64 nett from Brendan Hennessy (17) with 65 with third spot filled by John T. O'Connor (10) with 69.
Mike Reen (6) won the gross with 73 while the category winners were John McGrath (10) with 70, Damien O'Halloran (17) with 69 and Joaseph Kennedy (24) with 69.
President Ollie McNamara's will be played for on this Friday, Saturday and Sunday, September 16, 17 and 18.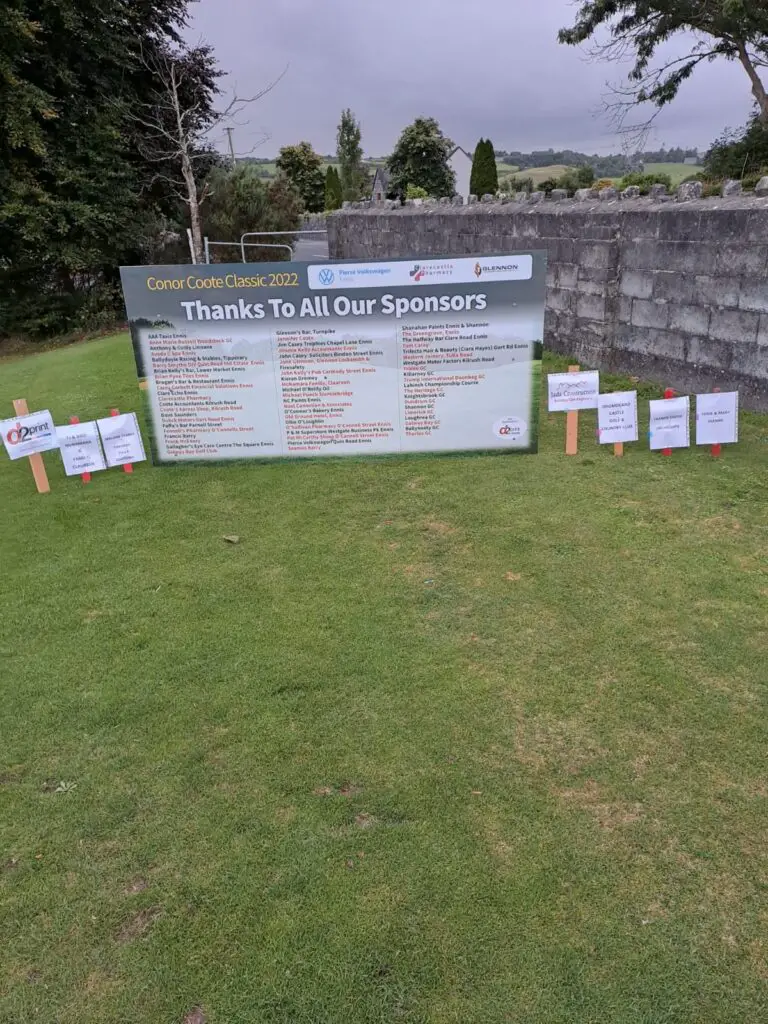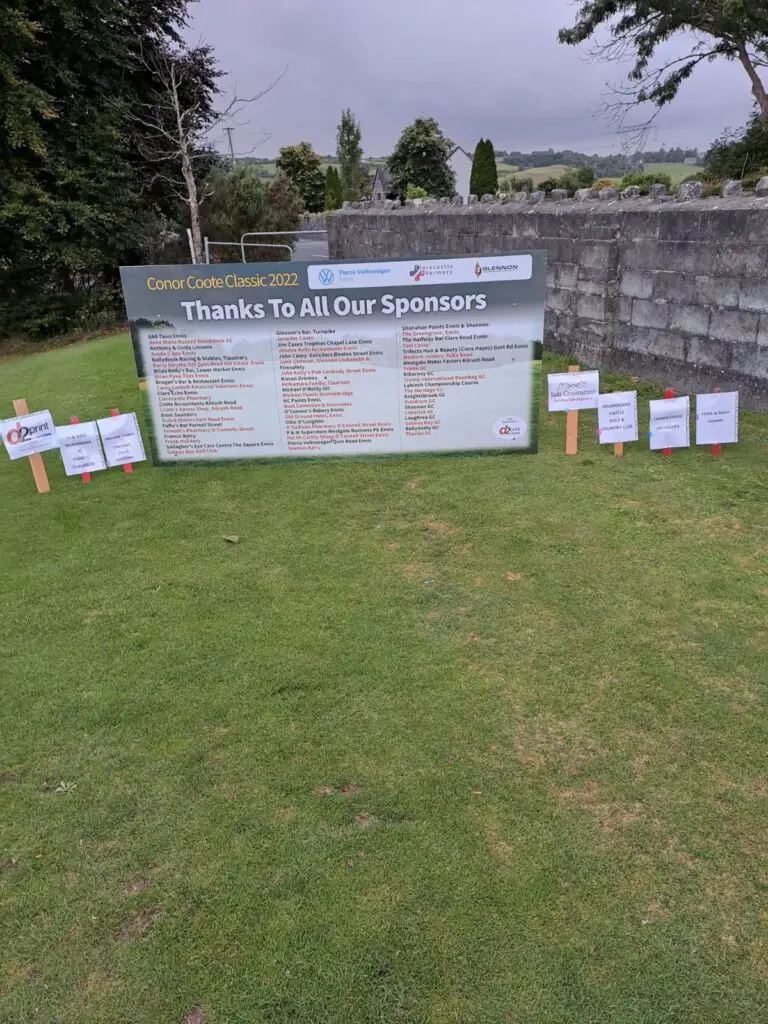 The Conor Coote Foundation golf classic attracted a big entry last week. Martin White's team emerged victorious from Mike Kelly's team. Jimmie Kelly's team finished third followed by Pat Curtis with Jimmy Phelan's team from Thurles in fifth spot.
In the ladies section Ann White's team captured the honours followed by Geeraldine O'Rourke's team with Helen Gallery's team in third spot and Marianne McGough's team in fourth place.
Brian Collins won the long drive while nearest the pin in the men's section was John Cullinan.
The ladies long drive was won by Rita O'Brien. At the presentation of prizes thanks was extended to "all the businesses from the town that supported the event, and to all who travelled far and wide to contribute to the event which was a huge success". The family was "overwhelmed by the turnout and support".
East Clare Golf Club:
East Clare ladies golfer of the Year is Loretto O Donnell. Marie Donnellan has qualified for the National finals of the bronze medal competition having played in the Area final in Thurles last week.
Last week's men's open competition at East Clare was won by Brian Muldoon (16) with 38 points from Cian McInerney (14) with 37 points and Colm Kelly (18) who had 36 points.
In the senior mens competition last week the winners were Michael Heffernan, John Brett and Kevin Wallis from Steve Symes, Noel Earley and Terry Coughlan with third place filled by Brendan Moloney, Chris Davis and Michael Hayes.
From this Thursday September 15 to Sunday September 18 inclusive there will be an open team of 3 full scramble at the club, open to mens, ladies and mixed teams.
From Monday next, September 19 to Sunday September 25 there will be an open singles stableford competition for men and ladies
Ennis Golf Club:
Last week's ladies competition at Ennis was won by Una O'Reilly (33) with 75 while the gross was won by Mary Lenihan (18) with 94. The leading qualifier was Monica Finnerty with 90.
Wednesday's open day, sponsored by Holly's Haven Pharmacy was won by
Nuala Healy (22) and Kitty Morris (13) with 44 points. They had two to spare over
Della Burns (17) and Monica Finnerty (20). In third spot with 41 points were Yvonne (16) and Kate Keohane (17) followed by Anna Marie Darmody (27) and Mary Lenihan (16), also with 41 points.
Pat Leacy (19) won the 9 hole stableford competition with 21 points from Theresa Lillis (24) who had 18 points.
The Masters final, a golfer of the year event, took place at Ennis last week when Tommy Stack (19) emerged as the winner with 39 points from Tim Scanlan (23) with 38 points. Andrew McGloin (9) was third with 35 points followed by David Considine (13) with a similar score.
In the final golfer of the year standings, Martin O'Neill is top with 169 points followed by Noel Whelan with 165 and Ian Myatt with 15.
Last week's men's non qualifier competition was won by Philip Chawke (26) with 38 points followed by Seamus McEnery (6) with 35 points and Leo Herbert (13) with 34 points.
In the Friday open singles the winner was Mary Lenihan (20) with 42 points from Stephen McNamara (19), Woodstock with 40 points with third spot filled by David Pedro (29) with 37 points.
The Tuesday fourball was won by Pat Murphy and Ronnie Guinnane with 35 points from J. J. Clunihan and Rodger McMahon with 33. They were followed in third place by Brian Considine and Pat G. McInerney with 33 with Neil Cremin and Dave Boylan in fourth spot with 32 points.
Philip Brigdale and Pat Garry represented Ennis in the Munster final of the Holmpatrick cup in Adare Manor golf club recently and they qualified for the All Ireland Final, to be played on Friday September 23 in Athlone Golf Club.
Last week's men's fourball competition off the yellow tees was won by Gerry O'Connor (20) and P.J Hehir (29) with 45 points from Michael Irwin (24) and Michael Byrt (15) with 44.
James Casey (14) was the winner of Friday's open singles with 43 points from Paul White (27) who returned a similar score. William Donnellan (24) was third with 41 points while Sean Myatt (2) won the gross with 33 points.
Flan Downes and Gerry O'Connor  won the Tuesday fourball with 33 points from Johnny Kearse and James Counihan with 33 points.
The matchplay finals will take place on this Sunday, September 18, commencing at 12 noon.
Presentation of prizes for the Bell trophy, Paddy Con trophy, Masters final, golfer of the year and the matchplay finals for the Knox and Koley cups and the Cyril Walshe trophy will take place in the clubhouse this Sunday, September 18 at 8p.m
Dromoland Golf Club:
The weekend competition at Dromoland was a men's singles stableford event which was won by Derek Ryan with 43 points from Shane O'Brien who had a similar score. Shane Mowat was third with 40 points while the gross as won by Mark Reynolds with 37. Shane Ryan won the 22 and over category with 37 points.
Gort Golf Club:
The men's competition at Gort at the weekend was an 18 hole stableford event which was won by Brian Monaghan (19) with 44 points with the gross won by Paul Brennan (3) with 31 points.
In a similar competition for the ladies, Pietra O'Connor (20) won category 1 with 46 points. Category 2 was won by Patricia Callinan (33) with 37 points while category 3 was won by Patricia Lyons (42) with 33 points.
Sixmilebridge
Newcastlewest is the venue for an outing for the Sixmilebridge golf society on this Saturday, September 17 when the tee is reserved from 10am and members must book their time in advance.
Huge turnout for Shannon Chamber classic:
From a field of almost two-hundred golfers that graced the fairways of Shannon Golf Club for the annual Shannon Chamber Golf Classic, the team representing Career Decisions emerged victorious.
The team, comprising Paudie Fitzmaurice (Lahinch GC), Kevin O'Hara and William Hanley (Ballykisteen GC) and Tim Crowe (Dromoland GC) brought in a score of 103 points, with runners-up DHL, 100 points, closely followed in third place by Honan Financial Services on 99 points.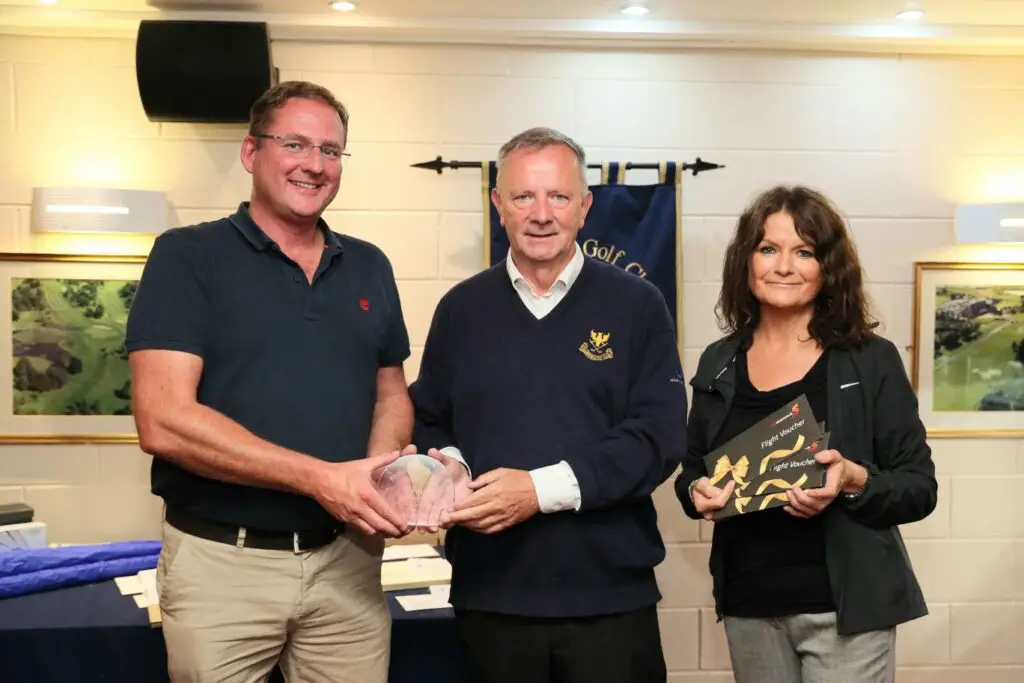 The ladies' and men's longest drives were won by Connie Corry (Lady Captain, Shannon GC) and John Skerritt (Lahinch GC) and the nearest the pin by John Cleary (Ennis).
As well as taking home the top prize of flights to Paris compliments of The Shannon Airport Group, a trophy sponsored by Gift Innovations and a collection of golf gifts from Optima Training, the team will now head to the K Club to fly the Shannon Chamber flag at the inaugural All-Island Chambers competition, which will be hosted at the K Club on October 20.
Accepting the winner's prize from Chamber president Eoin Gavin, team captain Tim Crowe said, "It is such an honour to be the first team to represent Shannon in this exciting all-island competition. We will undoubtedly be up against stiff competition, all winners of their respective chamber's golf classic, but we will battle hard to bring the trophy back to Shannon."
Thanking all involved for making this annual event such a resounding success, Chamber CEO Helen Downes said: "Organising an event of this magnitude involving 49 teams with almost 200 players, is made all the easier by having such tremendous support from so many people. We are indebted not just to our main sponsors but to the sponsors of all fifteen team prizes. We simply could not run the Classic without this level of support. The Golf classic is a highlight of the Chamber's annual calendar of events, and it is very rewarding to receive feedback that members appreciate our efforts to make it a day for networking and entertaining and is a day they look forward to. Over fifty per cent of the teams have already entered for our 2023 Classic, which is a tremendous endorsement".