Mods & Minis has been trading in the town of Ennis since 2011. The colourful children's store is a one stop shop for kids' clothes up to the age of 12, stocking a range of popular, fashionable and functional clothing at a very reasonable price.
Founding member and Managing Director Deirdre McCloskey speaks to The Clare Echo about the contents of a very warm and welcoming safe haven clothing store she has created for mothers, the challenges posed by COVID-19 as well as her delight in welcoming the Clare community back into the store once more following the lifting of Level 5 restrictions.
"Our brand is all about giving a quality item at a reasonable price," tells Deirdre. Adding, "Seasonal clothing is always popular here with party dresses, loads of occasional wear for gifting, very pretty long-sleeved tops and dresses. We have noticed an increase in popularity of our basic type clothing like sweatpants, tracksuits and our Davina leggings for girls, which are a mix between leggings and sweatpants. This gives you the flexibility of a legging and the durability and comfort of a sweatpants. Winter jackets are also very popular and of great quality and value."
Children's clothing, unlike many other types of businesses, has peaks and hollows, Deirdre explains. "For instance, our real peaks are Easter, Communion, Halloween and Christmas. We have been closed for all of those," she concedes. The tribulations of a tumultuous year of trading has allowed the business to touch up their website and trading online. Thanks to the Local Enterprise Office (LEO) and Enterprise Ireland, Mods & Mini's has a brand-new website up and running, having been launched on November 18th. "While we don't have our full compliment of products on it, we have a good representation of what is in the shops. Any of our customers will know that we have a huge selection of items in our shops," Deirdre details.
Throughout restrictions, Mods & Mini's has been operating a click and collect service form their store, including personalised Christmas gifts that come wrapped. With an eye on next week, Deidre admits, "We have all of our amazing team in the shop this week, preparing for reopening, with huge deliveries coming in for Christmas. We have personal shopper assistants, so if somebody is concerned about coming in, they can phone Mary, our manager, and get them to recommend an outfit. The recommendation will always be based on what the customers' needs are."
On a final note, Deirdre concludes with, "We cannot wait to reopen our doors once again. We are getting phone calls all the time, asking us when are we going to be open. We have plenty of stock in store and people won't be disappointed. There are girls in the shop every day between 10am and 3pm this Thursday and up until 4pm on Friday and Saturday."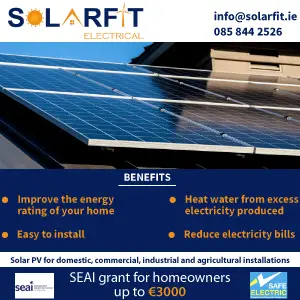 Anyone looking to get in touch with Mods & Minis ahead of reopening can phone the Ennis shop at 065-684 8612.