Clare's attempts to make the Super 8s came up just short with captain Gary Brennan visibly drained and emotional following their one point defeat.
In the days prior to Sunday's clash, the county's only All-Star Seamus Clancy said in The Irish Examiners of Brennan "I would say he is the greatest player that Clare has ever produced," high and warranted praise from the Corofin man.
However, Gary was self-critical when speaking to reporters mentioning two wides as opposed to an incredible first half turnover that led to a super Jamie's Malone score, his own point, assists and leadership.
"It was there for us. The immediate reaction is a missed opportunity, I'll be haunted by two wides in the first half, I was through on goal and fisted over the bar, today was a day to rattle the net with that I think. We battled, we dug in and we gave it everything as we always do, ultimately we've come up short again".
Their inability to keep the scoreboard ticking in the second half proved damaging according to the former International Rules player. "We were lucky with the goal we got, it was probably the one lapse we had in the first half was when they got in for the goal. We got a bit of fortune with our own goal and then let them straight back down for another one, that was a killer but we were back in the game, we kept plugging away we just weren't creating as many scoring opportunities in the second half".
"Our conditioning has been outstanding this year, if we had to play ten more minutes we probably would have kept going, maybe we left a bit too much in the tank for late on, it wasn't intentional but when our lives were on the line we dug in and fought a bit more but it wasn't enough".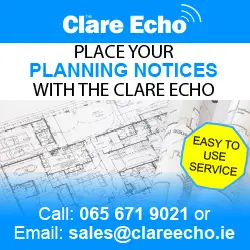 Missing out on the Super 8s was not the cause of the heartbreak but rather losing out in a tie that was there for the taking. "Regardless of the Super 8s it would be just winning the game. It's another game that we had and let slip".
One little comfort for the St Flannans school teacher was that more young people would be encouraged to play the game in the county. "The positive is that youngsters in Clare are seeing teams play multiple championship games, we had five championship games this year, we had fantastic support here again today and incredible support in Mullingar last week and Carrick-on-Shannon, that can only help the youngsters there in their development and progression but it's a pretty small comfort for us at the moment".