An intervention is to be made by the Minister for Local Government to recommend that works resume on the public realm project in Parnell St in Ennis.
At a virtual meeting on Thursday, CEO of Ennis Chamber, Margaret O'Brien met with the Minister for Housing, Local Government and Heritage, Darragh O'Brien (FF).
Organised by Chambers Ireland, O'Brien requested the Minister to ensure works on the first major development of Ennis 2040 which is the transformation of Parnell St in the county town recommence. In total this is a €3.3m development with €1.4m allocated under the Urban Regeneration and Development Fund (URDF).
Minister O'Brien agreed to intervene on behalf of Ennis Chamber, he committed to contacting Clare County Council to discuss the commencement of the public realm project in Parnell St which also focuses on the laneways and bow-ways. Construction has been halted on non-essential projects since the beginning of January.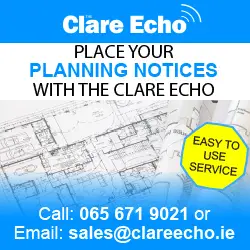 Ennis Chamber in their argument sought the resumption of the works during the lockdown as it would minimise disruption to Ennis businesses. The meeting was held following weeks of lobbying by O'Brien and Ennis Chamber Vice President Darragh McAllister who owns Lucas' and Considine's on Parnell St.
Speaking to The Clare Echo, Margaret outlined, "We are delighted that Minister O'Brien has agreed to represent our case for re-starting work on this important town centre project at this time". She acknowledged the support from Joe Carey (FG) and Cathal Crowe (FF) on the matter.
She flagged that other local authorities proceeded with public realm works during Level 5 restrictions and sought clarity on how the same did not apply to Clare County Council.
Clare TD, Joe Carey (FG) informed The Clare Echo that he received confirmation from the Department that the public realm works can proceed. "I am very pleased that we now have confirmation that the Parnell Street regeneration does quality as 'essential works' and that construction can resume on the scheme as soon as possible".

Carey added, "The council has told me they are anxious to resume works on Parnell Street so I am glad we finally have clarity on the matter. Given the current climate and restrictions and the fact that most businesses are closed it makes perfect sense for the public realm works on Parnell Street to go ahead. This period offers a real opportunity to take on these type of works with minimal disruption to traders who have already suffered hugely over the past year."