*Photograph: John Mangan
An Garda Síochána have said the presence of a weekly anti-mask demonstration in Scariff is not a threat to the public while the Department of Public Health Mid-West have expressed their concern about public events that could be potential platforms for misinformation.
A peak of 25 persons attended the gathering of demonstrators in the East Clare village over the last twelve weeks. One Garda source told The Clare Echo "the numbers have been dwindling every week" and that the group have liaised with officers whereby they have agreed to stay in the one location and vacate after one hour.
Actions of the group are not posing a risk to the public, the source commented. The Clare Echo understands that few complaints have been lodged at Scariff Garda Station on the matter. No public order offences or arrests have been reported to Gardaí following any of the protests.
As they concluded speaking with demonstrators on Saturday, one Scariff man confronted the two East Clare based Gardaí and urged the officers to "run them out".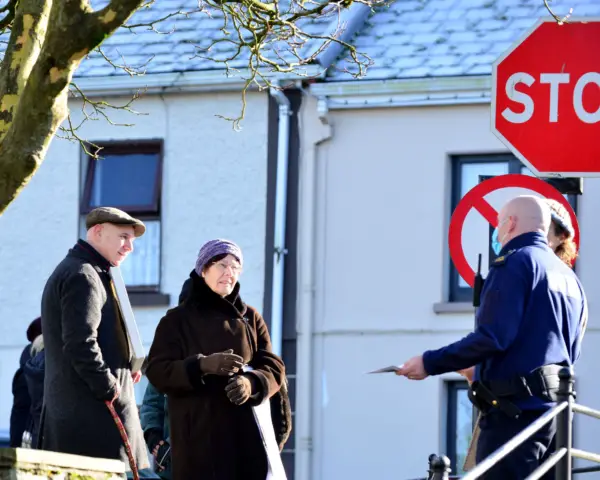 In a statement to The Clare Echo, the Garda press office detailed that the Health Act 1947 (Section 31A-Temporary Restrictions) (Covid-19) (No.10) Regulations 2020 in accordance with the Health (Preservation and Protection and other Emergency Measures in the Public Interest) Act, 2020 are currently in force.
According to the spokesperson a "consistent" policing response to support public health regulations has been followed "in line with our tradition of policing by consent. This has seen Garda members engage, explain, encourage and, as a last resort, enforce".
No permit or authorisation for the holding of protest marches or gatherings are required during a pandemic, Gardaí confirmed. "A decision as to whether any protest takes place rests solely with organisers".
When asked if events such as the Scariff protest hinder the job of Gardaí in attempting to encourage the public to abide by the Government regulations, the Garda source responded, "An Garda Síochána encourages organisations / individuals organising such events to liaise with An Garda Síochána in advance to assist in the safe and peacefully organisation of the event.
"Where possible An Garda Síochána will advise identified organisers of such events as to their responsibilities and potential consequences. The COVID-19 Pandemic remains a public health crisis and An Garda Síochána continues to appeal to all citizens to comply with Public Health Guidelines and Regulations, in particular essential journeys, in order to continue to save lives".
The Department of Public Health Mid-West informed The Clare Echo they were not aware of the weekly demonstrations being held in East Clare but expressed their concern "about any physical or online event that offers a platform for misinformation".
A spokesperson outlined, "While we acknowledge the exercise of free speech and fair comment, we would express serious concern over any campaign of misinformation that could damage the integrity of public health guidelines. These guidelines are in place to help us protect our most vulnerable from being sick with this disease, and to prevent our health service and frontline workers from being overwhelmed".
Wearing of face masks has been identified as one of the key preventative measures to help prevent the spread of COVID-19 in the community. The Health Information and Quality Authority [HIQA] published a rapid evidence update on face mask use by healthy people in the community to reduce SARS-COV-2 transmission, on December 17.
According to official flu mortality data in the Mid-West region on the Computerised Infectious Disease Reporting [CIDR] system, there were nine deaths in the 2016/2017 flu season, 18 in 2017/2018, 12 in 2018/2019, and 12 in 2019/2020.
"We would ask that people get their information from reputable sources and follow the public health advice available on gov.ie and hse.ie. People report that the sources of health information they trust include their GP, their Pharmacist, nurses and other health professionals, the Department of Health, the HSE and health experts," a spokesperson for the HSE stated.