*St Josephs Miltown's main man, Eoin Cleary. Photograph: Gerard O'Neill
Three in a row aspirations for St Josephs Miltown were scuppered last year with neighbours Kilmurry Ibrickane taking responsibility for the residence of the Jack Daly instead.
Now the neighbours and rivals face off in the opening round of this year's Clare senior football championship in the very difficult Group 1.
Michael Neylon has returned to the hotseat in Miltown Malbay succeeding Maurice Reidy, the Clare U20 boss was in charge when they claimed the honours in 2018, the title was retained a year later under David O'Brien. Both Neylon and O'Brien are part of this year's management. The crop of players in the squad and the work ethos that exists within in were cited as his reasons to settle back into the role.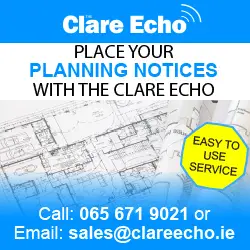 Already they have achieved success by winning this year's Cusack Cup. "It wasn't a normal Cusack Cup and it wasn't something to achieve in but we were happy that it gave games when we needed games and it gave some good games but we realise championship is so many steps above what those league games are about. A lot of the games in the Cusack Cup were without the county players, it's a whole new dynamic when you have four or five county players added into a team, that is what we're facing at the weekend, this is the first taste of reality and the challenge for everyone is to be ready for this reality and I don't think anyone knows where they stand until you have fifteen or thirty minutes of football played at the weekend," the Miltown boss outlined.
Last year's disappointment in not making the semi-finals has not been referenced so far in 2021, Neylon said. "There is great freshness there this year, we actually haven't talked about any year gone by. With coming out of lockdown and coming into games and training, it has been week by week and day by day, we just focused on each game as it came and now suddenly it is all happening quick and we're at championship. We're only looking at the weekend ahead, there is no discussions whatsoever about any years gone by, that is the way it needs to be for a group that wants to make progress, we realise were at the bottom of the ladder like everyone else and we want to start climbing step by step, the first step is this weekend".
Taking that first step begins on Saturday evening when they renew rivalries with Kilmurry Ibrickane. "It brings out the best in both sides, there is never anything in it, we hope it is going to be a fifty fifty game, we think it is and with the year that is in it, it is a bit of unknown, both teams will be trying to spring a few surprises and have new ways of playing when it comes to Saturday evening. It is going to be very interesting, for the neutrals and everyone in the county, it is going to be one of interest, for every team all over the championship this weekend, they are focusing on themselves, it is one game but it is very important to both teams involved," the ex Clare selector noted of the fixture.
There is an excitement for Miltown that they will face off with the county champions, Cratloe, Ennistymon and Cooraclare even before a knockout stage commences. "There is no doubt that being in a group with both of last year's county finalists is going to be a huge challenge for all teams but it is also a challenge for the teams that were in that county final, we're all up against it and every game is going to be very tight in this group".