Meelick has been "victimised" when it comes to local Government support while it and neighbouring parishes have been "on the hind tit" of the Shannon Municipal District, one county councillor has claimed.
An unsuccessful attempt by Cllr PJ Ryan (IND) to secure directional signs pointing towards Meelick Church and Meelick NS prompted him to make such remarks at the March meeting of the Shannon Municipal District.
Purchasing signs for lands that "are not in public control or ownership" is not a task that could be facilitated, senior executive engineer Aidan O'Rourke outlined. He said the local authority manage a signage licence application process which the parish administrator or school principal could make an application for the signage, "but its purchase and erection is a matter for the third party concerned".
Cllr Ryan had sought for the signs to be installed at White's Cross Upper and Gavin's Cross, he admitted that he was "surprised" with the Council's response. "Look around the county there are several signs erected by local authority to schools, graveyards and churches, I don't know why an exception is taken here". He said the lack of signage at White's Cross has resulted in people ending up in Thomond Park instead of Meelick Church.
Cathaoirleach of the Shannon MD, Cllr Gerry Flynn (IND) noted, "The response is accurate, the lands are not in public ownership". A frustrated Cllr Ryan replied, "It is setting a precedent" and Flynn added, "The precedent is practice".
"How do you explain this to a community, why should the people of Meelick be victimised," Ryan asked. "You can't explain it, the senior engineer has to go by the rules and regulation," the Cathaoirleach retorted.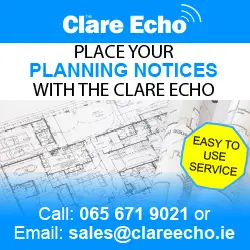 Not alone was Cllr Ryan confused by the reply but so too was Cllr Michael Begley (IND) who seconded the motion. "Meelick is a location and is recognised as that. I can't see any difficulty with putting up a sign".
There was a uniqueness to Meelick village, Cllr Pat O'Gorman (FF) maintained. The man who replaced Meelick native, Cathal Crowe on the Council highlighted that the church, school and community hall are in close proximity but the nearest housing estate is "two miles over the road. You come to the church and you're still two miles away from the hurling field. If you come from Limerick you could be at the hurling field in two minutes but you're not near the church or the school". He was adamant, "There should be more signs there above any other parish".
O'Rourke informed councillors, "We would sign a graveyard that is in our control but not a church which is a third party institution. I am not aware of signs in this Municipal District where that has happened". "I can show you ten tomorrow," Cllr Ryan volunteered. Cllr Flynn suggested the matter be brought before the Physical Development SPC for a potential "policy change".
Director of Service, Liam Conneally was willing to let the Physical Directorate assess the matter. "Where do you stop with the provision of signs, we need to be clear, are these places of public interest and describe it as that".
"Sometimes the lower end of our Municipal District seems to be on the hind tit all the time. We need to give some investment to give them a link," Cllr Ryan added. "What you referred to, nothing comes out of it for clarity," Cllr Flynn observed.
NOTE: This meeting and discussion took place prior to the outbreak of COVID-19.