*Mairead Casey after dropping food to Mrs Casey on the Ballycar Rd. Photograph: John Mangan
A Newmarket-on-Fergus based community group is ensuring the county's most vulnerable residents are kept fed during the current COVID-19 pandemic and has seen its demand increase by over 300% at this time.
An additional 88 households have signed up to Meals on Wheels during the health emergency. The social enterprise service provided by Obair has been in operation since 1996 when it was founded by the late Canon Reuben Butler. Its aim has always been to feed the most vulnerable in society including the elderly and those unable to cook for themselves.
Having started by supplying meals to ten people in Newmarket-on-Fergus in the late nineties, their demographic has multiplied over the years but COVID-19 represents the biggest surge it has ever experienced. Residents in Ennis and Shannon are now availing of the service joining the hundreds across the county in locations such as Clarecastle, Quin, Kilkishen, Sixmilebridge, Cratloe, Doora, Kilmurry, Bunratty and Newmarket.
Many individuals who are unable to visit older relatives because of current restrictions have ensured a daily dinner, desert and soup comes to their door courtesy of Meals on Wheels. Over the Easter weekend, they will distribute a total of 261 meals across the county and will be back on the roads and in the kitchen on Bank Holiday Monday.
Demand for their services has increased, another challenge for Obair staff has been to recruit volunteers with a lot of their regulars currently cocooning. Co-ordinator of the South Clare Meals on Wheels programme, Eimear Murphy outlined, "Many of our regular volunteers are cocooning so we have been lucky that a lot of local teachers and business people have stepped in to volunteer. For safety we have been using the same group of core volunteers so as to keep the number of people accessing the building small".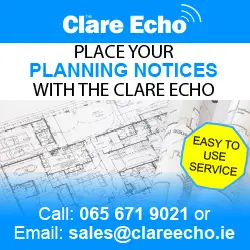 She added, "We have had people call us who are understandably worried and having the hot meal delivered makes things a little easier for people. It also offers some comfort and reassurance to family members who are not able to visit or travel to see their elderly relative".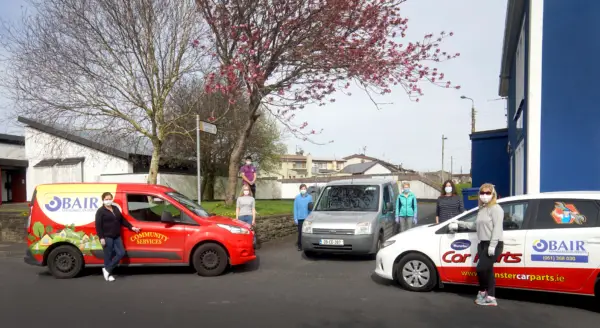 All volunteers are adhering to social distancing and Eimear flagged that a back up system is in place "if anything happens". She stated, "Our service is changed ever so slightly in that we do not stop for a chat or call in for a visit, we are trying to minimise contact so its very much a 'drop and go' type delivery. Our volunteers wear masks when delivering which I'm sure can be a little alarming to some people, but just to reassure everyone that behind the masks are the same friendly faces that they are used to".
The Clare Echo has offered a helping hand during the crisis by driving volunteers on the rounds on two occasions. To protect the health of its users, the drop and go aspect has been implemented which volunteers admit is difficult as they would ordinarily be checking in on them to ensure everything is alright.
"You are meeting them every week, they tell you their business and for some the volunteers calling to the house is the highlight of their day," one of the regulars told The Clare Echo. Fifteen different volunteers are aiding with Meals on Wheels which is led by six members of Obair's staff.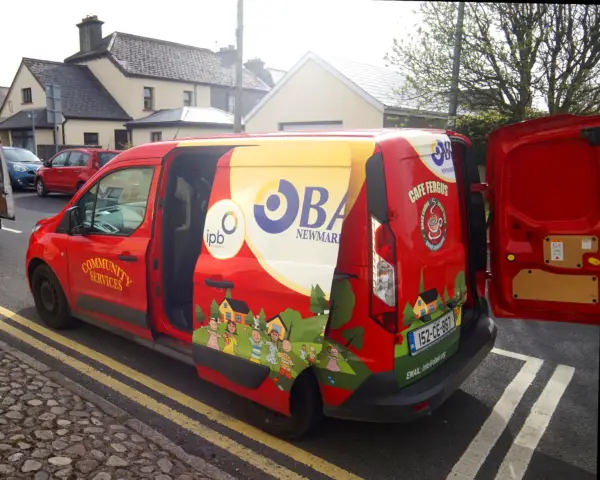 Goodwill has been very forthcoming for Meals on Service. Fuel has been donated for drivers free of charge by Jody Halpin of Halpin's Service Station, chefs from Dromoland Castle have offered to prepare meals, Shannon company SES purchased new equipment to enable all meals be kept hot with off duty chefs from multiple restaurants expressing their desire to help out. "It has showed us all the importance of supporting local businesses and hopefully when all this is over that is something that we will hold on to," Eimear remarked.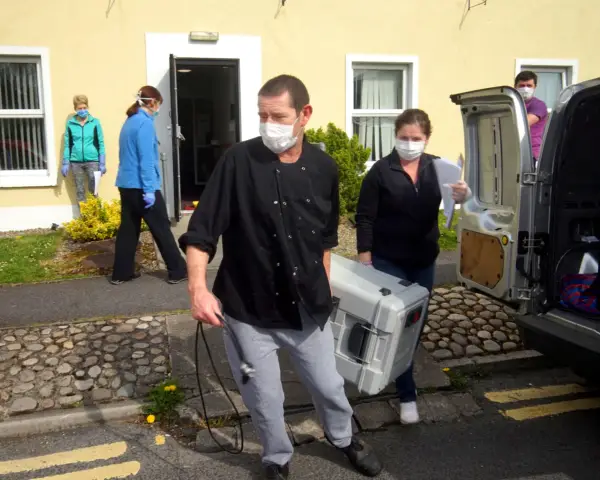 Siobhán O'Driscoll, community development officer with Obair noted, "The service has grown 300% plus, the community have been amazing volunteering donating money and equipment, helping us to upscale our service". She referenced the support of Newmarket-on-Fergus GAA club and Newmarket Celtic in volunteering plus the contribution of Clare TD, Joe Carey (FG) to secure funding for their new Tradaree Building. "Our own staff everyday turn up going over and above their work duties to make sure everyone is fed, the elderly, families who can't cook as they have no access to a kitchen, everyone is really looking out for each other".
Obair are seeking additional funds to continue providing the expanded service. A Go Fund Me page has been set up which has raised over €2,000 to date. DETAILS: here