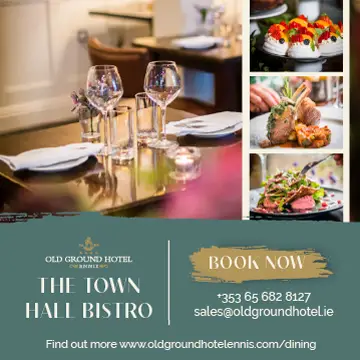 *Eoghan McNulty and Donal Magee at Thursday's AGM. Photograph: Natasha Barton
A NEW FIXTURES SECRETARY and two Munster FA delegates have been elected to the Clare District Soccer League (CDSL).

Chairman, Jason Ryan thanked all delegates at the beginning of the lengthy AGM. The former Registrar was returned for a second term in the Chair with Ennis Town FC duo Denis Collins and Tony Downey also returned to the important posts of Secretary and Fixtures Secretary. Sporting Ennistymon's Eddie Crowe was returned as Registrar, Jim Madden is back as PRO.
Eoghan McNulty who has managed Bridge Utd's A team as well as Youths and underage teams in the club was voted in as Fixtures Secretary at Thursday night's Annual General Meeting (AGM) of the CDSL.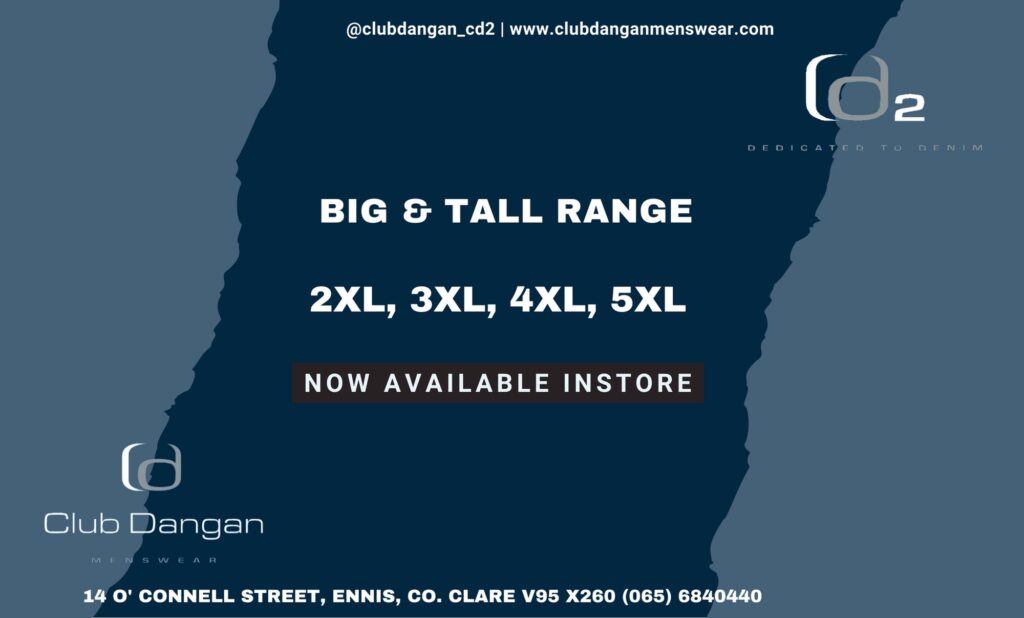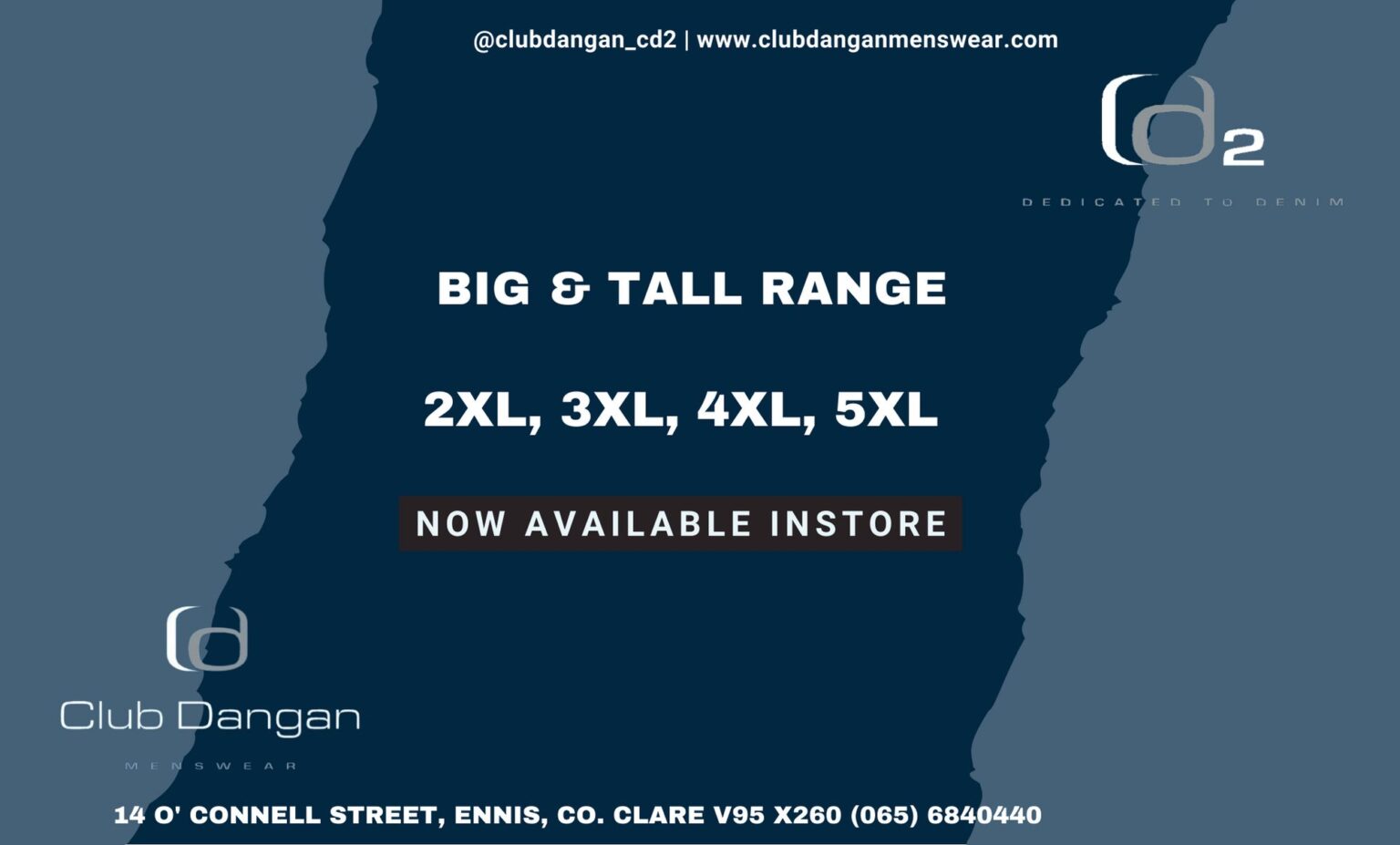 McNulty succeeds Brendan Browne who had also been nominated but opted not to stand and instead will remain on the Executive as a committee member.
Others to sit on the CDSL Executive as committee members include Ger Kelly of Shannon Town Utd and Bunratty/Cratloe's Dean Russell.
There had been confusion regarding whether long-serving committee member Alan McCoy would remain. "We haven't seen much of Alan this year, to be honest," the Chairman told delegates. Newmarket Celtic's Liam Murphy questioned if his clubmate had indicated if he wished to remain in the role to which the Chair responded, "Alan is a great soccer man but he turned up to one committee meeting. He was working tonight".
Subsequent to the meeting, Ryan confirmed to The Clare Echo that McCoy has withdrawn from the role due to "work commitments".
Corofin native Tommy Leahy brought his decade long stint as a Munster FA delegate to an end when he made the decision to step away. His role sees the return to the fold of former Ennis Town councillor, Mickey Guilfoyle.
Donal Magee who was part of the Newmarket Celtic management for the past two seasons and previously guided Shannon Town Utd and Bunratty United to Premier Division glory was elected as the CDSL's second Munster FA delegate.
Ger O'Halloran from the Rhine Rovers club and Avenue Utd's Tommy Molloy decided not to seek an additional term as Grants/Compliance and Youth Liaison Officer respectively.
Initially it had been thought that Frank Burke was stepping down as Women's Officer but the Chairman told the meeting that the North Clare man was interested in remaining in the post but was unable to attend the AGM having contracted COVID-19.
Robert Clancy, Michael McInerney and Michael Leahy remain as the Honorary Presidents of the CDSL.
McNulty committed to be in communication with clubs to avoid unnecessary fixture clashes throughout the season.
Avenue Utd tabled a motion which asked that where a club has two adult teams that their respective games do not kick off at the same time for weekend games or on the same night for midweek matches "unless agreed in advance by that club", this was seconded by Fern Celtic. "It was brought up last year. The Fixtures Secretary does try to keep them apart. We do try," Denis Collins told clubs.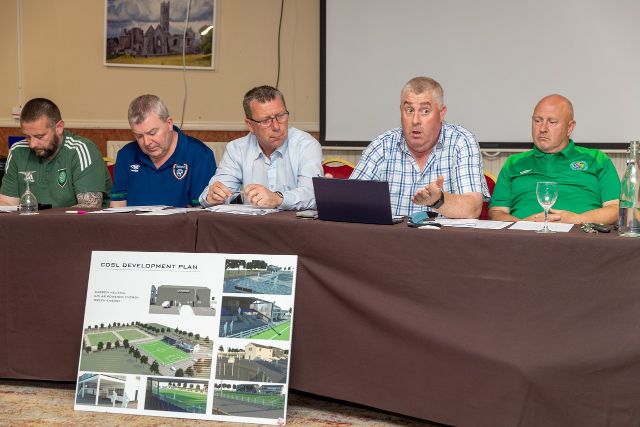 "It shouldn't be where possible, it should be 'definitely doesn't happen'. It should be no way does this happen," Bridge Utd chairman Finbarr Toomey stated.
Outgoing Fixtures Secretary, Brendan Browne explained to clubs, "in an ideal world everything does work, it was tough last year and it will be tough for Eoghan this year. If you say this has to happen, you will never get the league finished, there is a lot more at play, you've pitches and referees, nobody wants it but sometimes it has to happen. The major issue coming back to us is we need more referees".
They "built-in attempted safeguard" of agreement by clubs was referenced by Fern Celtic's Richard Cahill but Lifford FC's John O'Neill flagged, "it won't solve all the problems, if one team is playing at home at 11am and the other at 2pm in Mountshannon, there will be an overlap, the Fixtures Secretary has to get some latitude". No clashes should occur midweek, Vice Chairman Ronnie Pyne stated.
Addressing the meeting, the newly elected Fixtures Secretary outlined, "I will try and avoid this at all costs, it might happen a few times but I will pick up the phone and ring clubs when it does. If it's a disaster four weeks in a row then someone is lying," he said of communication between clubs.
CDSL Executive 2022/23
Chairman: Jason Ryan (Kilrush Rangers)
Vice Chairman: Ronnie Pyne (Turnpike Rovers)
Secretary: Denis Collins (Ennis Town FC)
Treasurer: Tony Downey (Ennis Town FC)
Registrar: Eddie Crowe (Sporting Ennistymon)
Fixtures Secretary: Eoghan McNulty (Bridge Utd)
PRO: Jim Madden (Shannon Olympic)
Munster FA Delegate: Mickey Guilfoyle (Turnpike)
Munster FA Delegate: Donal Magee (Shannon Town Utd)
Grants & Compliance Officer: Vacant
Women's Officer: Frank Burke (Burren Utd)
Youths/Children Liason Officer: Vacant
Committee Member: Brendan Browne (Manus Celtic)
Committee Member: Dean Russell (Bunratty/Cratloe)
Committee Member: Ger Kelly (Shannon Town Utd)