*Cllr Mary Howard. Photograph: Eamon Ward
Mayor of Clare, Cllr Mary Howard (FG) is pleading with business owners within the town of Ennis to utilise the Clare GAA/Cloister Car Park and leave premium parking spots for shoppers and vulnerable customers to do their shopping throughout the day.
The 100-car capacity space, along with free weekend parking at Holy Family Primary School can assist in accessing the town during business hours, the Ennis representative believes.
She welcomed the pedestrianisation element of the Ennis town centre temporary mobility plan and reiterated that its introduction was in "reaction to a pandemic in order to make the town safe".
As of Thursday, streets are opened to traffic until 11am following a review of the mobility plan. Mary is hopeful that shop owners will incorporate vulnerable shopping hours in line with this new development. She alludes to the recent closures of national fashion retail outlets nationwide such as Debenhams, Zara, Next, Oasis and Laura Ashley, affirming that as a boutique town, the multitude of clothes retail outlets in Ennis have offered little to no resistance to the recent pedestrianisation.
"The reality is that you have people that own shops in town that are not giving out as they have upskilled by going online, they are blogging or have changed their stock. They have adapted to the current situation. In all honesty, the pedestrian experience in town has gone way up. My own view is that Ennis is a medieval town and that the problem with medieval towns is the narrow streets. They will not allow for social distancing. If you look at Bank Place, that is where you have lots of crowds lining up for the ATMs. That is why parking has been taken out of there to allow for social distancing. It is important to acknowledge that this pedestrianisation is a reaction to COVID-19. Our most fragile in our communities could get it. The numbers are going the wrong way to even be having this conversation of lifting it completely. This is an end to a means".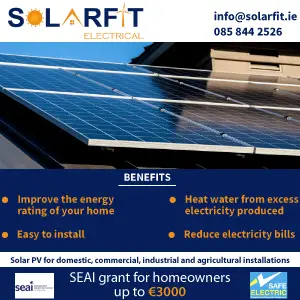 She is of the view that the Government must provide financial assistance to businesses, with sales documented as being substantially decreased nationwide and that on a local level, talks are being held over designing a special website to market all businesses within the town. 'Buy Ennis' will enable business owners that have been unable to upskill technologically with respect to digitally marketing their store online since the pandemic, to participate in a collective website visible to all online shoppers. Cllr. Howard feels that this will counteract the decreased footfall in businesses caused by people working from home, a lack of organised events and the feeling of unsafety felt by vulnerable individuals within an urban setting.