GAA clubs and supporters in Clare have expressed their disappointment with how tickets were made available for Sunday's All-Ireland SHC replay between Clare and Galway.
Some 54,191 people attended Saturday's draw in Croke Park and Semple Stadium which will host the replay has a capacity of 46,300. For the drawn contest, supporters had the option of purchasing tickets via their local GAA club if they were a member, online or through Centra and SuperValu stores.
On Monday there was surprise when Croke Park officials informed Clare GAA that allocations would not be given to clubs and instead they had to be obtained online or in Centra and SuperValu stores.
It is worth noting that both retail outlets are official sponsors of the association.
This led to panic for fans as they rushed to stores and queued for hours, the same applied for those trying to source their tickets online.
Normally for inter-county games clubs are given a portion of tickets where their members would be able to place an order.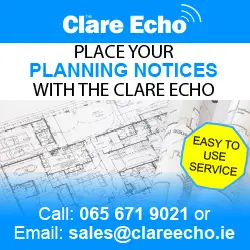 This did not happen and some clubs availed of the Club Pass Scheme which is operated for GAA Senior Championship All-Ireland Quarter Finals and Semi Finals in Croke Park even though the replay does not take place at Jones' Rd.
The short time-frame between games has been cited by Croke Park officials as the reason clubs were not given their usual allocation of tickets.
In a statement earlier this week, Tulla GAA club outlined their frustration. "We would like to apologize to all our members for the disgraceful way our organization has treated the loyal club member but unfortunately that will not make it any easier to buy tickets".
Conall McNulty, Chairperson of the Banner GAA club, said the way in which the tickets were sold caused confusion. "None of us knew how the tickets were going to be sold. There was talk that they were going to be distributed to the clubs and rumours about them only being sold online.
"When we got the word at 10.30am, I immediately sent a text to all our members. When I tried to get my own tickets, the site said I was the 4,995th person in the queue".
Meanwhile Clare GAA Chairperson, Joe Cooney stated, "It is disappointing, there is a lot of loyal supporters without tickets".
The O'Callaghans Mills clubman added, "I think it could have been looked at differently, more consideration could have been given to it. The other thing what I'm disappointed is they were put online at 11am when people were working and they weren't aware".
It is another in a long running series of events by the GAA this summer that has caused upset and anger among their members.
In the football qualifiers, Kildare voiced their anger when they home advantage was stripped from them when drawn against Mayo, this led to the Newbridge or Nowhere campaign, the Lilywhites regained home advantage and later defeated Mayo.
Dublin's footballers continued use of Croke Park as a home and neutral venue in the Super 8s has caused discontent while the initial refusal to host a testimonial game for the late Liam Miller in Páirc Uí Chaoimh was another bone of contention for many.