Vandeleur Walled Garden has been earmarked as a key site in ensuring West Clare is no longer heavily dependent on tourism.
As reported in The Clare Echo last week, councillors in the West Clare Municipal District have spoken out on the need to have a broader range of industries to show people that they can have a sustainable future if they live in West Clare.
With the second quarter of this year and potentially the third being a wipeout for anyone working in the tourism and hospitality sector, elected representatives have been stressing the need for a wider focus so that the area is not entirely reliant on the traffic and spend associated with tourism.
At the June meeting of the West Clare MD, Cllr Cillian Murphy (FF) put forward the case for attracting a new type of clientele to the area on a year-long basis. "We need to change the economy of West Clare," he stressed and said "the biggest problem we'll have is if we let this happen again" regarding another major financial slump.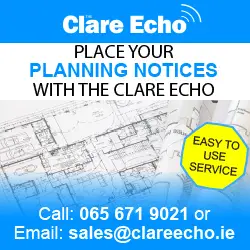 "Don't reduce the importance of tourism but bolster it with other things," the tourism consultant stated. Among the potential other things, Cllr Murphy suggested a centre of excellence for building traditional skills. Already, he has discussed the idea with Clare Heritage Officer Congella McGuire, stonemason Eoin Madigan and archaeologist Neil Jackman.
41 heritage contractors are registered in Ireland with an average workforce of 25 people, the Kilkee resident outlined and pointed out that many skilled workers exist outside that bracket.
There is no training facility in the country for workers in this sector, he said and stressed that West Clare needed to capitalise on this. "Businesses are looking for high quality training in all aspects, they are looking to send staff on training for 2-3 day blocks, they are willing to pay appropriately for high quality training".
Murphy pinpointed Vandeleur Walled Garden as "the absolute place to deliver" such training. He elaborated, "If we can start delivering training out of Vandeleur Walled Garden we are going to connect it to Kilrush and the entire West Clare area".
To progress the idea to a concept stage would cost approximately €4,000 according to Cllr Murphy. Engagement with the Heritage Council, funding partners, potential educational partners and potential social benefit partners is also needed, he said. "From the Council's perspective, it is worth noting that Waterford Viking Quarter was almost built exclusively by Council staff, it was driven by Council staff. We have our community development officers to develop this".
Cllr Ian Lynch (IND) who also assisted with the presentation commented, "Vandeleur Walled Garden has potential". Cllr Joe Garrihy (FG) also welcomed the idea.