*Clare full-back Adam Hogan under pressure from Tony Cahill. Photograph: Martin Connolly
In order to facilitate the thousands of underage games within the country, Sixmilebridge have proposed making the All-Ireland minor series a knockout competition.
This year under the guidance of Fergal Lynch, Clare's minor hurlers qualified for the All-Ireland quarter-final round robin series. The Munster finalists were defeated by both Galway and Kilkenny with their year coming to an end in July.
Sixmilebridge's proposal for "inter-county minor championships to be ran off on a straight knock-out basis following completion of provincial championship" was passed at Thursday's Clare GAA annual convention and will now go before Central Council.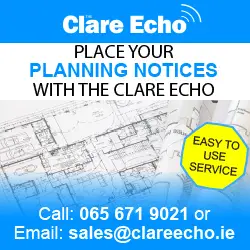 County Bord na nÓg Iomáint secretary, Pat Gavin in his report detailed the difficulties in giving clubs clarity on fixtures as a result of the extended county series. "The one thing clubs like is certainty when it comes to fixtures so that plans can be made outside of sport. Due to the ever increasing schedule of inter-county games at minor and development squad level this is not possible as we witnessed this year with the successful run our minor hurlers had.
"At a few weeks notice we had to bring forward our U15 championship from the end of the year to July as we ended up having to delay the star of both the U16 and minor championships by three to four weeks. While some clubs were left put out by this, we were left with no choice. I feel there is too much pressure with all these games on very young players and on the other hand the ordinary club player could be left with no club action in the June and July period. This is something we need to look at and avoid going forward," the Ogonnelloe clubman added.
PJ Fitzpatrick, a former Clare minor manager referred to Gavin's report when speaking on Sixmilebridge's motion. He was conscious that the argument of where to put Galway would be put up and felt "the obvious solution is to put Galway into Leinster" as is the case for the senior hurling. "We are trying to create as much time as possible for local games," the Bridge's Irish and Culture Officer stated.