A stellar career start continued on Saturday last in Galway as Burnpark Floyd made it seven wins from seven.
There are not many graded sprinters that start their career with seven wins from seven starts but the Michael Browne of Cree owned Burnpark Floyd has done just that. In the S4 graded sixth contest, he overcame a terrible start to gain a short head success over Newhall Torpedo in 19.60. Unlike his other wins Burnpark Floyd was last away from the traps as Newhall Torpedo and Glorias Pet set the pace race towards the opening bend.
At the bend though the leader ran a little wide and Burnpark Floyd who was now hitting top gear needed a second invitation as he swept through to lead in the rails at the crown of the home bend. On straightening for home Newhall Torpedo and Burnpark Floyd set down to scrap it out with Floyd just gaining the day to make it a magnificent seven.
The top graded contest of the night was the A2 graded ninth race. In this, Cloneyogan Blaze owned by Moy's Siobhan Garrahy held off the challenge of Headleys Victor who closed the gap to three parts of a length in 29.48.
Garryfine Rickie got off the mark at the third attempt in the S7 graded contest. Owned by David Browne of Kilmihil, they celebrated a three and a quarter lengths victory in a time of 19.47.
On Friday night it was worth the wait for the Cratloe contingent. Ger Manly's Confused Reilly recorded a magnificent nineteenth career success, coming in as a reserve he led off the second bend on his way to a two and a quarter length success over the staying on Kaiser Kubrick in 29.80.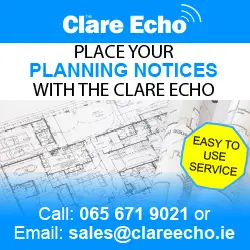 Emily Browne from Cree watched her Burnpark Dumbo enjoy a welcome change of luck in race eight. Dumbo recorded his maiden success at the fourth attempt by a rapidly diminishing neck over Beer Cashier in 29.69.
Having being hampered in all three starts to date the winner enjoyed a dream passage along the rails racing to the opening bend to lead from Beer Cashier and Liscarra Bonus. Racing down the back Burnpark Dumbo opened up a three length advantage on his rivals but from the home bend he was running on fumes with the line just coming to his rescue as Beer Cashier closed with every stride.