*Photograph: Eamon Ward
When it comes The Irish Open next year, "the local community is going to make or break how successful it is" according to its host, Paul McGinley.
Daily crowds of between 20 and 25,000 will be let into Lahinch Golf Club for The Irish Open in July while McGinley declared it will reach an audience of one billion people, "every country you can think of will have coverage", he commented in his keynote address at Shannon Chamber's Winter Lunch in Dromoland Castle.
A professional golfer since 1991, Paul has fond memories of Lahinch having won the South of Ireland title there in the same year, "that was the key for unlocking my mind and I proving I could be a professional". He stated that his success in captaining Europe at the Ryder Cup four years ago "has defined me more than anything else", for this he utilised a template of success and a similar model will be followed for The Irish Open.
In his view the South West of Ireland has been "starved" of a major sporting event, Paul told The Clare Echo what he thinks will make next year's Irish Open a success. "The weather would help, God would help, if you've got a telephone line to him put a word in, everybody go to Mass in the next months and pray for the weather we had in Ballyliffin because that was unbelievable, it shown a light on Donegal. Chances are in July we will have decent weather, we can never control that but we put the odds in our favour by having that as the date.
"Big crowds, corporate engagement but I want people coming away saying that was a family day out, people going away with great memories and a warm feeling in their stomach and seeing the superstars play, seeing how they hit the ball and play a golf course that many people have seen so often and see how a professional plays it and where he hits his tee shots as opposed to them. The bigger picture of all is where it's going to go to the people that will not be there, the people in America, China and Australia that are going to be watching this live and showcasing this corner of the South West of Ireland".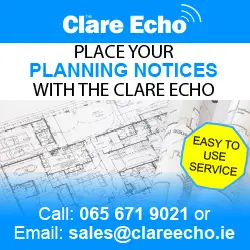 A father of three, Paul stressed that the local community have an integral role to play. "I really want the people of Lahinch and the South West of Ireland to understand is this is not just coming to watch golf. Golf will be front and centre of it but there's a whole load of spokes to the wheel, we're going to have a huge tented village on the castle course, we're going to have activities on the beach, we're going to have kids areas. In the evening time we're going to have live music in the town, we'll have stages and performers, we're hoping to make some of the streets pedestrianised, encourage people to have a few drinks on the street from the pubs, really create this festival environment, that's what I think of when I think of Lahinch, I want to take that and flower it to make it great. By all means we want them to come along, if they can only come for one day that's fine, come along for one day, come along for the whole week or four days brilliant. Corporately it's the same thing, if you can do one day great, if you can do all days and become a patron or sponsor that's great too, whatever level you want to come in at, we're going to provide that, encouraging men, women, kids, corporate everybody".
Six meetings have been held thus far between McGinley, management at Lahinch, Clare County Council and An Garda Síochána in advance of the European Tour event. Concern has been expressed that traffic black spot Blake's Corner will not be resolved in time for the Open. It's a setback but one that can be overcome he feels. "We have real professional people not just in the Gardaí here and the County Council but on the European Tour who are well versed on running tournaments all over the world with huge crowds so you're dealing with people who know that's their expertise, I'm not going to tell them what they're going to do around Blake's Corner, that's not my expertise, that's what a team is about, you give your input you oversee it but when it comes to the experts I'll rely on what the experts have to say about that".
"There's a traffic plan going to be announced very soon, I don't want to pre-empt that. We've got the local community taking front stage, European Tour coming in with their expertise but ultimately it will be the locals who determine that, they've got the experience of big funerals, big crowds going through the town, we can circumnavigate problems, there's no venue that's perfect, every venue has a few things that you need to circumnavigate around and Lahinch is no different, it ticks a lot of boxes but there are a few we have to circumnavigate, we have the experts to do that".
A marketing plan is also being drafted to entice the people of America in particular to come to Clare next summer to sample the golf and also what the region has to offer. "I want to make this a real tournament that everybody is going to be proud of, this is your community it's not my community, the circus moves up when it's over and we move off somewhere else, this is a legacy for your area, this is your Irish Open".