BABY Aoibhín O'Connor from Ennis had her first open heart surgery when she was just three days old.
But Sunday was a day to forget about hospital visits and difficult days as seven month old Aoibhín enjoyed her very first St Patrick's Day parade with her family.
Mum Christina, Dad Rory, big sisters Sophie and Chloe and big brother Lincoln were delighted to share the big day with little Aoibhín.
"I took her out of the pram and I was holding her. She was laughing and jumping up and down with the music and dancers and she loved it. She had a great time," Christina said.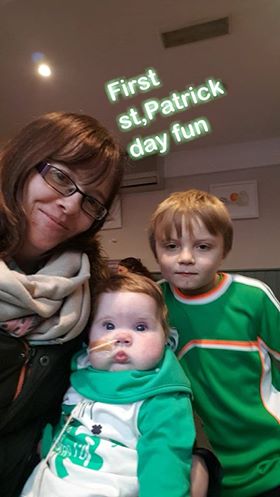 Aoibhín was born with a condition called hypoplastic left heart syndrome, which essentially means that the left side of her heart never developed.
"When she was born I only got to see her for two seconds and she was taken off me straight away. They had to start her on a drug to keep her alive to get her to the surgery, otherwise she would have died within a few days," Christina added.
Her first surgery took a whopping 10 hours and she had to have a second one at four months old.
It was weeks before Aoibhín was strong enough to breathe without a ventilator and she finally made it home just before Christmas.
Just look at her little outfit, she is too cute!