*Daniel Kennedy.
Funeral Directors in Clare have stressed the strains and hardships on families in burying a loved one throughout the pandemic.
Undertaking requires all aspects of a funeral to be organised for families including issuing notification of the death to national papers, radio and RIP.ie as well as organising clergy, grave diggers, crematorium, music and flowers.
"It's an important time for families," stated Daniel Kennedy of Kennedy Funeral Directors Ennis. "Families are looking for someone to put all these things into place for them. We do our best but Covid has changed funerals dramatically".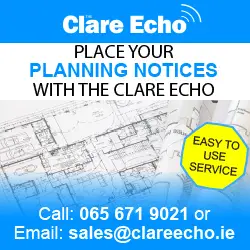 Representing the fifth generation in the business, Daniel highlighted the extra heartbreak endured by families when a death occurs in the pandemic. "When someone dies of COVID-19, that is the real problem. We can get over restrictions, if the family can spend some time with the deceased to say goodbye". When funeral directors are informed that the person has contracted COVID-19 before dying, they must follow strict HSE protocol. This involves collecting the corpse and then disinfecting and keeping the coffin closed.
"This is to stop it spreading to family members who are hugging or kissing their loved one for the last time. It's very high risk. That's the real hard part, trying to explain to the family that the coffin must be kept closed at all times. That's the real killer," he explained.
Despite the fact that the business has yet to conduct a funeral related to a COVID-19 death, Michael Cusack of Cusacks Funeral Directors Kilrush noted that single day funerals with no reposal is "tough" and "not the natural way of doing things".
A stalwart figure of the business in West Clare, Cusacks have been operating for over 90 years. "It's different in country areas, undertaking is only a part time profession. No public displays are tough, particularly for country people. One thing about them is that they like to turn up and pay their respects. They usually stand outside their homes but all that has changed now," the third-generation undertaker added. The Cusacks also trade as builders and design and sell headstones too.
"I think the government's protocols around funerals are ridiculous," revealed Niall Smyth of Smyths Funeral Directors, who have been operating part-time in Feakle since 1978. Niall feels that current restrictions allowing only 10 individuals to attend the service is causing serious problems. "Low numbers inside, creates problems outside," he outlined. He felt the difference in church sizes and their capacity to cater for different levels of social distancing has not been taken into account. "Inside you can control but outside, that's where the real spreading starts," he adds. His take is that the internal numbers should be decided on by the funeral director and the local parish priest.
A cap of ten mourners leads to very difficult decisions for families, Kennedy said. "If you have four children and they are all with their spouses and other family. How do you decide who goes? Who stands outside and who comes inside? It's incredibly tough on the families".
Live recording of all funerals has been a positive development, the trio agree. Niall explained, "Some churches have their own streaming service. This is just one camera on the priest. Our guy Matt Purcell works with more than one camera and follows the readings, the remains and all other activity. This is better for the families. I believe this is here to stay, especially for those living abroad in Australia and the West Coast of America. Here it will always have its place".
They are also believe that funerals will return to normal post-COVID but not anytime soon. ""One thing we did well here is funerals. Between the wake and reposing people get a good send off. It'll be a long time until it goes back to what we know as Irish funerals," Smyth concluded.