For the first time in the space of a month, Clare's new daily tally of COVID-19 cases is less than five.
February 10th marked the last occasion whereby Clare recorded less than five new cases of the virus in the space of 24 hours. 169 persons have been diagnosed with COVID-19 in the past fortnight giving the county the eleventh lowest 14 day incidence rate in the country at a figure of 142.2.
A total of 522 new cases are known in the Republic of Ireland with 280 in Dublin, 28 in Meath, 28 in Kildare, 26 in Cork and 19 in Donegal and the remaining 141 cases are spread across 19 other counties.
An additional nine deaths related to the virus have been notified to the Health Protection Surveillance Centre (HPSC).4 deaths occurred in March, 3 occurred in February and 1 in January and one remains under investigation. The median age of those who died was 82 years and the age range was 69-94 years. There has been a total of 4,405 COVID-19 related deaths in Ireland.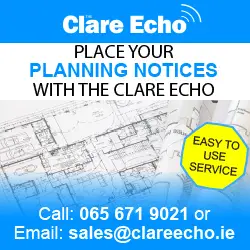 Hospital numbers continue to move in the right direction, as of 8am on Friday 102 persons were in critical care, they are included in the 426 individuals hospitalised at present because of the virus. 34 additional hospitalisations occurred n the past 24 hours.
460,637 doses of COVID-19 vaccine have been administered in Ireland as of Tuesday. 316,056 people have received their first dose and 144,581 people have received their second dose.
Following recent criticism of young people in light of the UL street party this week, Deputy Chief Medical Officer Dr Ronan Glynn moved to pay tribute to those doing their best to supress the virus. "While we see headlines about young people on the streets, what we don't see are the thousands of young people who are working hard to minimise the spread of COVID-19 in their homes and their communities".