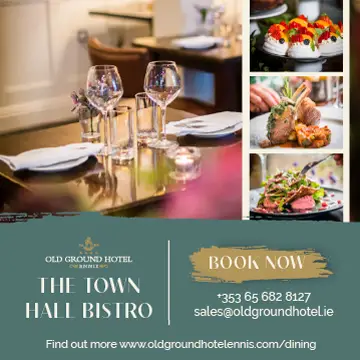 *Drag Queen, Noah Monet. 
Clare will host a Pride festival in the future but homosexual residents of the county continue to keep their sexual orientation "hidden" according to one Ennis drag queen who insisted there is a less of a stigma attached to being gay in Ireland.
London born Ryan McNamara has lived in Ennis since 2003 and is better known in the gay scene as Noah Monet, a drag persona of his for the past three years in Limerick City. "I knew a couple of people from the trans community down there, you could see them sometimes they would feel uncomfortable walking around as females when they were born male, I didn't care what was thrown at me. If I was dressed up in drag and they said something to me that was fine because it was only a persona I was putting on, I thought that if I looked ridiculous dressed up as a woman in drag they would leave the trans community alone," he explained to The Clare Echo of his entry into drag.
There was no animosity from family or friends when Ryan told them about Noah which he described as "a completely different persona". "When the wig and the make-up go on I'm Noah, when I'm not in drag I'm Ryan, Ryan has a completely separate life, the only thing is we're both as loud and as brash as each other".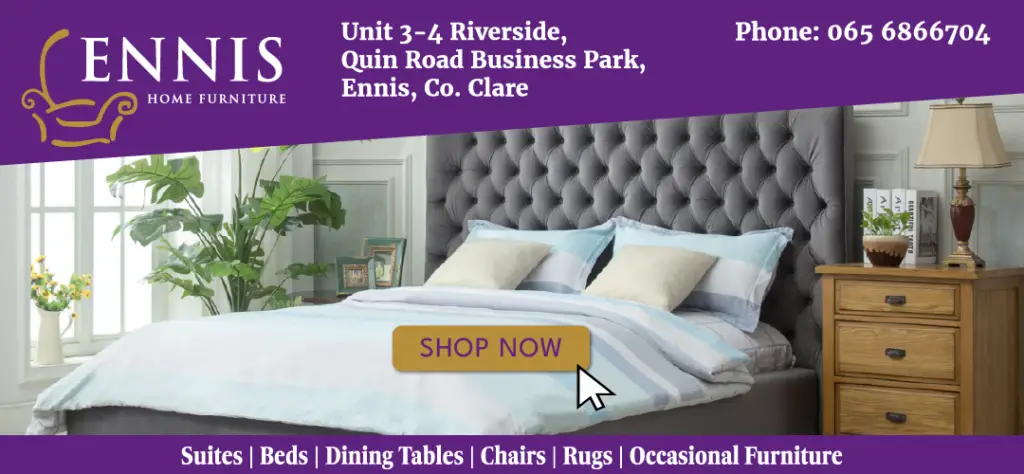 When it comes to the wider public, there have been some but not many instances of verbal abuse due to his sexuality. "Because I'm around the gay scene when I'm dressed up, I haven't got abuse but I know other people have. As Ryan, you get the odd thing thrown here and there but you have to take that on the chin".
When living in Limerick, he performed his drag act three times a week but since returning to Ennis it is only around "Pride season" that McNamara gets the glad rags on. Earlier this month, he was one of 3,000 that marched the streets of Limerick for Pride. "It was mad, I was halfway through the parade, I was in the middle of all the people in the parade and I couldn't see the front or the back of it, it was the biggest Pride to date in Limerick".
On why, there has been such a growth in attendees, Ryan said, "Generally speaking it's more acceptable now, people aren't that bothered about it they are happy for you to live your own life and do your own thing. There is some people that are still very against it but I think that's down to education being honest, that's why Pride is important it's about getting out there and making it more normal for those people, even for some of the older generation who wouldn't have seen it and some of the older generation who are gay and are not out yet, that's why Pride is still needed it's more about visibility and educating people and making it more of a norm".
For him he felt there was no need to come out but admitted boys as young as thirteen are now opening to their families about their sexuality. "I was so gay I don't think I ever needed to come out. I must have been eighteen or nineteen before it was confirmed but I was one of these people that said I was not going to come out, I was going to bring home my boyfriend one day and say this is my boyfriend. I've a pretty easy going family".
"A lot of the people in their late twenties they're probably not out ten years, they would have come out when they were in their early twenties, now I know young fellas that are thirteen or fourteen and their whole family know they are gay and are accepting of it, they can go through school being who they are. Not that it's easier but it is more acceptable now, there is not as much of a stigma attached to being gay anymore and rightly so".
Though there are fewer raised eyebrows surrounding the LGBT+ community, the twenty five year old highlighted gay people continue to hide their sexuality in the Banner County. "Clare is still a little bit lagging, it's harder for Clare with it being such a rural county, I think they are lagging a little behind not that people mind or that there is still a stigma being gay but I think that an awful lot of the population are that bit older, a lot of the younger gay generation have left, even myself I went to Limerick but a lot of them have gone to Galway or Dublin, they have moved away, a lot of the gay population in Clare would be the older generation and a lot of those wouldn't be into the Pride thing, it wouldn't be a secret but still a very hidden part of their life".
He added, "I don't think they have to go away but for a lot of them I think it would be easier, more because the gay community would be larger in places like Galway, Limerick or Dublin with them being cities they would obviously have a larger population and they wouldn't be known there so they are going to feel more comfortable being who they are until they have one hundred percent come to terms with it themselves to do it around their own community at home".
McNamara is confident in time, there will be Pride festivals in Clare. "With the younger people, the thirteen and fourteen year olds coming, they are coming out at such a young age now and rightfully so. I do believe that if you're thirteen and fourteen and staying in school till eighteen, I don't think it will be soon but eventually it will happen, Pride can happen anywhere regardless of population, if you only have a population of 100 and you only have ten people walking down that road that's their Pride, if there was one person walking down the middle of O'Connell St with a Pride flag it's their Pride, down the road it definitely will happen and with the younger generation coming out so young I think it will be needed".
Life for gay men and women is easier in 2019 than those in the decades past, the Rice College graduate pointed out, "I had it fairly easy. I'm delighted there is more visibility now, it is more open now with the likes of The Clare Echo getting in contact about it. Clare doesn't have a Pride event and a lot of the older generation it would be more of a secret part of themselves, not secret but discreet part of their lives, the more visibility the better".