*Padraic McElwee. Photograph: Arthur Ellis
104 net jobs were created by Local Enterprise Office supported companies in 2018.
Minister for Business, Enterprise and Innovation, Heather Humprheys announced the figures alongside Clare TD Pat Breen who is Minister of State for Trade, Employment, Business, EU Digital Single Market and Data Protection. 2018 marked the 5th year of employment growth for the Local Enterprise Offices nationally, with 3,656 net jobs created nationwide last year. Since the LEOs were established in 2014 their clients have created over 18,000 jobs in small businesses across the country.
In 2018 the Local Enterprise Offices worked successfully with 171 of their client companies to help them transfer to Enterprise Ireland along with 796 associated jobs.  This was up from 60 companies making the transition in 2017.
Last year was a particularly strong year for Local Enterprise Office Clare. In 2018, LEO Clare paid out approximately €700,000 in grant aid to 44 businesses across the county. In 2018, LEO Clare grant aided 33 businesses for Trading Online Vouchers. LEO Clare also facilitated businesses throughout the county through a comprehensive Training and Development Programme, while it also hosted the Student Enterprise Programme, the Clare stage of Ireland's Best Young Entrepreneur (IBYE) and the Clare Women in Business Network.
Padraic McElwee, Head of Enterprise, Local Enterprise Office Clare, commented, "These figures highlight the important role that Local Enterprise Office Clare is playing in creating jobs and sustaining small businesses in the region.  The LEOs are the first engagement any entrepreneur or small business owner should have when they want to develop or grow their idea or company.  Every day Local Enterprise Offices help small businesses to get off the ground, overcome challenges, hire new staff, fund innovation, prepare for Brexit and plan for the future."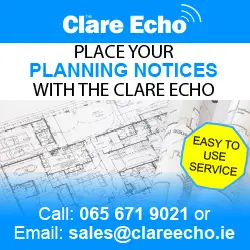 He continued, "The range of supports on offer from the Local Enterprise Office will help anyone seeking to start or grow a small business through highly practical services such as professional business and management training, mentoring, networking opportunities, finance and much more."
The 31 Local Enterprise Offices nationwide, an initiative of the Government of Ireland, are operated in partnership with Enterprise Ireland and the Local Authorities.  They provide expert training, mentoring and financial assistance to entrepreneurs and small businesses who may want to start, develop or grow their company.