Shannon Town Utd will kick off their fiftieth anniversary celebrations over the weekend as some ex Irish internationals take on past and present players from the club in what is expected to be a game to remember.
On Saturday at 12pm, Lynch Park welcomes an Irish Legends side that will feature Ray Houghton, Ronnie Whelan, Mark Kinsella, Kevin Sheedy and Stephen Hunt to take on a Shannon Town selection. Later in the evening The Shannon Springs Hotel will host a Q&A where Houghton and Whelan will be tested by the crowd.
Chairman of Shannon Town Utd, Ger Kelly told The Clare Echo that he was hopeful it "will be a great family occasion" and observed a lot of people are keen to hear the views of Houghton and Whelan at the Q&A. "There's been a huge demand for that, it's on in The Shannon Springs Hotel and we're lucky that the owners John Gavin and Dermot Kelly have been really great for us in terms of hosting this event. The demand is so big for it that we're limited with ticket sales and having to turn people away and limit tickets to people has been difficult because some people have big families and they're looking for 8-10 tickets and you have to be fair to everyone within the club to make sure everyone gets a fair allocation, it's been difficult to get them out but easy to sell them".
While the club which has over 300 members is celebrating fifty years in existence, it is also preparing for it's fifth season back in the Clare League, their return has been very positive according to Kelly. "It's been great to be back. We now have players representing the Oscar Traynor, from a schoolboys point of view we've had plenty of players getting to play Kennedy Cup over the last three or four years, this year again we had five lads playing Kennedy Cup for Clare, w had three girls on the Gaynor Cup. It's been really positive, we feel the kids are getting more opportunities to play for their county since we've been back in Clare, as long as that keeps happening the club will go from strength to strength".
A former League of Ireland player with Limerick, Ger spoke about their highlights of the year thus far which included their U17s reaching the Cup Final narrowly losing to Bridge Utd earlier this month. "The U17s was a big plus for us because last year we didn't have a U17 schoolboys team which was really disappointing for us but they all returned this year to play U17, it's great to have them back.
"I think one of the biggest achievements for us has been the rise of schoolgirls soccer in the club, we focus an awful lot of attention on that and it's starting to show it's fruits now as they're winning a couple of trophies. Our Junior C team over the last two years has been really successful too, it has been very successful over the past five years since being back in Clare but I think the Schoolboys has really gone from strength to strength for us so that's really positive. Your club is only as strong as it's members, with the schoolboys and schoolgirls we really need to keep the club afloat".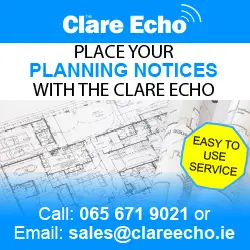 Further events will take place throughout the year to mark the celebrations including a round of Foot Golf for underage members plus a club dinner dance.