By Lauren Guilfoyle
The Clare Senior Hurlers got their league campaign off to a winning start with a five point victory over traditional rivals Tipperary in front of a six thousand strong home crowd in Cusack Park on Sunday.
Clare started with a relatively strong team that most likely won't see massive change when championship season swings around come May, in contrast to a Tipperary starting team without household names like Seamus Callanan, John 'Bubbles' O'Dwyer and Brendan Maher.
Speaking to The Clare Echo after proceedings, joint-manager Donal Moloney cited the main aim of his panel's approach to this league campaign is to "build a squad and gain momentum". Drastic change comes into effect as the Munster championship structure is completely revamped for 2018 to a league-basis rather than knockout, and this significant alteration will make quite transparent the divide between the good management teams and the great. The Banner men will play four senior championship games across five weekends – two games, one weekend off, then two final games with a potential final two weeks later.
In previous seasons, counties have rarely had to play on successive weekends (when a replay was not required) and thus had time to recover from mild injuries such as muscle strains or minor joint issues. Medical teams will be working hard to maximise preparation, while S&C coaches will have all hands on deck monitoring training load between games to reduce the risk of overload while maintaining high levels of performance. Waterford in recent years have been notorious for their 20 man approach to closing out games – players such as Maurice Shanahan and Brian O'Halloran being introduced with 25 minutes to go with a full tank of energy to finish the job. Donal Moloney and Gerry O'Connor will be using this league campaign to build a bigger squad to replicate something similar as they will need a panel much bigger than 17-18 players to see that their Munster championship campaign is a successful one. Niall Deasy (Ballyea) and Ian Galvin (Clonlara) are two players we'll surely see more of throughout this league campaign to add to their list of options in attack.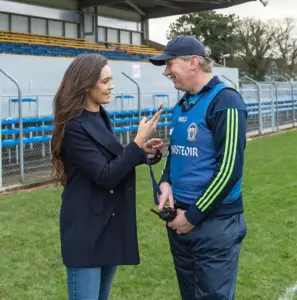 Moloney also praised the "workrate" and "attitude" of the Clare players throughout Sunday's tussle and this was exemplified through the high-tempo performance of Eire Og attacker David Reidy. Finishing the game with 1-8 (6f), Reidy placed himself intelligently throughout, his awareness of space and positioning lending him scores thanks to assists from McInerney, O'Donnell and Conlon. General consensus from the onlooking crowd commented on the perhaps unfair switch of placed ball duties from Peter Duggan to Reidy midway through the first half, however, speaking to Colm Parkinson on the GAA Hour podcast on Monday, Reidy revealed it was Peter himself that asked him to take up the duty – "..You get days like that when you're just not comfortable or something isn't right and Peter said to me about hitting the next one". Duggan, as top scorer in club championship last season, is a proven free taker so a plethora of options for deadball expertise is a welcome problem for management to have.
Short but Sweet
A Man of the Match performance in an All Ireland final, an All Star, Munster and All Ireland U21 and Senior medals, a drawer full of club honours – it's a list of achievements any GAA player would gladly retire happy with having given the prime of their life to the game they love. At 26 years of age though, Conor Ryan's forced retirement on medical grounds will be subtly cushioned by the extent of what he achieved in his days pulling on the saffron and blue, as well as the blue and white of Cratloe. At times like this we are starkly reminded of the transience of sport – it isn't to be taken for granted.