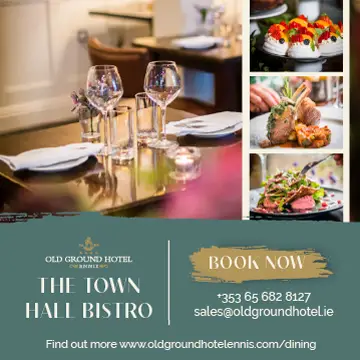 *Donie Whelan controls the ball under pressure from Evan Connolly. Photograph: Martin Cooper
Beaten quarter-finalists in 2018, Broadford have qualified for the Clare IHC final following a hard-fought four point win over neighbours Smith O'Briens.
Broadford 2-18
Smith O'Briens 2-14
Venue: O'Garney Park, Sixmilebridge
Undoubtedly it was far from Broadford's best hour as they struggled for sectors of the game in what was always anticipated to be a close contest against Smith O'Briens, a club with which they regularly amalgamate with in the underage ranks.
This was Smith O'Briens fourth semi-final appearance since 2014 and Broadford's third in five years. The Killaloe side started brightly, being slight underdogs they needed to do so and remain in front for as long as possible, it lasted for twenty six minutes in the opening half and three in the second as an inevitable surge from their opponents followed.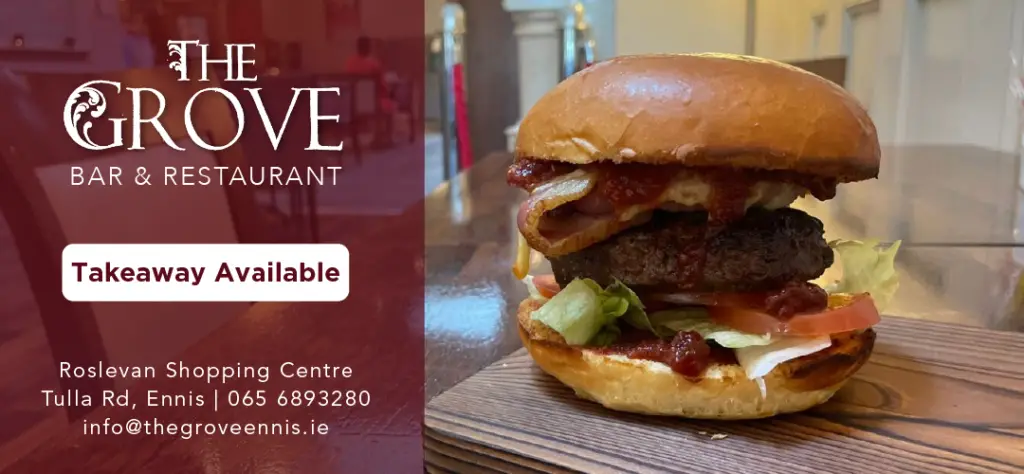 Tommy Reddan was the scorer in chief for Smith O'Briens who fired over the first three points of the afternoon, John Cusack and David O'Shea getting their only scores of the game in this three minute period. Reddan added an excellent effort from the sideline on sixteen minutes to put them three clear only for Broadford to get their first point from play via Sean Phelan with their next attack.
Phelan though wearing number six lined out at centre forward seemed to give them a shot in the arm that was needed, Shane Taylor scored his sixth free of the day and Diarmuid Moloney then opened his account to draw level for the first time.
They stuck their noses in front when the Chaplin brothers Cathal and Craig combined to find Paddy Donnellan who gave an excellent cross-field delivery to Siofain McMahon, his quick hands set up him perfectly to twist and split the posts. Reddan with two frees sandwiched between a Moloney white flag left the sides level nine points apiece at the interval.
On the restart, Reddan's two frees were cancelled out by quick fire Broadford points. Tom Howard's charges hit five points on the trot to build up a three point lead with thirty nine minutes played, their biggest lead to date. Craig Chaplin's thirty eighth minute point was a turning point, Michael O'Shea gained possession from a Mark McInerney puckout, he hesitated and was blocked by Danny Reddan, the breaking ball falling to Chaplin and instead of a Smith O'Briens opportunity to equalise, they trailed by two. Poor discipline from Broadford allowed Tommy Reddan to keep the scores ticking.
There was no goal for the first three quarters of the game but the final one saw four green flags. The first arriving from Donie Whelan when Darren Chaplin sent the sliotar in his direction and he tore through on goal. Keith Strich bundled the ball over the line at the other to cut the distance back to three points. The next score was at the other and it was Stiofain McMahon who billowed to the net, in their next attack, Tommy Reddan's shot from a free eluded JC McMahon but the Killaloe club were unable to get another score with Taylor adding a placed ball to secure the four point win.
One of the perks of being the first team through to a county final is getting to go watch the other semi-final when time allows. Several members of the Doora/Barefield setup were in Sixmilebridge and when they left they were not shaking in their boots. In fact, they would have left more confident because if Broadford reproduce the same display, it won't be enough to beat The Parish.
When it came to breaking ball especially early on, Broadford were slack and during the course of the game from their own puckouts it was 50 percent won, 50 percent lost. Three of their defenders were substituted, of the frees they conceded 79 percent of them were scoreable. Up front, they are lightning fast and would be a handful for any defence in the senior grade. Beaten finalists in 2015 and 2016, the seven time champions paid the price three years ago for underestimating Doora/Barefield and simply cannot afford to do the same. Sean Phelan, Donie Whelan, Craig Chaplin and Darragh Whelan were best for Broadford.
For the third quarter, Smith O'Briens failed to score from play, it was at this stage that their opponents found their rhythm and needed to counteract this momentum. Sixty percent of their scores were from frees and despite having a strong attack on paper it never materialised on the board. As expected, Tony Gleeson's men are more than able to hold their own at this stage of the competition but have lost the last four Clare IHC semi-finals they have been in. Fighting for league promotion in 2020 would be a step in the right direction for them in trying to make their fifth semi-final appearance a winning one. Tommy Reddan did well while Eddie Bourke and David O'Shea were prominent early on.
Scorers Broadford: S Taylor (0-09 7f 2'65), S McMahon (1-03), Donie Whelan (1-01), D Moloney (0-03), S Phelan (0-01), Craig Chaplin (0-01)
Scorers Smith O'Briens: T Reddan (1-10 1-08f 1'65), K Strich (1-00), J Cusack (0-01), D O'Shea (0-01), C Strich (0-01).
Broadford: JC McMahon; Brian Taylor, Darragh Whelan, Eoin Donnellan; Cathal Chaplin, Padraig Taylor, Danny Reddan; Darren Chaplin, Paddy Donnellan; Craig Chaplin, Sean Phelan, Diarmuid Moloney; Donie Whelan, Stiofan McMahon, Shane Taylor.
Subs: Mark Moloney for Reddan (45), Darren McNamara for P Taylor (49), Kieran O'Connell for B Taylor (52), Diarmuid Whelan for Craig Chaplin (63).
Smith O'Briens: Mark McInerney; Cian Nolan, Michael Gough, Evan Connolly; David Gough, Michael Ryan, Dwayne Sheedy; Cathal Stritch, Eddie Bourke; Mark O'Halloran, Michael O'Shea, Tommy Reddan; Keith Stritch, John Cusack, David O'Shea.
Subs: Noel McInerney for D O'Shea (51), Jason Monaghan for Bourke (55).
Referee: Chris Maguire (Wolfe Tones)