*Jathan McMahon gets past Shane Gleeson. Photograph: Gerard O'Neill
Two thirds of the games in the round robin section in the race for this season's Clare Cup have been played and just Kilmaley has reached this stage without losing a game.
Five wins and a draw means that they lead Division 1A by one point from Crusheen and Clonlara, both of whom have suffered one defeat. Title holders Feakle are in fourth place having lost one and drawn two.
Inagh/Kilnamona and Cratloe share bottom spot having lost five of their six outings to date while just one point above them are Clooney/Quin and Broadford who have each lost four and drawn one, the draw coming when they met on Saturday.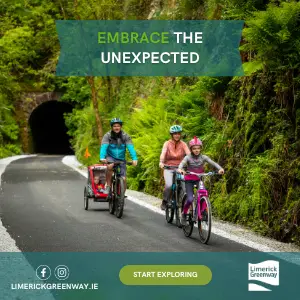 Newmarket-on-Fergus top Division 1B with five wins from six outings and they are a point ahead of O'Callaghans Mills who have four wins and a draw from their six outings.
Éire Óg and Tulla share bottom spot with just one win each from their six outings while Wolfe Tones are a point above them with one win and a draw to their credit.
Three games remain and leaders Kilmaley face home games against Clooney/Quin and Clonlara while they will travel to play Crusheen.
Tomás Ryan's Newmarket, the leaders in 1B will be away to Éire Óg and Clarecastle before concluding their schedule with a home game against Whitegate.
Kilmaley overcome Sixmilebridge to stay unbeaten
Kilmaley 0-20
Sixmilebridge 1-14
Venue: Kilmaley
While they will be happy with their latest victory, Kilmaley are likely to have concerns about the fact that they hit more wides than scores when beating Sixmilebridge on Saturday.
The visitors started well and raced into an early lead, helped by the only goal of the game which came from Brian Corry.
The home side settled and when the half time whistle sounded they were two points in front, 0-11 to 1-6.
While the missed chances will be a concern, they can be happy with the fact that ten players shared in their final tally while the return to action by Aidan McGuane following a leg injury which has seen him miss most of the campaign to date, was also a big plus.
Kilmaley: Bryan O'Loughlin; Martin O'Connor. Colin McGuane, Noel Casey; Tommy Barry, Aidan Griffey, Bradley Higgins; Mikey O'Neill, Tom O'Rourke; Eanna McMahon Sean O'Loughlin, Cian Moloney; Gearoid O'Grady, Daire Keane, Joe Carmody;
Subs: Aaron Moloney for Casey; Aidan McGuane for O'Rourke; Sean Ronan for Carmody; James Fitzpatrick for S. O'Loughlin;
Sixmilebridge: Derek Fahy; Barry Fitzpatrick, Aidan Quilligan, Colm Flynn; Noel Purcell, Caimin Morey, Conor Deasy; Brian Carey, Seadna Morey; Christy Carey, Pa Mulready, Evan McInerney; Sean McNamara, Luke O'Halloran, Brian Corry;
Subs: Leon Kelly for Quilligan (inj); David Kennedy for E. McInerney; Seamie O'Connell for Purcell.
Referee: Jim Hickey (Cratloe)
Clonlara edge South Clare derby
Clonlara 0-17
Cratloe 0-15
Venue: Páirc Micheal Ó Hehir, Cratloe
Neighbours Clonlara and Cratloe produced a close contests at Cratloe on Saturday in which they were evenly matched throughout.
The sides were evenly matched throughout with the winner leading by the minimum, 0-9 to 0-8, at the interval.
Once again Cathal O'Connell was in sparkling form and he converted some great scores from placed balls.
Clonlara: Seimi Gully; Michael Stritch, Jathan McMahon, Paul McNamara; Michael Clancy, Dylan McMahon, Tommy Walsh; Colm Galvin, Cathal O'Connell; Sean Begley, Ger Powell, Colm O'Meara; Cian Moriarty, Bryan McLeish, Daniel Moloney;
Subs: Micheal Stritch for O'Meara; Michael White for Walsh; Tommy Lynch for McLeish; O'Meara for Begley.
Cratloe: Sean Ryan; David Collins, Pakie O'Gorman, Emmet Costigan; Jake Higgins, Michael Hawes, Enda Boyce; Sam Sheedy, Daithi Collins; Jack Donnelly, Shane Gleeson, Luke Healy; Conor McGrath, Rian Considine, Sean Gallagher;
Subs used: Jack McInerney, Barry Gleeson, Kyle Neylon
Referee; Jarlath Donnellan (Wolfe Tones)
O'Connell's return a boost for Ballyea
Ballyea 0-19
Feakle 0-19
Venue; Ballyea
A share of the spoils resulted when Ballyea entertained Feakle on Saturday afternoon.
The game marked the return to the Ballyea colours of Gearoid O'Connell who recently returned after three years in the U.S. and he lined out at centre back. The game also saw the return to action following a year out due to injury of Morgan Garry.
Feakle started well and raced into a 0-6 to 0-1 lead but Ballyea battled back and were just three points adrift at the interval when the score was 0-12 to 0-9.
The visitors held a slight edge on the scoreboard for most of the second half but Ballyea refused to give up and they struck for the last two points of the game foe a share of the spoils
Ballyea: Barry Coote; Brian Murphy, Peter Casey, Brian Casey; Fergal Guinnane, Gearoid O'Connell, James Murphy; Stan Lineen, Thomas Kelly; Cathal Doohan, Niall Deasy, Morgan Garry; Mossy Gavin, Daniel Kelly, Mark Crowe;
Subs: Stephen Casey for Crowe; Evan Wall for Doohan.
Feakle; Liam O'Connor; Evan McMahon, Adam Hogan, Oisin Clune; Gary Guilfoyle, Eoin Tuohy, Martin Daly; Shane McGrath, Con Smyth; Cillian Bane, Steven Conway, Austin McMahon; Oisin O'Connor, Fiachra Donnellan, Ronan O'Connor;
Subs used; Justin Nelson; Oisin Donnellan, Eoin O'Connor,
Referee: Chris Maguire (Wolfe Tones)
Spoils shared at Clooney;
Clooney/Quin 0-20
Broadford 2-14
Venue: Clooney
In a closely fought game at Clooney on Saturday, visitors Broadford led by a goal at the interval, the score having come from Diarmuid Moloney.
The game continued to be close throughout the second half with Sean Phelan striking for the visitor's second goal.
Clooney/Quin kept the pressure on and the equaliser came in injury time from a free converted by Eoghan O'Brien.
Clooney/Quin; Keith Hogan; Evan Maxted, Brian McInerney, Eoin Guilfoyle; Conor Grogan, John Conneally, Michael McNamara; Jimmy Corry, Donagh O'Sullivan, Darragh Keogh, Callum Hassett, Eoghan O'Brien; Ulick O'Sullivan, Trevor Lee, Shane Harrisson
Subs: Dylan Cunningham for C. Hassett; Oisin Egan for Keogh (inj)
Broadford; Cian O'Brien; David Boland, Cathal Chaplin, Damian Keniry; Eoin Donnellan, Shane Taylor, Craig Chaplin; Jack O'Brien, Paddy Donnellan; Paul Moloney, Niall O'Farrell, Diarmuid O'Brien; Oisin Kavanagh, Sean Phelan, Diarmuid Moloney.
Subs: James Gunning for Keniry; Eoin O'Brien for Craig Chaplin, Padraic Hickey for P. Moloney; James Vaughan for Kavanagh;.
Referee; Neil O'Brien (O'Callaghans Mills)
Crusheen maintain strong challenge
Crusheen 2-15
Inagh-Kilnamona 0-19
Venue: Kilnamona
Crusheen kept up their strong challenge for Clare cup honours in 2022 when they accounted for Inagh-Kilnamona at Kilnamona on Saturday evening.
The sides were level at half time when the score was 1-7 to 0-10 the winner's goal having come from Alan Tuohy.
A defensive error by goalkeeper Pat Kelly early in the second half led to the visitor's second goal which was scored by Cillein Mullins and the home side never recovered from this.
Jamie Fitzgibbon top scored for the winners with 0-5 to his credit, one more than Murrough McMahon whose total came from placed balls and Alan Tuohy who finished with 1-1.
Crusheen; Donal Tuohy; Gavin O'Brien, Diarmuid Mullins, Éanna McMahon; John Brigdale, Cian Dillon, Ian O'Brien; Tadhg Deane, Luke Hayes; Cilléin Mullins, Murrough McMahon, Luke Ketelaar; Alan Tuohy, Jamie Fitzgibbon, Breffni Horner;
Subs: Sean Mhaoir for Brigdale; Conor O'Donnell for A. Tuohy; Glenn O'Sullivan for M. McMahon; John O'Sullivan for C. Mullins
Inagh/Kilnamona; Pa Kelly; Jason Griffin, Cathal McConigley, Ricky Wynne; Austin Kerin, Damian Lafferty, Shane Woods; Darren Cullinan, Niall Mullins; Seamus Foudy, Shane Vaughan, Evan McNamara; Josh Guyler, Sean Rynne, Conner Hegarty;
Subs; Keith Barry for Vaughan; Keelan Guyler for McNamara; Conor Tierney for Foudy; Milo Keane for McConigley; Ronan Mescall for Mullins
Referee; Johnnie Healy (Smith O'Briens)
O'Connell points the way for Magpies
Clarecastle 0-24
Tulla 0-16
Venue: Dr. Daly Park, Tulla
Seven points, all from play, from Rory O'Connell and six from James Howard, four of which came from play, helped Clarecastle to this impressive victory over Tulla at Dr. Daly Park last week in Division 1B of the Clare Cup.
While the magpies will be pleased with this victory, their fourth from six starts in the campaign, there will be some concern at the number of frees which they conceded, seven of which resulted in Tull points from Sean Withycombe.
One of the highlights of this game was the performance of Magpie goalkeeper Cian Broderick who produced a series of top class saves.
Both sides had goal chances in this tie but none were converted and credit must go to both goalkeepers, Broderick and Tulla's Aaron Shanahan.
The winners held a five point advantage at the interval when the score was 0-12 to 0-7. the home side fought back to within two points of their opponents in the third quarter but the visitors put in a powerful final period to seal a merited win.
Clarecastle: Cian Broderick; Aaron Hayes, Cillian Casey, Tommy Howard; David Tuohy (0-2), Darragh Healy, Colin Brigdale; Killian McDermott, Rory O'Connell (0-7); Stephen O'Halloran (0-2), Patrick Kelly (0-1), Oisin Casey (0-2); Conor Halpin (0-3), Jack Murphy (0-1), James Doherty(0-6, 2f)
Subs: Ronan Donnelly for Howard (HT, inj), Kevin Hartigan for Casey (44), Niall Galvin for Kelly (48), Marc McAuliffe for Murphy (59)
Tulla: Aaron Shanahan; Feargal Kearney, Paul Lynch, Kevin Conlon; Liam McInerney, Shane Hunt, David Meehan; Dan Withycombe, Michael Ryan; Jimmy O'Gorman (0-5), Willie Halpin (0-2), Padraic Mulconroy; Conor Murphy, Niall Bolton, Sean (0-9, 7f).
Subs: Sean Torpey for Ryan, Sean McNamara for Mulconroy, Colm McInerney for Murphy
Referee: Niall Malone (Éire Óg)
Good defensive performance from Scariff
Scariff 2-18
Smith O'Briens 0-18
Venue: Scariff
First half goals from Patrick Ryan and Sean Minogue helped steer Scariff to this victory over their East Clare neighbours Smith O'Briens at Scariff on Saturday.
The goals separated the teams at half time when the score was 2-9 to 0-9.
Smith O'Briens tried hard to reduce the deficit in the second half but they were unable to get through for the goal they needed as the home side's defence held firm and steered them to a merited win.
Scariff; William Kavanagh; Eoin O'Grady, Michael Scanlan, Martin Cunningham; Scott Cairns, Shane Kavanagh, Diarmaid Nash; Tomas McNamara, Keelan Hartigan; Conor McNamara, Ronan Corry, Michael Barrett; Sean Minogue, Patrick Ryan, Daniel Treacy;
Subs; Eanna O'Brien for Corry; Tadhg Kavanagh for C. McNamara; Diarmuid McNamara for Nash; Padraic Brody for T. McNamara; Fergus Madden for Minogue.
Smith O'Briens; Mark McInerney; Stephen Geraghty, David GZough, Cian Moloney; Evan Connolly, Eddie Bourke, Mark Stritch; Cathal Stritch, Micheal Ryan; Patrick Aherne, Tommy Reddan, David O'Shea; Jason Monahan, John Cusack, Mikey O'Shea;
Subs used: Noel McInerney, Paddy Gough, Eoin Power, Stephen Geraghty.
Referee: Kieran Liddane (Sixmilebridge)
First win for Wolfe Tones
Wolfe Tones 1-18
Éire Óg 0-18
Venue: Éire Óg GAA Grounds, Ennis
Wolfe Tones got their first win in this campaign when they accounted for Éire Óg at the Ennis club's venue on Saturday evening.
Corner forward Gavin Carigg scored the game's only goal and this score separated the sides at the final whistle.
There was little between the sides throughout after the sides had been level at half time.
Kevin Brennan scored five points from play for the Ennis side. Ben O'Gorman and Darragh Lohan impressed for the Shannon outfit at midfield while Aaron Cunningham and Cian O'Rourke were others to stand out.
Wolfe Tones; Pa Freeman; Gary Cusack, Jamie Roughan, Davy Ryan; Luke Merrigan, Liam Murphy, Sam Meaney; Ben O'Gorman, Darragh Lohan; Aaron Cunningham, Dylan Frawley, Stephen Donnellan; Dean Devanney, Cian O'Rourke, Gavin Carigg;
Sub; Shane Nihill for Davy Ryan;
Éire Óg; Philly Walsh; Cillian Moroney, Aidan Mc Grath, Conor O'Halloran; Marc O'Donnell, Niall McMahon, Eoin Guilfoyle; Darren O'Brien, Rory Gallagher; Oran Cahill, Kevin Brennan, David McNamara; Dara Stack, Niall O'Connor, Michael Henegan;
Subs; Kevin Moynihan for O'Connor;
Referee: Kevin Corry (Sixmilebridge)
Strong second half showing from Whitegate
O'Callaghans Mills 2-18
Whitegate 1-21
Venue: Hamilton Park, Kilkishen
O' Callaghans Mills looked to be on their way to a comfortable victory when they held a nine point lead in this Division 1B tie at Kilkishen on Saturday evening.
Goals from Colm Cleary and Conor Henry helped the home side to lead 2-19 to 0-9 at the halfway point.
On the resumption Whitegate took control and reduced the deficit to three but the Mills responded and they opened a six point lead by the mid point of the second half when the score was 2-16 to 1-13, the visitor's goal having come from Conor Whelan early in the second period.
Whitegate had the better of the final quarter in which they outscored the home side 0-8 to 0-2.
Danny Hynes top scored for Whitegate with 0-7 while Conor Whelan with 1-1 and Ronan Hayes and Brendan Bugler each landed 0-3. The equalising point came from Luke Sugrue.
O'Callaghans Mills: Killian Nugent; Niall Donovan, Kevin O'Callaghan, Ronan Kelly; Aidan Fawl, Pat Donnellan, Michael Cotter; Cormac Murphy, Sean O'Gorman; Jacob Loughnane, Colin Crehan, Cathal Lenihan; Colm Cleary, Gary Cooney, Conor Henry;
Subs: Sean Cotter for G. Cooney; Dara Moroney for S. O'Gorman; Michael McMahon for C. Murphy.
Whitegate: Andrew Fahy; Ciaran Quinn, Eoin Quirke, Dylan White; Brendan Bugler, Colm Madden, Ian Fahy; Tomas Quirke, Conor Whelan; Danny Hynes, Conor McDermott, Ciaran Keenan; Luke Sugrue, Ronan Hayes, Paul Burke;
Subs: Donal Burke for T. Quirke; Reuban Noyes for C. Quinn.
Referee: Kieran Liddane (Sixmilebridge)
Strong finish helps Newmarket-on-Fergus to another win
Newmarket-on-Fergus 1-22
St. Josephs Doora/Barefield 1-17
Venue: Gurteen
Newmarket-on-Fergus started well in this tie played at Gurteen and they quickly raced into a 0-8 to 0-2 lead before leading 0-13 to 0-8 at the interval.
They were six points clear early in the second half when St. Josephs struck for a goal from Conor Tierney and this sparked off a good spell for the home side who drew level at 0-18 to 1-15.
The Parish were then reduced to fourteen when goalkeeper Paul Madden was sent off and this led to a number of changes with the replacement of Conor Tierney to allow for the introduction of Mikey Roseingrave.
Newmarket's response was impressive with some good points taken before Eoin Guilfoyle struck for their goal to seal a good win on a day when Liam Clancy landed 0-8 from frees for the Blues.
The game marked the return to action for Colin Ryan for his first game of the season.
Newmarket: Padraic Guilfoyle; Jack Enright, James McInerney, Paudie McMahon; Colin Guilfoyle, Enda Barrett, Niall O'Connor; Liam Clancy, David Frost; Michael McInerney, Peter Power, Jack O'Connor; Éanna Crimmins, Shane Lynch. Eoin Guilfoyle.
Subs; James Power for C. Guilfoyle (inj); Evan Keogh for Enright (inj); Colin Ryan for Lynch
St. Josephs Doora/Barefield; Paul Madden; Eoghan Talty, Jarlath Colleran, Dara Nagle; Adam Mungovan, Darragh McMahon, Cian Lahiffe; Brian Guilfoyle, David Conroy; Senan Crosbie, Tom Hannan, Jack Hannan; Conor Tierney, Cathal Ruane, Cian Barron;
Subs: Matthew Power for Guilfoyle; Mikey Roseingrave for Tierney
Referee: Jim Hickey (Cratloe)