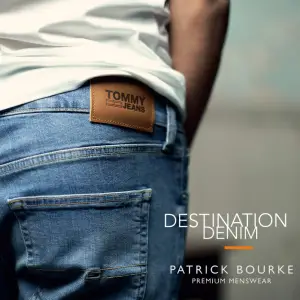 *Ronan Kerin in action for Avenue Utd. Photograph: Natasha Barton
ALTHOUGH HE PLAYED A PART in the initial phase of their double success last season, Ronan Kerin is determined to have a valuable contribution in the business end for Avenue Utd as they bid to retain both League and Cup titles.
Ennis native Ronan had lined out with Avenue from August to November last season as they went on their way to dethroning Newmarket Celtic in both competitions. However his work with the Irish Defence Forces saw him stationed in South Lebanon from November 2021 to May 2022 meaning he was back in the country but not back in the reckoning to feature in their Cup final and League showdown with Celtic.
He recalled, "I knew straight away from the season before that we had built the foundations to go on and potentially win the League and Cup, you could tell straight away from the start of the season not losing any games and going on a good run in the Cup that we had a solid team. I was bitterly disappointed to go away for the six months, I tried to get back for the Cup final and League decider, I was back but I had a bit of a freak injury overseas which put me out for nearly two months, I missed the league final and the Cup final which was disappointing for me personally but it was great to be involved and for Avenue, we felt at that stage that the tide was turning".
Key to turning that tide was the much referenced pre-season completed by Avenue. "It was exactly what we needed. Every time a team wants to go forward it is built on fitness, you can have the best players in the world or best players in Clare but if you don't have the fitness you will gas out after ten or fifteen minutes and go a goal down you're fighting an uphill battle but the fitness has been massively important, we felt we were the fittest team in Clare, especially after that pre-season and we carried it on after the season. You need the fitness because it will level out eventually during the season, coming into the final few games we were flying fit and hitting our peak. This season we had a bit of a slow start regarding the pre-season, we had a lot of lads injured and lads away".
That slow start saw them lose to Lifford 1-0 in what has been their only defeat in the Premier Division.
Competition for places is also keeping the likes of Ronan on their toes. "It is brilliant to see the young lads coming through. We've Elias, Mossy, Mark Roche and myself, the four of us are starting up front but our positions aren't concrete but we accept that, we have a lot of good young lads on the sidelines too that will take our position as quick which is good because every training is competitive and every game you have to perform which is what makes a great squad, as long as everyone is fighting for a common goal and you know if you don't start this game that there will be a lad in there to do the same job as I will".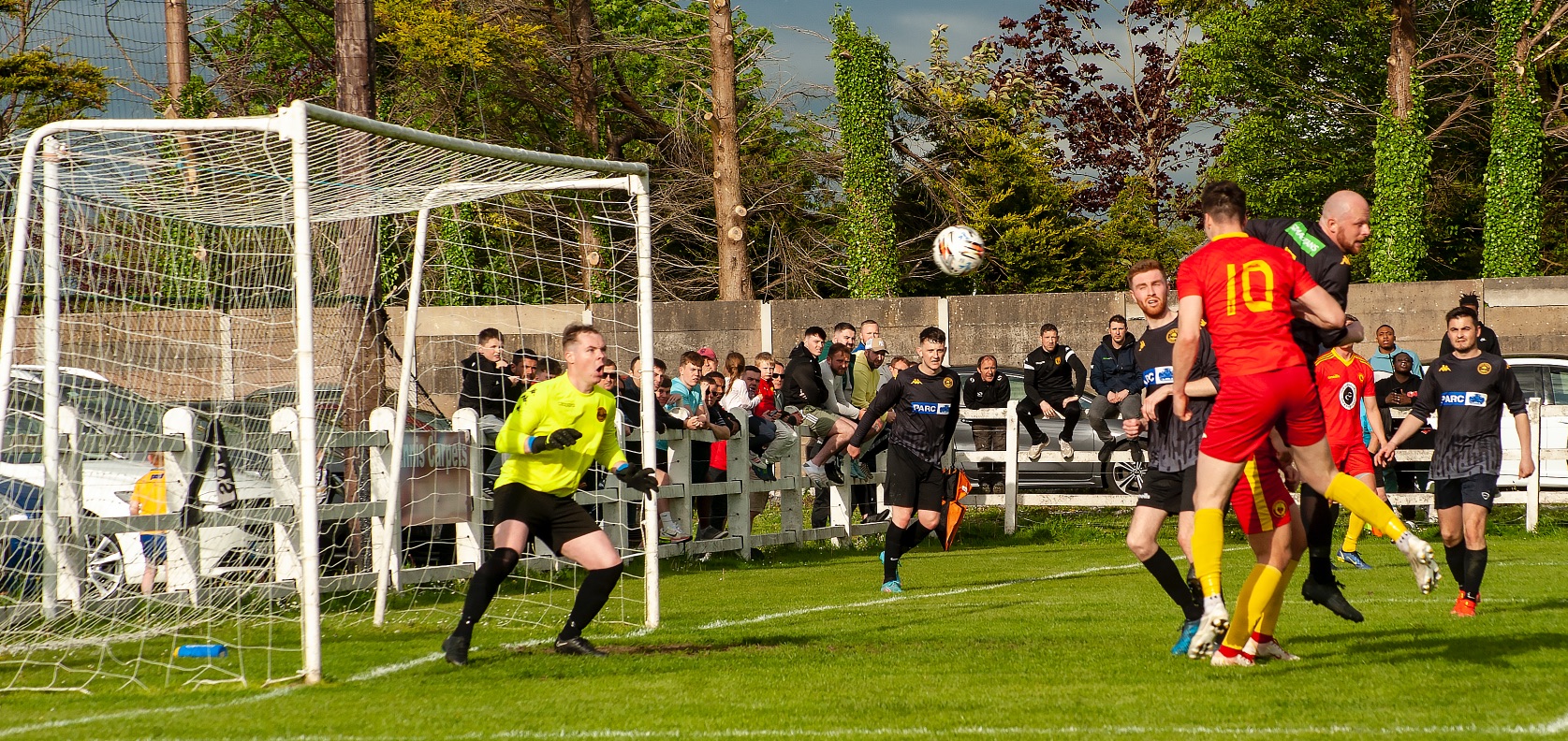 His partnership with Elias Kunz is one of the most physical attacking duos in Clare soccer. "In the trainings, Russ puts us against each other the whole time, there's a competitive edge but Elias is an unbelievable player, I didn't hear about him until the season before he joined us, he played against us with Ennis Town and we could see straight away that he was good enough for what we consider to be our standards, when he came into the team we could see straight away he was a fantastic player, strong, fast and well able to finish, he got 30 goals last year, he's a brilliant player to play with, he drives it on and takes on players, he has it all in my opinion, I can't complain about playing with a fella like that".
"For me I've struggled throughout the season, I've had a few injuries, my glute has flared up a few times so I've missed about six or seven weeks with it. Coming back into a league and cup winning team having been out for six months in Lebanon it was tough to get up to the run of things to be honest, I only felt I was coming round in January or February, I think I'm coming round so we'll see, hopefully I'll hit my peak towards the end of the season in these last two or possibly three games, the fitness Russ has installed and going to every training from Tuesday and Friday, I live in Limerick but I travel down every Tuesday and Friday when I can and every Sunday, it will only pay off for me and I feel it has in the last month".
David Russell's influence as manager is heralded by the twenty five year old for helping Avenue go from a team chasing silverware to a team demanding trophies. "Russ has changed the team massively, we had a bit of an inner battle within the club for the As and the Bs, the B team wouldn't hand over players to the As, it happens and there is probably politics in every club but I think David got rid of that, he brought the whole club together, he said if we wanted to win league titles and cups that the A and B team would have to come together, we've always had a great B team with good young lads just like we do at the moment, we've great young lads coming through who can use that as a stepping stone into the A team and improve us all around, it makes a massive difference compared to when the A team and training here and the B team are over there but they're not talking to each other, if we want a player because he will make the team better then that's what I think changed at the start and what laid the foundations from the get-go when Russ took over".
Seven months with the Defence Forces as of April, Kerin has climbed the ranks to become Corporal. "I'm training recruits and have represented the soccer team, I was in China in 2019 for the World Military Games, I went to France in February and I've been to Portsmouth with them, I'm actually going to Leicester at the start of next month, it's great. I personally think it is the best job in the world, whatever job would offer you a chance to wear the Irish jersey abroad playing sport, it is brilliant for me," he explained.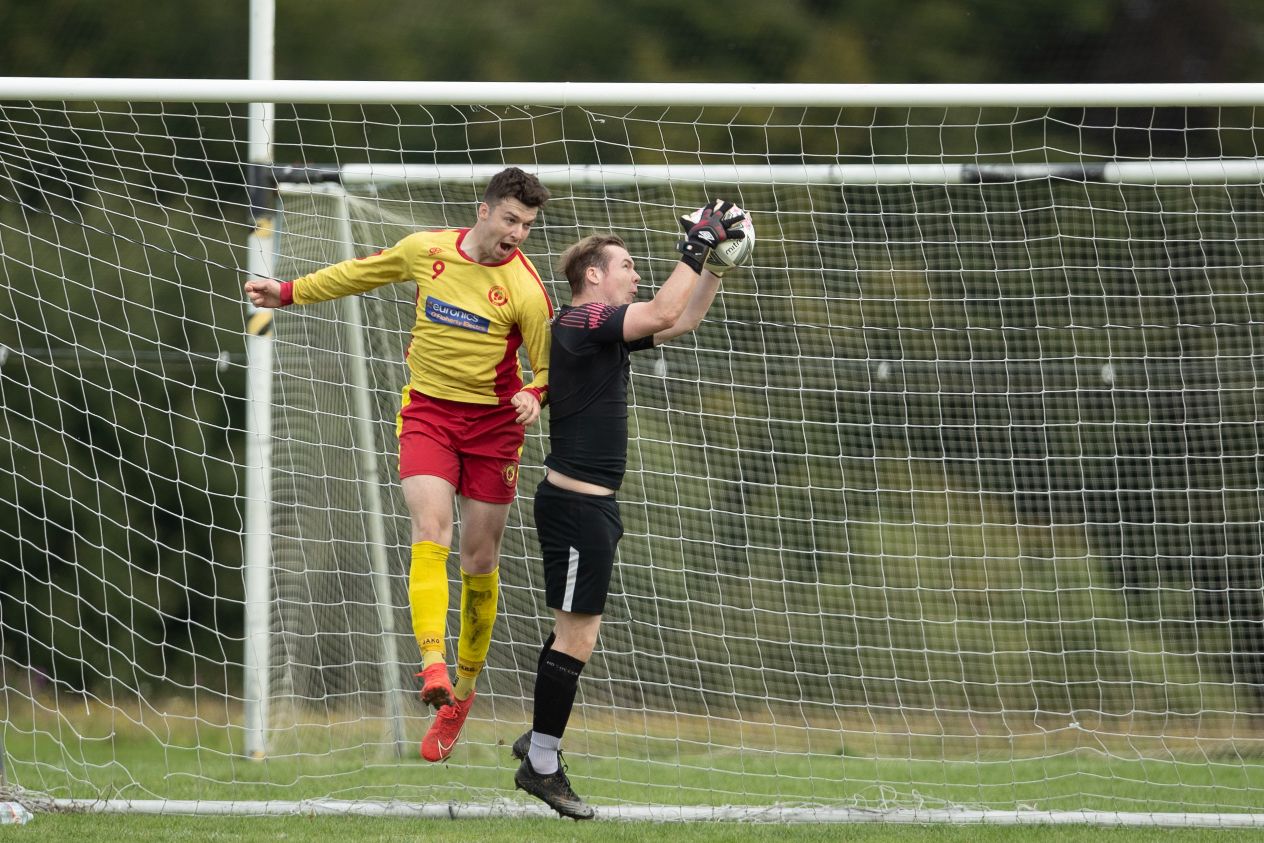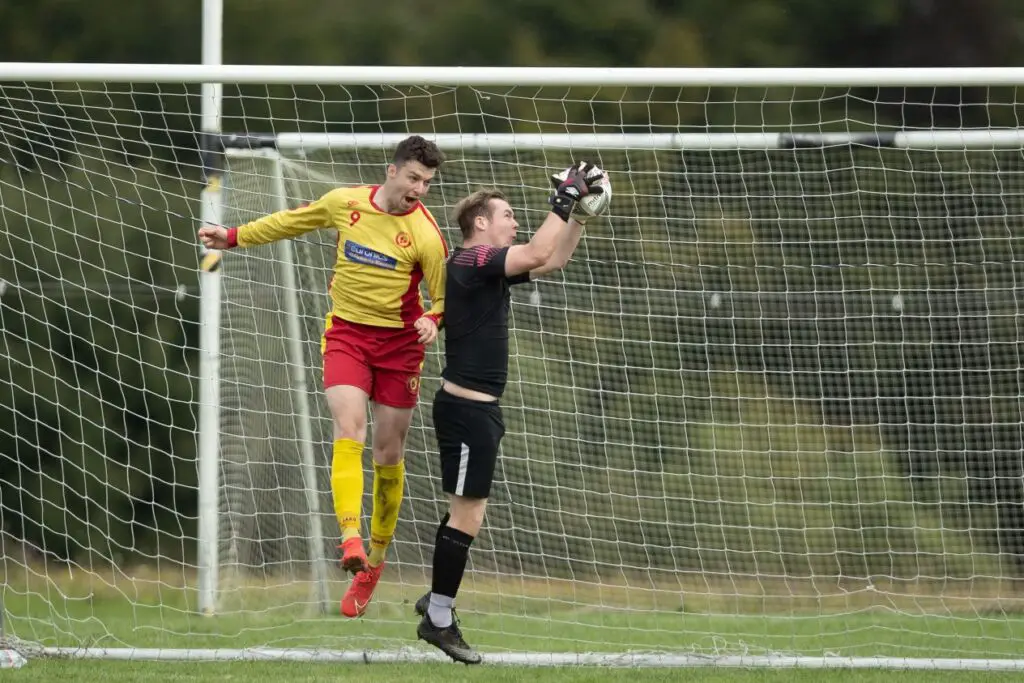 Stationed in Limerick Barracks, his trip to South Lebanon was his second time overseas with the Defence Forces. "My role over there was patrol commander, I would have been leading patrols around different towns and villages, you're working with the United Nations, there is still a war going on with Lebanon and Israel, it is a bit iffy you could say so we're just patrolling the blue line between the two countries and making sure there is not illegal weapons or anything like that coming through. When I was over there, we were going to the towns and villages, we went into young primary school classes and teaching the kids bits of English, numbers, it was brilliant to see the smiles on their faces and things like that are the memories you take home from it. At the end of the day as great as it is, it is still a dangerous place, we lost one of our own in December, that was the first time in nearly twenty years so it just goes to show you don't know what could happen at any moment over there, I personally had a great experience over there".
Fortunately, he has not encountered any particularly dangerous scenes. "There has been a few incidents where you might get blocked in and when that happens they might smash all the cars, that is few and far between, things might happen but we're trained in that and trained to get out of that situation. It was a relatively safe trip for me personally. There are gyms over there, we're in a big camp which is nearly a kilometre long so you can go for runs and all this stuff, it is mainly in the gym and building the body up. The last two times I've been over the family have seen a bit of a difference in myself, the shoulders are broad".
Family connections to the Defence Forces exist for Ronan including his father and brother, Darragh. Relations may become strained this weekend with Darragh part of the Lifford squad. "I don't know will he make a late burst, I'm sure he'd love nothing more than to get one over on me. I played against Darragh before, he loves trying to go in hard on me but that is brothers, it is great for a town derby and in a Clare Cup final it is exciting, hopefully it will attract a good crowd as well. He is about three years older, we'd have been up the field together or in Bruach na hAbhainn kicking lumps out of each other the whole time but that is the only way you will learn".
"My father was over Darragh's team when he was twelve up until youths, Darragh took a break then and joined Hermitage, two years ago he joined Lifford so he has made moves around the town, he has no loyalty," Ronan recounted.
Now with Avenue Utd for fourteen years, Ronan was called to the first team in 2016 by Richie O'Grady who has left the club and is now manager of Fair Green Celtic, the side they defeated in the Cup semi-final. His service to the club was only interrupted by a brief loan spell to Ennis Dons. Success was common in the underage ranks with Avenue, "I've won a few Cups but I never won a League underage, we won three Cups underage and a Youths Cup, last year the League and Cup would have been my first junior medals in the Premier Division, we won the First Division with Avenue B back in 2015".
"At underage we weren't an amazing team but they (Lifford) were slightly before us, ever since I got to junior soccer I knew what Lifford were like, any game against Lifford is tough, we saw that at the start of the season when we lost a game and obviously the game in Tom Steele Park when we only won 1-0, it was a slog and you can see that from them putting it up to teams like Newmarket, they only lost 1-0, they've always been a rival for me personally and it is a town derby and my brother plays for them, it's a big name in Clare soccer".
Successive titles "would be amazing," Ronan felt. "It would be great for Russell, David O'Grady and Ollie who has just come into the management, it would be great for everyone involved in the club like the people constantly on the sideline at our games like John Roche, Marie Roche, John O'Malley, those people who come and watch us, it would be amazing for the club and just as good for the players. We've seen what our rivals up the road are capable of doing this season, we feel that if we can keep building and win another double this year but we will take it one game at a time and focus on the Cup final first, if we can win a double this year who knows what we could be capable of next year if we stick together and I feel like we will because we are a fairly young team with an average age of 24 or 25, we have a very young team, there is no reason why we can't do something outside of Clare but for now we will look towards the Cup final and not beyond it".
Immediate focus for Avenue is on retaining the Cup before they will divert attentions to meeting Newmarket Celtic in a must-win tie on Wednesday to determine how the Premier Division will pan out. "Newmarket are a fantastic team, what they've achieved is amazing and we're only focused on ourselves, we will concentrate more on that league game when the Cup is over but we will just look to Lifford for now and after that we can assess Newmarket to hopefully take it to a play off if that is the case, if not and they drop points hopefully we can win it on that day".