An adopt a family scheme may be trialled to help tackle the housing crisis affecting the entire country.
"Such a radical approach" is believed to be the first of its kind in the country. Cllr Gabriel Keating (FG) made the proposal at the October meeting of Clare County Council. Referring to a report based on 2011 Census figures relating to vacant houses in the county and published by the Council, he asked than an "adopt a family scheme" be implemented. "The rational for such a radical approach to housing needs is to revitalise such areas in Rural Ireland with the occupation of these vacant houses up to proper living standards".
Keating added, "Supporting a family who have a housing need would in the first instance, in such circumstances, benefit not alone the family but provide a, human, social and economic boost for communities' schools, shops and sporting organisations, and provide a challenge to the local authority from which I requisition a preliminary report".
Quoting Nelson Mandela, the Cross native stated "It always seems impossible until it is done". He felt the scheme would "revitalise communities".
10.925 vacant homes were said to be in Clare as per the 2016 Census, the figure dropped to 6,104 once holiday homes were excluded. Geo-Directory figures from An Post show 2,700 unoccupied dwellings for the similar period. "These figures are being examined nationally to report on the disparity between the two figures and locally the vacancy properties are being confirmed using the Geo-Directory as the start point," Director of Social Development, Anne Haugh responded.
She said Ennis, Killaloe, Kilrush and Shannon were the areas under current review regarding vacant properties. "There is very limited success in securing vacant properties for social housing either as an acquisition or under one of the supported rented/leasing schemes. While it is considered there are many vacant properties in rural Clare these properties are invariably located in areas with minimal social housing demand. Further there are many reasons for this vacancy and invariably these properties are not available for social housing tenants as either they are unsuitable or the cost to return them to use is far in excess of the grant aid available under the various schemes".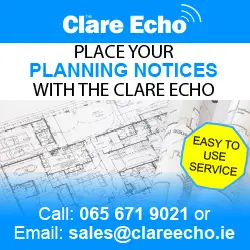 Haugh welcomed Cllr Keating's motion and encouraged owners of vacant properties to contact the Vacant Homes Office within the Council "to ascertain the viability of such a property for social housing. If there is demand in an area then this Council will work with the property owner to advise on the most appropriate scheme to fund works that may be required". Broadford, Sixmilebridge, Tuamgraney and Tulla are being assessed to see if vacant properties there can be returned to use. She advised that the Council are "imminently" due to introduce an online based system where qualified social housing applicants can express their desire to be considered for a property which is due for allocation.
"I think there is merit in examining anything that might help rural villages in decline," Cllr PJ Kelly (FF) commented as he seconded the motion. "We have to move with a certain amount of caution". The Lissycasey representative added, "I was amazed that one of the biggest fears people coming from Dublin had was the darkness, they were used to the big lights, if anybody comes and wants to settle in those villages we need to have the services in place".
"There is villages and schools all under pressure, we need to bring the life back into this villages and give them that bit of strength," Cllr John Crowe (FG) said. It was "a novel idea" according to Cllr PJ Ryan (IND), "I would like to see central Government coming up with more funding for the local authority. Cllr Keating has massive influence with Central Government, if he's good enough to come with the motion, he's good enough to come up with the money".
Shannon representative, Cllr Gerry Flynn (IND) noted that a lot of owners are wishing to make their property available and mentioned the success of Jim Connolly's Resettlement Ireland programme. He warned, "You cannot go out there and dictate. People in this country have the right under the constitution to own property, we cannot dictate what they do with it".
Long standing councillor Pat McMahon (FF) replied to Flynn's remarks, "This is a different plan to Jim Connolly's Resettlement Ireland. None of the recent settlement programmes have taken off to be honest about it. This is a pilot". Cllr Keating added, "Jim Connolly's project was to build houses, my project is to bring the houses back into use". Support was also voiced by councillors including Michael Begley (IND), Pat Daly (FF), Cathal Crowe (FF) and Roisin Garvey (GP).
Council Chief Executive Pat Dowling welcomed the "comprehensive debate". "From a vacant homes aspect it is something we will respond to. Something can be piloted on that, if we can make a small impact that would be positive. If the proposer and seconder are aware of properties that become available in Cross and Lissycasey we would be happy to develop social housing there", he concluded.