*Photograph: Gary Collins
Scoil Chríost Rí have launched Kayak Le Chéile, which aims to make the River Fergus as accessible as possible for local children engaging in river sports.
A total of 90 children from 4th, 5th and 6th classes, led by tutors from the Burren Adventure Centre, took to the water in kayaks for the grand opening on Tuesday last.
The brand-new Kayak Le Chéile extra-curricular activity came together through the offices of Clare Sports Partnership along with support from Clare County Council.
After the successful launch of a pilot programme for the children, Committee Secretary and teacher Joe Garry pronounced, "It was just phenomenal on the day. Better than we had expected. The kids loved it and have now developed a better appreciation of the town and the river. There are a number of safety aspects covered in the curriculum. Due to the inability to access the aquatic strand in the pool, there was a focus on the outdoor and adventure strand of the curriculum".
Envisioned through Joe in early 2020 and now actualised, Kayak Le Chéile has opened up the town for Scoil Chríost Rí. Joe concedes that out of the ninety children that broached the River Fergus on October 6th, only five had sat into a kayak before. "It's hugely important at the moment. There is a big emphasis on wellbeing and physical fitness. This is not a weather dependent sport. Once they were out on the water, they simply loved it. All in all, it is one of the best initiatives we have ever done."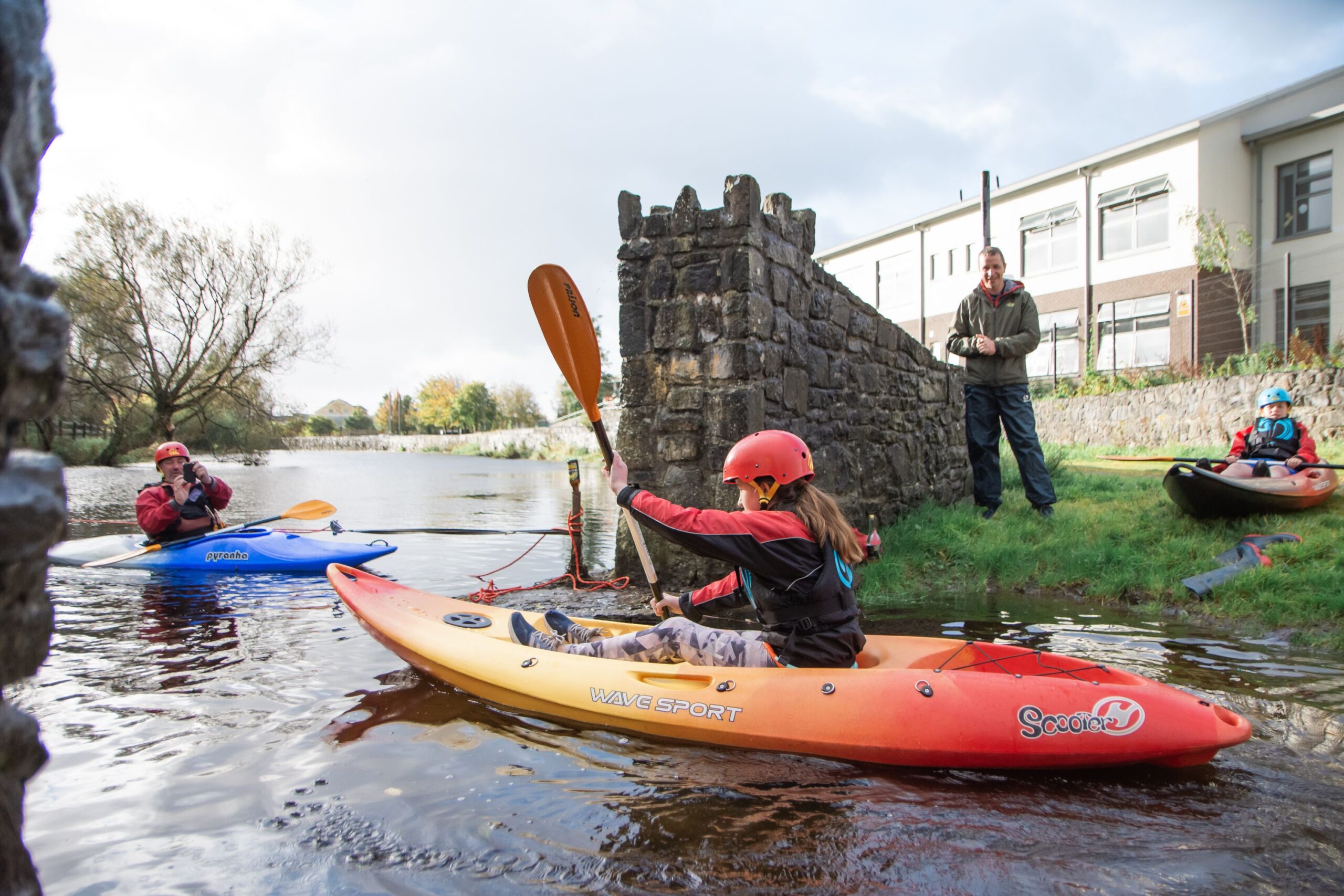 Building on the success of the launch, the Kayak Le Chéile committee, led by Chairman Conor Healy have put in an application to the Dormant Accounts Fund to set up an outdoor adventure hub, which would include a kayak shed to house kayaks and relevant safety equipment on the school grounds. The goal is to cover the expense side of the new Kayak Le Chéile outdoor adventure activities, whereby a tutor can travel on site and take the children out on the river. Joe is optimistic that this project will be up and running by early 2021.
On further upskilling and an uptake from teachers within the town, Joe concludes with, "We are here beside the river, we have our own slipway, we got good support from Clare County Council and Clare Sports Partnership and a number of teachers have done their Level 1 kayaking course. There is another Level 1 course starting this week for teachers and staff in four different schools within the town. We are hoping that it will gather a bit of momentum, not just for kids in our own place, but for the town in general".