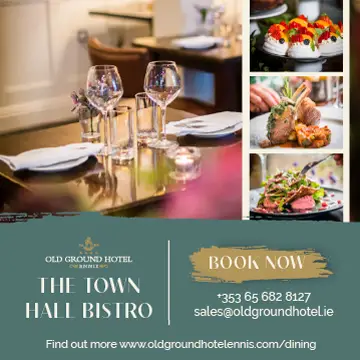 *Dr Michael Harty. Photograph: Joe Buckley
Kilmihil GP, Dr Michael Harty has confirmed he has returned to his West Clare surgery despite attending a controversial event on Wednesday night which was in breach of COVID-19 guidelines.
Dr Harty was among the eighty plus people that attended a dinner of the Oireachtas Golf Society in Clifden on Wednesday. The event has resulted in the resignation of Dara Calleary (FF) as Minister for Agriculture, Food and the Marine and Deputy Leader of the party, Senator Jerry Buttimer (FG) stepping down as Leas-Cathaoirleach of the Seanad plus Donie Cassidy's departure as Vice President of Fianna Fáil.
Taoiseach Micheál Martin (FF) has removed the party whip from three Fianna Fáil Senators Paul Daly, Aidan Davitt and Niall Blaney while Tanáiste Leo Varadkar (FG) has done likewise to Senators Jerry Buttimer, Paddy Burke and John Cummins. Pressure is mounting on EU Commissioner Phil Hogan (FG) to step down from his position.
A statement issued on Saturday from Dr Harty confirmed he attended the dinner. The outgoing Captain of the Oireachtas Golf Society admitted that the first instance whereby he became aware the gathering breached public health advice was when he received a call from Irish Examiner journalist Aoife Moore seeking a comment on his presence at the function.
Had he still been Chairperson of the Oireachtas Health Committee, Dr Harty revealed he would have stepped down from the role as a result of attending the dinner.
Speaking on Clare FM's Morning Focus, Michael outlined, "Instinctively I should have known, I didn't see any news on the Government meeting on Tuesday or the announcement afterwards. It was my first Tuesday off since the start of the pandemic, I left Kilmihil at half eight on Tuesday morning, I drove straight to the golf club, played a round of golf, went back to the hotel and had a shower, had something to eat in the restaurant and went to bed. On Wednesday morning, I got up and had breakfast on my own, played a round of golf. I had turned off completely to what was going on in the outside world for two days, I had been working hard in relation to the pandemic for the last six months, I left my guard down".
"I should have been aware that this was an event that should not have gone ahead and I fully acknowledged that it should have not gone ahead, I should have been aware when I walked into the room that it was in breach of the guidelines. I should have applied common sense, one of the lessons I have learned from this is to think about every situation I enter into and apply public health accordingly, I didn't do that on this occasion," he added.
He explained, "It didn't look overcrowded. I walked into a trap basically, I walked into a room which looked fine, I didn't see any difficulty, I hadn't been in a hotel in the last six months".
Since attending the over-crowded dinner, the former Clare TD has returned to work at his Kilmihil surgery. Harty detailed that the surgery has been "virus proofed" since the beginning of the pandemic as it cleaned multiple times a day with all patients required to wait in their car as opposed to the waiting room and anyone presenting must wear a face mask. He said the surgery was limited to one patient at a time. "We have completely changed how we function and operate, I can assure you I have and will make every effort to ensure nobody contracts the virus from my surgery".
Confidence in the GP has taken a hit. "This is a very serious blow to me personally, I feel that I have let people down, I have breached their trust and the cohesion the Government and NPHET are trying to promote. It is a lesson that I have learned, it has been a blow to me professionally and personally," the Limerick native confessed. He said arrangements will be made for patients to be seen by another medical professional if they do not feel comfortable receiving treatment from him at this time.
"I understand their (people of Clare) absolute anger at what I have done, I say that I shouldn't be judged on just one incident, I should be judged on the totality of the work I have done but certainly that has been undermined," he concluded.