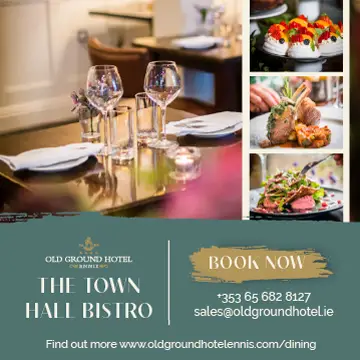 *Noel Kilkenny presents the Captain's Prize to John McNeilis.
Captain Noel Kilkenny's prize was played for at Kilrush at the weekend when John McNeilis (18) emerged as the winner with 110.
Former captain John won on a countback from John Stapleton (22) who had a similar score. David Nagle (12) was a shot back in third place with 111 followed by Greg Young (8) with 112 and Kevin Clancy (13), also with 112.
Rory Lillis (3) won the gross with 121 while the category winners were Brian Scanlan (10) with 113, Leroy Crowe (16) with 115 and Patrick O'Dea (21) with 112.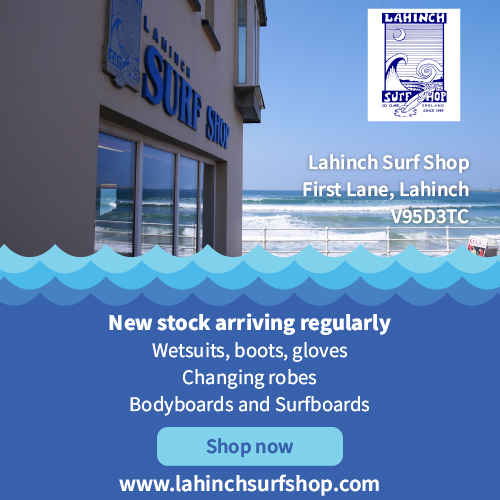 The nines were won by Robert Prunty (14) with 30 and Bernard Coleman (18) with 31 while the leading qualifier was John K. Ryan (16) with 65.
The captain's prize to distance members was won by Jack McGrath (20) with 107 from Martin McNamara (23) with 108 and Andrew Egan (17), also with 108.
Anne Coen (22) won the captain's prize to the ladies with 42 points from Miriam Saunders (29) with 41 points, Nicole O'Leary (29) with 40 points and Ailish Lorigan (19) with 40 points.
The category winners were Sheila O'Grady (19) with 40 points, Agnes Shannon (25) with 38 points and Jean Lorigan (33) with 39 points while the twelve hole winner was Anne McMahon with 26 points.
Last week's Anne Marie Russell sponsored team of three for ladies was won by
Claire Pyne, Anne Coen and Mary Downes with 96 points From Anne Gallagher, Edel Crowley and Ailish Lorigan with 95 points. They were followed by Loretta Maher, Margaret Hehir and Freda Moran with 93, Anne Cooper, Mairead Bergin and Mary Keating also with 93 while fifth spot was filled by Margaret Donnelly, Marie McGuire and Maureen Kinnerk with 90 points.
Ennis Golf Club:
Lady captain Ann White's prize was played for at Ennis at the weekend when the 18 hole stroke competition was won by Betty O'Reilly (35) on a countback from Eileen Holly (40), both finishing with 70.
Ann A. Gallery (18) was third with 71 followed by Anna Marie Darmody (32) with 72 and Nuala Healy (26) with 72. Shannon Hegarty (3) won the gross with 79
Attracta Williams (33) won the front 9 with 32 while the back 9 winner was Liz Kelly (43). Other prize winners were Cora Kerins (31) with 75 (best Granny), Sinead Hegarty (20) with 76 (past captain); Ann A Gallery (nearest the pin), Shannon Hegarty (3) (long drive) and Martha Walsh (visitor's prize).
In the 9 hole competition the winner was Patricia Kerwin (29) with 23 points from Mary Walshe (17) with 19 points with third spot filled by Marian Irwin (21) with 19 points.
The lady captain's mixed foursomes was won by Patricia Kerwin and John Shannon with 46 points from Kieran and Lauren Fox who had a similar score. Eileen and Eamonn Corry were third with 44 poinTs followed by Mary Lenihan and Peter Quinn, also with 44.
The ladies 18 hole v par competition on Wednesday was won by Anna Marie Darmody with plus 2; Sinead Hegarty won division 1 with plus 1, Peggy Costello (21) won division 2 with a level score while Joan Murphy(32) was the division 3 winner with plus 1.
In the 9 hole stableford competition Marian Irwin (21) was the winner with 23 points while the category winners were Geraldine O'Mahoney (14) with 20 points, Mary O'Halloran (14) with 22 points and Alice Darcy (21) with 20 points.
Dromoland Golf Club:
Gordon O'Neill won the men's singles stableford 18 hole competition at Dromoland at the weekend with 39 points from Rob Kelly who had a similar score. Vinny Derham was third with Richard Woods in fourth spot and they also had 39 points while Diarmuid O'Connor won the gross.
Maria Nolan's President's prize to the ladies was won by Jean Colleran with 43 points from Sandra Moylan with 41, Sandra Smyth with 39 and Siobhan Fitzpatrick with 39. Joan Ryan won the gross with 25 points.
Ann McMahon won the 9 hole competition with 24 points while a similar competition for the men was won by Niall Melody with 20 points from Con Woods who also scored 20 points.
Siobhan Fitzpatrick had the longest drive while Niamh McDermott was nearest the pin. The nines were won by Dorothy Brennan with 20 points and Sheila Kent with 22 points.
East Clare Golf Club:
Marie Donnellan was the overall winner of the ladies 18 hole competition at East Clare last week with a nett 66. The category winners were Rachel Whelan with 68, Noreen Skehan with 71 and Ursula Hogan with 70.
In the men's 18 hole stroke competition the winner was Sean Ahern with 61 from Dominic Stuart with 65 with third spot filled by Tony Stuart with 67. Ben Rittweger won the gross with 70.
The men's open on Thursday was won by Danny Minogue with 39 from Tony Nelson with 37 with Willie Roche in third spot also with 37.
The winners of the ladies Wednesday competition were Terry Mulvihil, Breda Mc Carthy, Maureen Clune and Breda Reid from Pauline Nugent, Ursula Hogan, Breada O Loghlin and Mary Jo Minogue with third spot filled by Claire Ryan, Mary Hogan and Phil Burke.
The winners of the senior men's competition last week were Brendan Moloney, Sean Jones and Brian Torpey from Brian Corry, John Farrell and Paddy O'Brien with third spot filled by Noel Earley, Steve Symes and Tom Larkin.
The men's open competition continues every Thursday with the weekly mixed scramble on Friday evenings from 5.30p.m to 6.30p.m.
South of Ireland:
The 120th staging of the South of Ireland amateur championship took place at Lahinch last week and provided outstanding golf as the country's leading amateurs plus some overseas competitors competed for the prestigious title.
Hugh Foley from Royal Dublin emerged as the champion defeating Peter O'Keeffe from Douglas, 3 and 1 in the final on Sunday afternoon.
The new champion had won the North of Ireland championship ten days earlier at Royal Portrush. His win in Lahinch saw him become the first man since Darren Clarke in 1990 to complete this unique double. Incidentally Clarke was in winning form again at the weekend when he captured the Open seniors title.
Joshua Hill from Galgorm Castle set a new course record for the White course at Lahinch posting a 10-under par round of 62 on Thursday to be the leading qualifier after the 36-hole strokeplay competition.
Clare players taking part in the competition were Aaron McNulty and Stephen Loftus (both Lahinch), Killian Howard (Dromoland Castle) and Shane Lillis (Kilrush).
The Lahinch pair made it through to the matchplay stage of the competition and after recording good victories in the first round, they faced each other in round two where McNulty was a 4 and 3 winner. In the next round, however, he lost out to Robert Brazill from Naas.
The members' 'festival of golf' kicks off this Thursday with the Dr. Browne Cup (men's fourball) and Kilcreene Cup (ladies fourball). Timesheets for all major competitions will open online seven days in advance at 9a.m.with the exception of the President's (Richard Pyne) prize when the timesheet for both days (Friday August 12 and Saturday August 13) will open at 9:00am on Friday August 5.
On this Friday, Jim Nolan's captain's prize gets underway with qualifying rounds on Friday and Saturday. The top 27 nett stableford scores over the 2 days will qualify for the nine-hole playoff which will commence at 2.00pm on Sunday afternoon.
The Francis Garrahy Perpetual Plate (Captain's prize to the Senior Men) takes place on the Castle Course on Saturday (12.00pm – 2.00pm).
Woodstock Golf Club:
Last week's open singles at Woodstock was won by David Moloney (17) with 43 points from Ken Horgan(9) with a similar score. Vincents O'Grady (32) was third with 42 points while the gross was won by Jason Considine (1) with 33 points.
The category winners were Plunkett McNeilus (9) with 39 points, Brian Mulhern (16) with 41 and Declan Browne (32) with 42 points.
Ross Kenny (20) won the July medal with 65 nett from Kevin O'Neill (19) with 67, Chris McGrath (11) with 68 and Damian O'Halloran (19) with 68. Alan Markham (5) won the gross with 77 while the category winners were Stephen Dunne (10) with 69, Ruairi Breen (19) with 74 and Henry Butler (20) with 70.
The competition this weekend will be the captain's (Kieran Dromey) prize which will be a strokeplay competition off the white markers. The leading players will play a 9 hole play off on Monday.