My objective as a wedding photographer is not only to provide you with a great service and an amazing experience on your wedding day but also to capture fantastic images that tell the story of your special day and reflect who you really are.
I'm incredibly passionate and driven about delivering fantastic images. However, it's not just about the final photographs produced, but how we achieve them and I want to make this as enjoyable as possible for you. My aim is to ensure that you feel comfortable with me and my cameras and that I end up providing you with photographs that make you feel wonderful about yourself. I want to provide you with natural and vibrant images that you will be proud to hang on your walls or show off to friends and family in an album.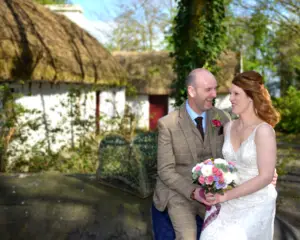 I am an observer and I tend to stand back and document your day capturing everything as it unfolds naturally. However, I'm all about getting the best images possible so if that means a little bit of direction from me to help things along or make you look better for the camera by perhaps standing or looking in a slightly different position or direction, then I'll say it. But most important, it will not look posed
I like to incorporate the environment, and on location, I seek out the best natural lighting and backdrops in which to place you and then wait to capture the feeling and human connection to tell your story and take you back to that moment in time. The textures and beautiful tones which can be achieved through contemporary processing techniques also play a part in the final outcome of your images.
I understand your wedding day can be quite busy and stressful and that's why I endeavour to make it so much easier for you. If you're looking for amazing wedding photos that will not look dated in a few years time.
For more information contact Call 087 260 2181