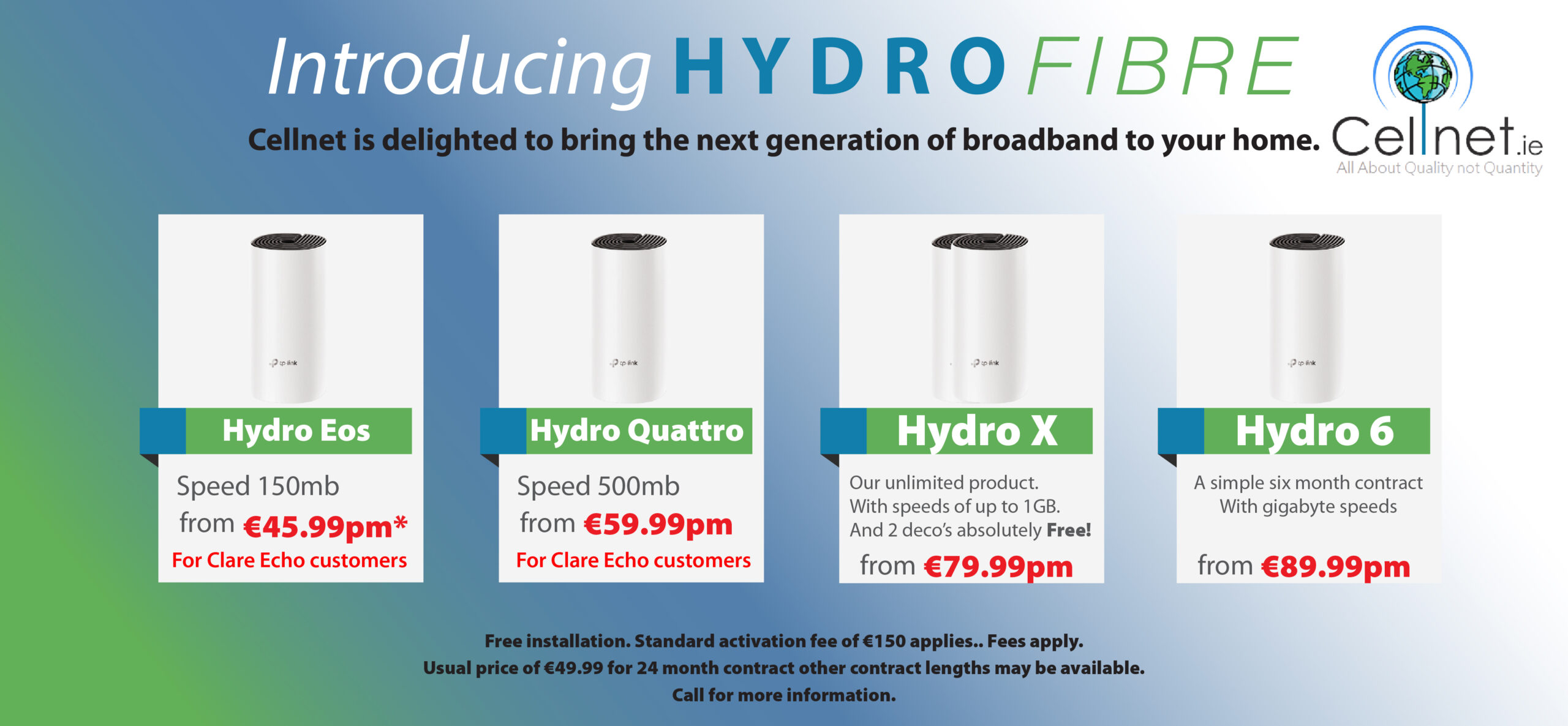 County Clare's Falls Hotel, formerly known as Ennistymon House, has seen a spate of reverential ownership throughout the centuries, from the autocratic O' Brien Dynasty to an IRA stronghold, little else compares to the trailblazing tale of John F Wood.
Recognised as 'an environmentalist before his time', Mr. Wood purchased the Falls Hotel in 1955 for a modest fee of £4,000 pounds. At the time, the Falls Hotel comprised of a neat Georgian House containing twenty rooms. His endearing daughter, Monica Murphy, tells The Clare Echo of how her father fought off the Spanish Flu and took to the skies in a tiger moth during the Second World War on his journey to bring hydroelectricity to the Falls Hotel.
John F Wood was born in Rutland, United Kingdom in the year 1905. He was one of nine siblings. In 1918, the entire family contracted the fatal Spanish Flu. Miraculously, Monica's grandmother nursed the whole family through, with everyone surviving. Ambitious and engineering minded, John left school after his GCSE's to pursue an apprenticeship in the motor industry in Darby. His love of mechanics and feats of engineering took him into the Royal Air Force, where he decorated the sky with aircraft like the Flying Flea, Test Drones and the infamous Tiger Moth. During wartime, he taught all the Free French, Free Polls and Free Dutch how to pilot the tiger moth. Later, one of his French pupils was to go on and conduct the very first test flight for the concord.
Inspired by summers spent as a young child on the Isle of Man assisting his aunt to run a Bed & Breakfast, John decided that he was going to run a hotel. On taking to the Emerald Isle alongside her father in search of a suitable property, Monica recalls, "He was looking for a hotel over here. He wanted out of England. He was about to sign for one in Bray or Dun Laoghaire when he got a call to come down to County Clare and take a look. He arrived down on a November evening in 1954. Straight away his engineering mind clicked into gear and he said, "I could put a turbine on that. And by 11pm that night he rang my Irish mother in England, and she was horrified to hear we had just bought a hotel in Clare."

Mr. Wood's first project was to bring hydroelectric power to the Falls Hotel. He set off in pursuit of a suitable turbine. Monica remembers that first winter in Clare, when her father found an old turbine in Ballinasloe, dating back to 1912. After several journeys up and down in an old station wagon, Mr. Wood had harnessed the power of the Inagh River, managing to power the public rooms of the hotel and heat the water with enough energy to spare to provide sufficient lighting outside. Mr. Wood elicited the help of his son Tony and nephew Howard who was a ships engineer, in order to put the finishing touches to what Monica deems his, "labour of love, all his life."
An engineer first, yet an inventor at heart, Monica tells of the various other projects that Mr. Wood put his hand to, "He was a motor engineer, but he was always inventing things. He designed a car at one stage but never made it. He also invented a wind charger, like a little windmill you would see on farms. I remember him going around Ireland, selling wind chargers before rural electrification. His other one was a doc stick, like a walking stick for farmers. If you were walking along your farm and you saw a weed, it had a hollow centre and a puncher at the end, where it would punch just enough weed killer, to kill the weeds."
Mr. Wood also pioneered a fish pass at the Falls Hotel, to allow the salmon to make it all the way up the river. This subsequently improved the fishing in the river. Fishermen had the right to fish for salmon and trout due to the river being tidal all the way up to the falls. Fishing season ran from May to September. Trawling in the river, a little less that two metres from the banks, has led to one of Monica's most prominent memories of her time at the falls.
"I could remember being in the kitchen one night, during one of the Friday's where I used to chef for the hotel. The fishermen came in with their salmon catch and I was standing in literally, a four-foot-high mountain of salmon on the floor. Unbelievable. I'll never forget that."
Reminiscing on their time in charge of the Falls Hotel, Monica tells of the love the family shared for their business. There were forty bedrooms at the time in comparison to one hundred and fifty now. She likens the experience to Fawlty Towers, with families working there throughout the 60s and 70s amidst the seamen strike and IRA tensions. British families would traverse the Irish Sea by ferry in search of a room at the Falls Hotel. One such room would cost nine guineas at the time. This would get your room, breakfast and morning coffee as well as a four-course lunch and dinner. Monica labels this as "the best time in our lives". The family sold the hotel in 1987 to current owners, Dan and Eileen McCarthy.
Whilst cocooning in her homestead in Dublin in 2020 and with most of the family having moved on from Co Clare, Monica recalls a recent flashback from her early childhood in which she feels she was in the back of a tiger moth, piloted by her valiant father
"I always had a feeling that I had been in a tiger moth. I had the feeling of sitting in the back of it but I couldn't really remember fully. Only, I can recall the black of the back of the seat with certain types of studs holding the seat up. I've had this memory in my head since I was four. Surely enough, my cousin just found the logbook and there was me, with half an hour logged, up in a tiger moth. He had taken me up in the sky to get a break from my mother. Funnily enough, I was watching the show The Crown and sure as god, there was the exact same black seat that I had in my memory. This helped me make the connection and figure it out."