*Joe Carey is elected on the tenth count of GE2020. Photograph: Joe Buckley
More tears were evident in the Carey camp than anywhere else on Monday as Joe's was arguably the most dramatic story of the election.
Wynne rode in on a national Sinn Féin wave, Crowe was widely expected to poll strongly and Michael McNamara's campaign had the most shrewd observers tipping him to sneak in. But Clarecastle's Joe Carey (FG) was all but written off despite the experience of three successful elections in his locker. Emotion hung on his every comment to The Clare Echo in his first interview just moments after being hoisted on the shoulders of his most ardent supporters, the trademark celebration in politics.
"Well I said it here four years ago, I said 'never underestimate the Careys'. That thing just continues to happen. No-one gave me a chance but I gave myself a chance and my canvassers gave myself a chance. I knew I was doing very well at the doors even though we knew it was a challenge. I felt this campaign was the best campaign we ever ran and it's proven it today, I've managed to get a huge amount of transfers from the Green Party, from Pat Breen (FG), from Martin Conway (FG)."
Not for the first time Carey has become the occupier of the fourth and final seat in Clare and it was those transfers which were key for the former St Flannan's student who first became a TD aged 31. Having secured 11,345 votes, by the tenth and final count Joe profited from 5,661 transfers versus the 2,867 transfers which went the way of his more high-profile Fianna Fáil rival Timmy Dooley. Carey did not arrive at the count centre until the eleventh hour but the emotion of the journey was not lost on him as he paid tribute to the Carey clan.
"It's a huge achievement to win a seat in Dáil Eireann, I've managed to do that on four occasions. I've a wonderful family, a wonderful wife, two kids, and my dad has been a huge rock of strength for me as have my brother and my sister Dónal and Leonora. We have a small family, the Carey family, and we've all come together and worked so hard to get this achievement today. It was a tough day for Fine Gael [so] it's fantastic we've managed to retain our seat here. It was a tough, tough battle. I'm deeply proud of what we've achieved and I'm going to work as hard as I can for the people of County Clare."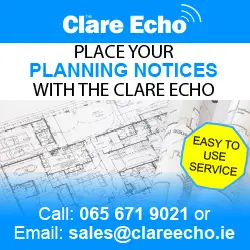 In fact, Joe admitted to us that it was a photograph of his family which gave him the belief that he would again be successful. "I put a message on Facebook the night before the election, I just put up a picture of my wife, myself and my two kids and the type of reaction I got to it was just incredible. Messages of goodwill and likes, my phone is on fire the last number of days, people wishing me well. It's vibrating there in my pocket at the moment as well, it's just off the Richter scale. I have a huge amount of support across Co Clare and people have come out and supported me and I'm hugely proud of that fact"
To the amazement of many Joe is the only incumbent to retain his seat and Joe tells us "it says a bit about me". However he was quick to commiserate his party colleague Pat Breen who he insists is "someone I have looked up to as a Fine Gael politician and it is sad to see him losing his seat. There was only a marginal difference between Pat and I, something in the margin of 280 votes and I was lucky to be ahead of him and stay on and win that seat."