*Tulla midfielder, Dan Withycombe. Photograph: Gerard O'Neill
TULLA was a proud senior club for forty years but were relegated in their 40th anniversary year, they are determined to return to the top table of Clare hurling.
Since the beginning of the year, the men from The Windswept Hill have signalled their intent of winning the intermediate championship. Should they do so, they will become the fourth East Clare team in a row to claim the Paddy Browne, following in the footsteps of Broadford, Scariff and Smith O'Briens.
"The target is to get back up to senior ranks. We have a good set up and we have got a great response from the players which we are hoping to bring to the pitch on Saturday," outlined Tulla manager, Jim McInerney.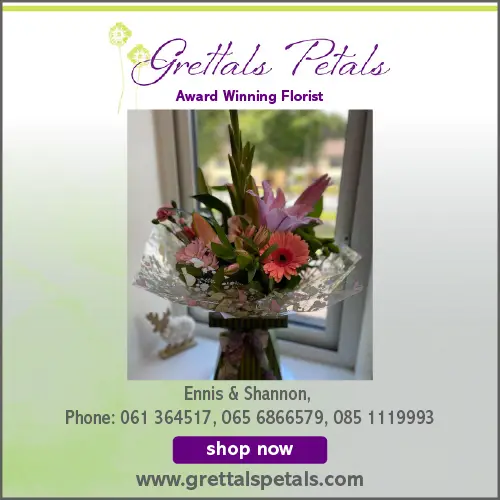 A member of Clare's All-Ireland winning senior team from 1995, the Tulla boss told The Clare Echo, "this would be a good time for us to go back up. Fourteen or fifteen of our panel are under 21. We have some good players coming through at under 14 and under 16 levels and we have some players from the St. Josephs, Tulla Harty cup winning side from earlier this year. These include Sean Withycombe, Tony Leyden, Dara and Fionn Ryan".
When Tulla won the Clare SHC in 2007, McInerney was manager, some lieutenants from the team which defeated Crusheen in the county final and lost the provincial decider to Loughmore-Casteliney are still lining out for the seniors. "We have two great servants of Tulla hurling in Sean Torpey and Paul Lynch who were part of the senior championship winning team from 2007. Éanna Torpey is back training with the team now and all three have given a valuable contribution to the club".
He is satisfied that "apart from a few niggles we hope to be able to call on everyone on Saturday. William Halpin is carrying an injury but we hope to be able to use him at some stage if needed. Daraagh Corry and David (McInerney) have managed to sort out their injuries which saw them miss a number of games earlier in the season".
McInerney explained that they played a lot of league games without a number of players due to injury and exams. "We had a lot of players doing the Leaving Certificate examination and we weren't able to use them until that was over and there were only a few games after that".
Getting back up to senior level in the same season that the club's new stand and meeting room facilities was opened would be "the icing on the cake", according to the farmer. "It's a fantastic facility and it would be great to be back in senior ranks in the same season that the new stand and meeting rooms were opened".
That said McInerney stressed that "we are not looking beyond St. Joseph's. Our focus throughout this campaign has been on the next game. While a Munster campaign would be great, it's the last thought in my head. While we lost our opening game in this campaign, we have improved from game to game. Both teams have learned that winning builds confidence. There is huge interest in hurling in Tulla and that's another reason why it would be great to get back to senior ranks", he concluded.