*Cathal Crowe. Photograph: Eamon Ward
Ever since becoming the youngest councillor in Clare back in 2004, Cathal Crowe (FF) has had one eye on entering national politics.
FACTFILE –
Occupation – Primary school teacher at Parteen NS
Family – I've two sisters, Yvonne and Emer, my parents are Mike and Irene. I'm married to Maeve, we have three kids, Sam, Charlie and Eve.
DOB – 01/10/82
Schools & Colleges Attended – Meelick NS, Ard Scoil Rís, University of Limerick, Mary Immaculate College
Political CV – Ex parliamentary assistant to Brian Crowley, elected representative of Clare County Council 2004 – PRESENT
Top 3 priorities – Shannon Airport, Health, Rural Agenda
Something the electorate don't know about you – I'm a bit of plane spotter
Schooled in politics by Willie O'Dea and former MEP, Brian Crowley, Cathal since last June has seen his countywide profile expand having been elected Cathaoirleach of Clare County Council. "I worked with Willie O'Dea quite a lot over the years, I learned one valuable thing from him, you don't go into hiding in between elections. That's how I operate as a councillor, there is a few now but for a while I was only the county councillor holding monthly clinics, it's a feature of how I've represented communities since 2004, I canvass and appear on doors in between elections, you stay active I learned that from him, you don't spring into action four weeks before an election".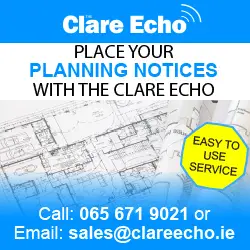 "In Ireland one of the problems I've seen is too many people are told by their local or national politician 'I'll look into it', that is not good enough. Paw Patrol is on in this house at the moment, they have the motto 'no job is too big and no job is too small', since the start of this election 1,117 emails have come in, it is important that if it's a pothole or something that needs to be raised in Europe it is important that a representative has the capacity to do that, my office has that capacity and I want to be able to take those issues further up the chain of command but still be anchored in the local community".
6,000 constituents that he previously canvassed with O'Dea situated in Westbury, Parteen, Shannonbanks, Ardnacrusha and Carraig Midhe are in the Clare constituency for the first time since 1989. To prevail in his first General Election, he needs to clean up in this particular part of the county.
"I've always wanted to enter national politics but because of the geography of things you needed to have a starting base, my home base has been divided between Council districts and Dáil constituencies, there was never a cohesive base I could start out from. You need to get a surge vote from a home area in order to be able to compete and you need to be able to get strong support countywide. This constituency is now the whole county, I feel I've a lot of work done and I've a lot to bring, I'm not wet behind the ears, I've contested and won four Council elections, it is essential entering national politics that you have experience of operating at local level and I have that in abundance. There is no better apprenticeships that serving on your local authority".
His online activity has been praised by constituents but over the course of the campaign he has also clashed online with running mate, Rita McInerney, he described their exchanges as "storm in a teacup stuff".
"It is vital in national politics, particularly the way opinion polls are going that there is cohesion within parties, Timmy, Rita and I are working well, the strategy is working well. We had talked months back about segregating off districts entirely to each candidate but the election came about so fast that there wasn't time to discuss that or implement it. The general agreement we have is that we're going throughout the county but respecting each other's heartland homebase and I've been doing for the last three and a half weeks, I've fully adhered to it and we may see the rewards to that on Sunday evening when the ballots are being counted".