*Cllr Paul Murphy and Deputy Joe Carey at Latoon Bridge. 
A Clare TD has said contents published in a front page story by The Clare Echo are entirely accurate despite claims from a party colleague that aspects were "untrue".
Both The Clare Echo and The Clare Champion reported earlier this month that Clare County Council Chief Executive, Pat Dowling was informed in April 2018 by Deputy Joe Carey (FG) that pyrite was present in houses in the county. The presence of this material found in defective concrete blocks is causing houses to crumble.
Deputy Carey received no reply from the Chief Executive when he encouraged him to begin an application for inclusion on a pyrite remediation scheme which Limerick City and County Council were in the process of doing at the time. An application was submitted to the Department of Housing, Planning and Local Government last month, three years on from the initial contact.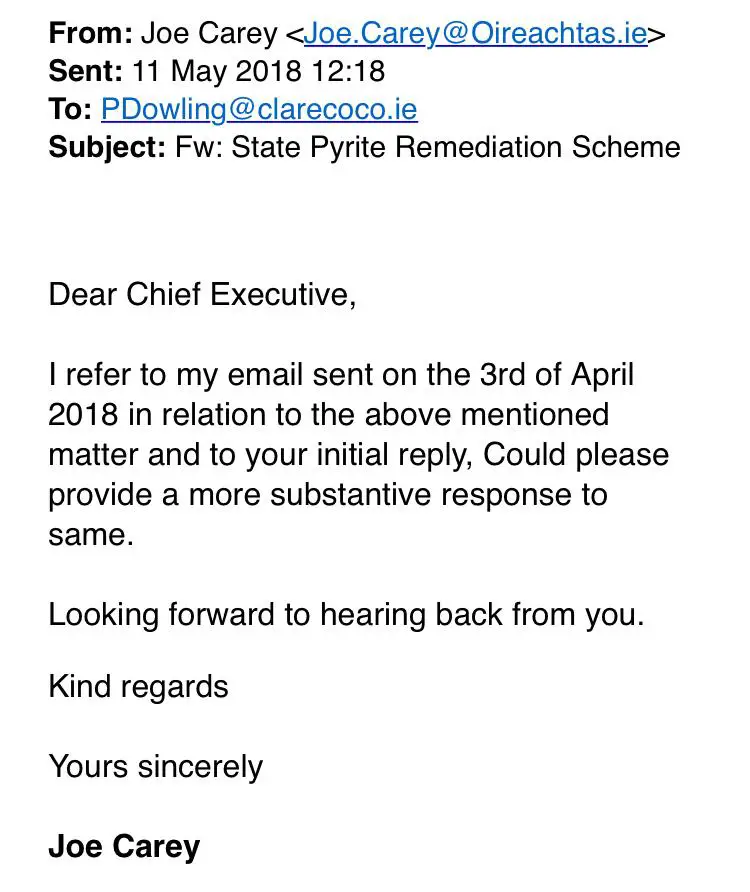 When contacted by The Clare Echo, a spokesperson for Clare County Council acknowledged that the matter was raised with them in April 2018 and that they contacted the Department's building standards section who "advised that it was a matter for the Pyrite Resolution Board to determine if the State Pyrite Remediation Scheme is to be extended to County Clare".
Speaking at a meeting of the Council's Social Development Strategic Policy Committee (SPC), Cllr Paul Murphy (FG) referenced the article by The Clare Echo and said "it does a disservice to Clare County Council". The former Mayor of Ennis commented, "I believe it wasn't entirely true".
He felt the local authority now had an onus to clarify aspects from the report. "I believe some it was untrue," Murphy reiterated. The Clarecastle native who was co-opted onto the local authority following Joe Carey's election to the Dáil in 2007 said the Council needed to respond to the story.
Cathaoirleach of the SPC, Cllr Gerry Flynn (IND) said he was not familiar with the article referenced. He felt the Council acted when motions were submitted by county councillors relating to pyrite.
Senior executive officer in the housing section of the Council, Siobhán McNulty confirmed to the meeting that a response had been issued to The Clare Echo before the article was published.
Speaking to The Clare Echo, Deputy Joe Carey (FG) defended the contents of the article and reiterated that the matter was brought to the attention of Mr Dowling three years ago. "It's there in black and white, what's not true about it," he said in reference to the correspondence of emails.