Russell Vickers with the Tánaiste Leo Varadkar in a Tesla outside the FMCI campus. Photograph: Arthur Ellis
A €5.5m STATE OF THE ART centre which will enhance Ireland's reputation for automation and shared mobility solutions has been officially opened in Shannon.
Future Mobility Campus Ireland (FMCI) is the country's first full-scale development centre and test-bed for mobility technologies. The facility focuses on technology research and development spanning ground and air uses.
Projects involving unmanned drones, electric vertical take-off and landing aircraft (eVTOL), Advanced Air Mobility (AAM), autonomous driving, micro-mobility, smart cities, and V2X vehicle communication systems are accommodated at the commercial campus which aspires to stimulate international investment and job creation, as well as consolidating Ireland's reputation for leadership in connected, automated, electrified and shared mobility solutions.
Large and small-scale enterprise are among the parties supported by the facility, they range from individual researchers to multi-national corporations, start-ups and Government entities. Partners consist of companies such as Jaguar Land Rover, Shannon Group, Cisco, Valeo, Seagate, Red Hat, Taoglas, Mergon, Exida, Analog Devices, General Motors, Pipiper, Collins Aerospace and Avtrain.
Russell Vickers, CEO of FMCI admitted it was "very surreal" to be hosting the official opening. "We are trying to build an ecosystem, it may seem like notions of grandeur but that is what we're trying to do. This realises the potential of opening an ecosystem". He admitted that the arrival of Jaguar & Land Rover to Shannon was the beginning of FMCI's journey as it showcased a trust in the region's potential and the skills of its workforce.
Having worked tirelessly on the project the effects of which impacted on his hair colour, the opening was never going to be a day Russell would forget, especially so as it was his wedding anniversary. "It was an idea on a piece of paper that we thought was cool, you're standing in the cool thing today, some people call it the bat cave and that's the look we were going for".
He acknowledged the support of partners such as Enterprise Ireland and the IDA for opening doors that are now moving forward. "It has been an amazing journey but this is just the start," he outlined.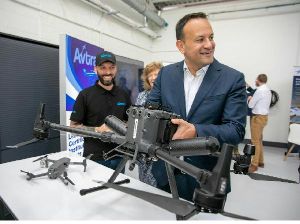 Tánaiste and Minister for Enterprise, Trade and Employment, Leo Varadkar (FG) officially opened the facility. He expressed the view that the Mid-West is at the core of "the future of transport" and had "enormous potential" with "autonomous vehicles, trucks and vans that can drive themselves into the future". He quipped that there could be "implications for privacy" such as "drones flying around" that may be able to video people sunbathing in their back-gardens and also potential loss of jobs for the predominantly male truck drivers.
CEO of Enterprise Ireland, Leo Clancy noted that the achievements of FMCI "hasn't been easy". He stated, "It is not just an asset for this region but an asset to the world". The support of the Irish Aviation Authority in facilitating the drone activity shows them as "one of the most progressive aviation authorities in the world," he affirmed.
Last month, a European consortium coordinated by FMCI was approved and funded by the EU to develop a 'Digital Sky Demonstrator' for aerial Unmanned Traffic Management (UTM) systems. The ground-breaking new research was a major vote of confidence in Ireland's resourcing of advanced air mobility development, industry operators and expertise present locally. The UTM research project will also support modernisation of air traffic management in Europe, building an end-to-end ecosystem that supports safe operation of unmanned flights, to help both conventional and unmanned aircraft safely integrate operations.
In keeping with the Shannon facility's rapid development, on Thursday FMCI was awarded a priming grant as part of the Regional Enterprise Innovation Scoping Scheme (REISS), to prepare for development of a large-scale Advanced Air Mobility hub, which will enable large scale eVTOL services.
Funded by the Department of Enterprise, Trade and Employment through Enterprise Ireland, and financial contributions from the local authorities of Clare County Council, Limerick City and County Council, the Western Development Commission and industry partners, the unique FMCI campus at Shannon has state-of-the-art facilities for aerospace and automotive research and development, including a recently opened Advanced Air Mobility Hub.