Clare based band Irial Jones have released a new single entitled 'Wait and See', which was recorded in the quiet countryside of Clare this summer and subsequently released online via YouTube and Spotify.
Cian Kelly both sings and plays guitar for the band, who bolster a unique style stemming from strong influences of the Indie/Alternative music scene of the early 2000s. Twenty-nine year old Cian Kelly talks about how the new hit single came together, his delight at being mentioned in Hot Press Online, some hopes for the future and the leering uncertainty felt by all sanguine singers, performers and musicians in the current climate.
Originally from Ballymun, Cian moved to Ennis when he was young, where he went to school in Gaelcholaiste an Chláir. Irial Jones formed out of a few previous groups that Cian was involved with and the band members tend to fluctuate, with the bulk of the work being done by Cian and his producer Sean.
During a brainstorming session a few futile attempts were fused together to form a fitting name for the band. Eventually they arrived at Irial Jones, which Cian quips forms part of his actual name. The writing process begins with Cian, who then takes it to others to develop further. This can be anyone from friends, family or other musicians from Clare or London. Most importantly, Cian works with his producer Sean Montgomery Dietz to finalise his projects. It was in this way that Irial Jones' debut single, Wait and See, came to fruition.
"We recorded here in Clare in Studio Ekala, out in the countryside, near forests and streams and many other calming things which is the perfect environment for recording, if you hit any speed bumps you can reset yourself and begin again. The song deals with the breakdown of a relationship and the inability of each party to see where the other is coming from. I guess the main message is to stay positive and hold out hope for reconciliation."
Birthed in a time of restrictions and the inability to publicly perform to an audience, Cian hopes that the band can play live gigs in Clare in the future, having been denied the opportunity to bring their new single to the public in physical form. 'It is weirdly serendipitous that our first single encapsulates the current feeling of our times, we will just have to wait and see.' One positive that has come for the band is a mention in Hot Press Online, dubbing the group as 'coming in hot with their infectious-but-poignant debut single.' Cian expressed his gratitude at such positive feedback and support from a distinguished publisher.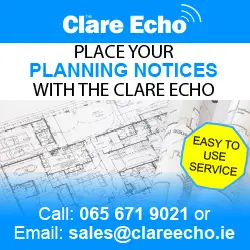 On the future of the band, Cian contends, "Currently we're in the process of getting "Wait and See" printed to vinyl, as part of a split release with another Irish artist. We are in studio at the moment working on the rest of the album, and will have a couple more singles coming soon, before its release. You can find it on all of the major streaming platforms like YouTube and Spotify."