An inspection of wheelchair accessible car parking space is to be undertaken in the county town.
All wheelchair accessible car parking spaces in the Ennis Municipal District are to be examined on the back of a motion from Cllr Mark Nestor (FF). He wished to determine if all spaces were in compliance with the Irish Wheelchair Association access guidelines.
Under these guidelines, all spaces should be located as close as possible to the main entrance of a store or facility and located on firm, non-slip level ground. There should be a minimum of one accessible parking bay, then one accessible bay for every 15 parking bays provided. Of these accessible parking bays, one in four should be designed to accommodate large multi-purpose vehicles.
A standard accessible parking bay should be 4800mm x 6000mm, this includes a 1200mm wide access zone on both sides and to the rear.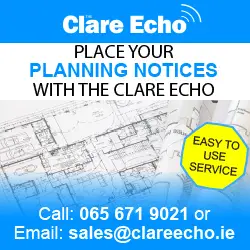 Senior engineer in the Ennis MD, Eamon O'Dea confirmed an inspection was to be undertaken and that councillors would be briefed on its inspection and assessment. No timeline for the inspection was detailed at the meeting.
Concerns regarding adequate space for persons getting out of cars and accessing footpaths prompted Cllr Nestor to table the motion, he outlined.
"It is an issue," Cllr Ann Norton (IND) maintained. She flagged that wheelchair spaces dip from the movement of the gravel put under the parking space making an uneven surface, "this can be very frustrating or annoying for someone with a difficulty of movement". Norton raised her annoyance with stalls in the Market on Saturdays taking up wheelchair spaces.