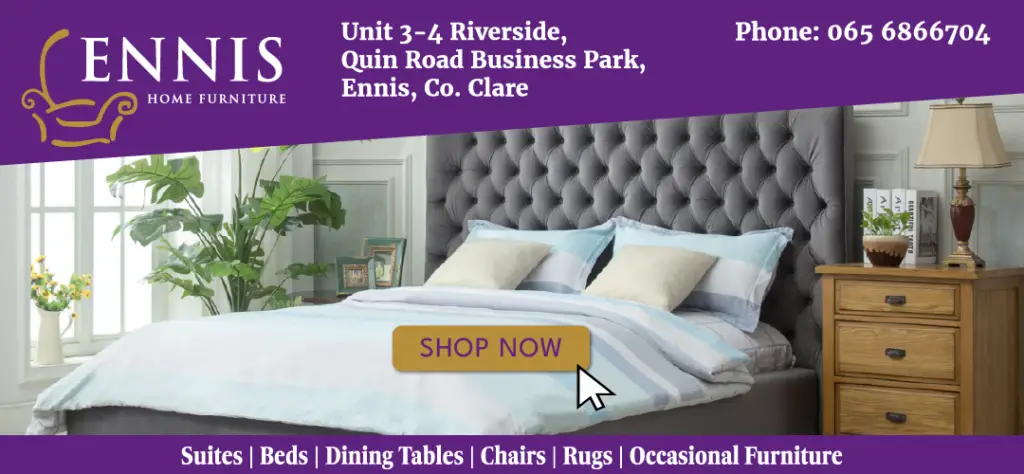 *Photograph: Peter O'Connell
OVERNIGHT PROTESTS have been held in Inch as locals block access to Magowna House which is to be used for accommodating male asylum seekers.
The Clare Echo first reported last week that a twelve month contract was to be provided to the owners of Magowna House with the three star hotel in Inch set to take in 69 refugees. A twelve month contract has been offered to operators of the hotel by the Department of Children, Equality, Disability, Integration and Youth. The hotel has been closed since 2019.
Shortly after 6:30pm on Monday evening, 34 asylum seekers arrived by bus to Magowna House. Within minutes, up to 50 people had blockaded both entrances to the hotel with tractors and cars used to stop more buses arriving to Inch. Two uniformed Gardaí arrived on the scene at approximately 7pm, their presence along with that of protestors has continued overnight.
Initially local residents had stopped anything from going through including a pizza delivery driver but have since changed their stance on humanitarian grounds to allow the delivery of food to the 34 men. Overnight road blocks were also set up.
A further demonstration is to take place outside the offices of Clare County Council on Tuesday morning, the local authority has no role in international protection applicants.
However, the Council did deem the site unsuitable to accommodate Ukrainian refugees when they assessed it last year.
On Friday evening, strong local opposition was voiced at a public meeting held at the Kilmaley Inn.
Clare TD, Michael McNamara (IND) told The Clare Echo, "I'm very disappointed in the manner in which it was done, I asked a month ago what was happening, I asked the relevant Minister Roderic O'Gorman and I have put in follow up requests but only today we find out that 69 people will be going into the 19 rooms. We've received absolutely no information or consultation as to what additional services will be provided to the community".
He added, "the addition of 70 people in town the size of Miltown Malbay or Scariff would be a sizeable addition never mind a much smaller community like Inch". "It is a very bad way of doing business," Deputy McNamara said of the Department's approach.
Lack of engagement by the Department will result in fears among the local community on the impact to existing services. "It's much more than public consultation that is needed," the Scariff native commented. What happens to local health services and whether additional transport will be provided in the locality needs to be outlined, he said.