*Caoimhe Harvey in action for Clare during the League this Spring. Photograph: Gerard O'Neill
An ability to lift communities is a trait of the GAA's which has been forgotten by sections of the Irish public criticising the continuation of inter-county games, Clare ladies footballer Caoimhe Harvey has said.
Clare's intermediate ladies footballers begin their All-Ireland campaign this Sunday in Banagher with Caoimhe Harvey expected to play a key role for James Murrihy's charges.
Dissenting voices slamming the allowance of inter-county games to proceed has frustrated Caoimhe and inter-county players across the country. "There's pros and cons to every situation, you could read articles until the cows come home, if the group of players are minding themselves. People are really putting the GAA down, I understand businesses are closed, a lot of business owners are going through an extremely tough time and seeing the GAA is still going ahead can be very tough for them but not a lot of cases have come out of the GAA and that is down to protocols put in place.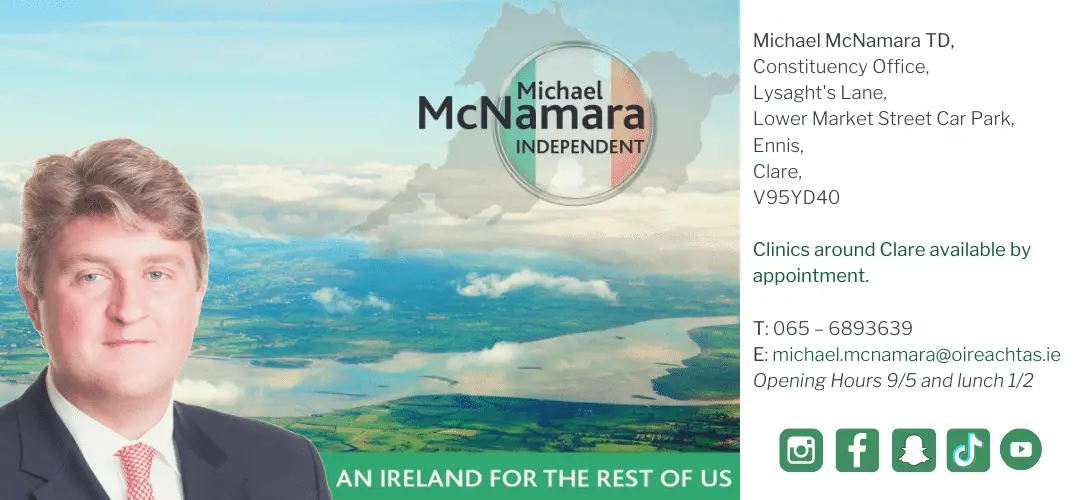 "I wouldn't call us elite in any shape or form but there is definitely a level of responsibility on each person within a group and that is the same for any person in any workplace or anywhere, it is down to every individual and what they can do, we are gone back into a Level 5 lockdown but I'd rather be watching GAA on a Saturday or Sunday instead of God only knows what I'd have to watch instead. It is great to see the GAA back".
She is adamant that a safe environment exists at inter-county training. "I'd be worried about COVID but it is great to have an outlet. The only time we're in contact with each other is when we're in full matchplay and full games, we don't meet each other outside of that, we're sticking to all the regulations, I know I wouldn't be here if I wasn't going to be safe".
As Ireland entered a second lockdown, memories of the GAA's role in running charity fundraisers earlier in the year for groups and charities appeared to have been forgotten. The efforts had not vanished from the mind of Harvey nor her bank balance. "Back in June I must have given €400 or €500 like most other people to different charities through GAA fundraisers. With Clare, we raised €11,000 for four charities within our communities that might need the funds. People seem to have forgot that what GAA clubs really bring is they bring communities together, in the toughest of times it is the GAA that brings you out of it".
The Querrin native added, "Ireland is known for the GAA, we send our sympathies to all the business owners that have had to close again but we hope we bring them joy and light at the end of the tunnel with the GAA".
Caoimhe is appreciative of the fact that her 5km radius from home is also in one of the scenic parts of West Clare. "I could be stuck in the city centre but I'm not. I look out and I see the River Shannon every morning, there mightn't be a house for one kilometre but we're blessed to have our five kilometre radius where we are".
Her first year on the intermediate panel saw Clare then managed by Neil Moynihan lose out to Kildare in the All-Ireland final. "We lost to them in 2016 and in then in 2018 we had them in championship and only beat them by a small margin. It can go either way, there is a rivalry between us, we just want to get back to Croke Park and back to our best".
Sunday's tie may be an opening round but the stakes are high as the AIB employee highlighted. "If we don't show up against Kildare then the championship is more or less over. We'll know after that game where we are and how we're set. We have a fantastic group of players, we just have to go out and play football. At the end of the day we can only play fifteen on fifteen, you can have all the tactics in the world but if the ball is there and it's going into the back of the net that's where it should be going".
Concluding the club championship before the inter-county got underway was a unique experience in what Caoimhe described as "a year of uncertainty for a lot of people". "It was a shock for a lot of people for West Clare Gaels to have got to a county final, we are just focused on Clare but it was definitely weird playing club before county but the club was great and it was great for the girls to get to properly perform with our clubs because it was something we didn't get to do over the years. It didn't end the way we wanted it to go but everything happens for a reason".