*A section of the N85 at Inagh. 
Consultants for works along the N85 from Ennis to Ennistymon are to be appointed in early 2020, a Director of Service with Clare County Council has confirmed.
"What is the current status of planning for long overdue upgrade and realignment works on the N85 from Ennis to Ennistymon," Cllr Shane Talty (FF) asked at the November meeting of the local authority.
Director of Service, Carmel Kirby in a written response to the North Clare representative said "certain sections" of the N85 require upgrading. "Members will be aware that a plan to upgrade a 3km section from just west of Kilnamona Cross eastwards towards Ennis was being advanced.  The preferred route was for the most part offline and in developing the design for same, surveys and geotechnical investigation work identified that there would be a significant cut and fill imbalance meaning that there would be a substantial volume of surplus material requiring to be disposed of offsite rendering that particular design unviable".
Following ongoing discussion with Transport Infrastructure Ireland (TII) approval has been given to extend the scheme by a further 1.5km which brings the proposed tie in point on the eastern side just up from Whelan's Quarry. "We are currently engaging in survey work that will inform the project brief for the appointment of consultants in early 2020 and I will keep members informed of progress in this regard," Kirby added.
Locally there is annoyance at the delay to carrying out the works, Cllr Talty outlined. "It is hard for a frustrated public not to be sceptical. The road is a gateway to the North West of the county, it is vital route for thousands of commuters travelling to Ennis, Shannon and Galway".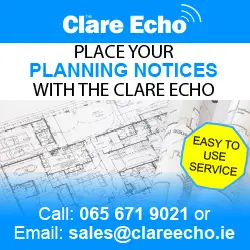 Talty committed to keeping the item on the agenda. "If we were in Mayo we could have get €280m in funding for a motorway to Ennistymon," he added.