Theresa O'Donohoe (PBP) has been involved in policy making for the last twelve years, she feels now is the time to put such ideas in practice.
Occupation – Mother & Change Maker
Family – Five children. Three brothers, two sisters.
DOB – 23/11/69
Schools/Colleges Attended – Presentation Primary School, Presentation Secondary School Terenure, Roslyn Park Rehabilitation College.
Political CV – Ex member of Green Party, ex member of Social Democrat party.
Top 3 priorities – Housing, Health & Environment
Something the electorate don't know about you – First captain of winning Ballyboden St Enda's Camogie team.
Approached twice by the Green Party in General Elections in Laois and Clare, Theresa answered the call from People Before Profit to become their first ever political candidate in Clare. A member of the Clare Environmental Network, Futureproof Clare and Extinction Rebellion Clare, she flagged that PBP have a full eco manifesto.
"They are really Green but they also have the economic policy to support climate action, no party has that. Other parties are all on for big corporate enterprise for our alternatives on energy but People Before Profit are very much into community and nationally owned energy security".
Contesting local elections is not of interest to O'Donohoe. "I participate adequately in local politics through Clare PPN, I have a more independent voice through the PPN," she stated.
Born in Dublin, Theresa's father hailed from Gleninagh. Sickness in the final week of the campaign has limited the amount of canvassing she will be able to do. "I need to do my home base but it is very hard when you are not well, I will do online canvassing and some podcasts, physically getting onto doors I love doing it but I hadn't enough time".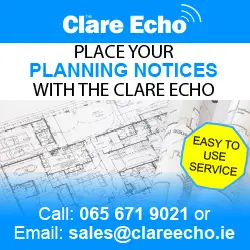 Giving a small window of time for potential candidate is a decision that has irked the Lisdoonvarna resident. "It is a very strategic move by the Government to give such a short lead-in, before they called the election we had leaflets in the door from Pat Breen and Timmy Dooley to tell us how well they were doing, within twenty four hours there was an election called".
Subsequently she admitted votes are going to be lost as she hasn't got to canvass much of the county. "People that you get to talk to will ask questions and when you engage with people they get where you're coming from, they appreciate what you are doing and understand the policies".
Her profile as a local activist is something Theresa maintained will help secure votes. "People know that I have integrity and that I'm honest, if honesty is appreciated in politics is another thing, they know that I act as a conduit for what they need to know and what they need to pass on. I fight like Katie Taylor when I have something to fight about".
On why she chose to seek election in 2020, O'Donoghoe said, "The country is so bad, I can't stand by and say I didn't try to get involved. I've been involved in policy for twelve years, I've written a lot of policy that the Government has lauded and claimed as their own ideas and included in policy but it sits on shelves gathering dust. I want to get in and implement policy that I've been shaping for the last twelve years".