*Colm Rice races away from Matt O'Shea. Photograph: Gerard O'Neill
GROWING IN CONFIDENCE with every outing, Corofin's senior footballers have the task of taking down the county champions in the semi-finals.
Wins over St Joseph's Miltown and Lissycasey have seen the reigning intermediate champions advance to the last four where they will face off with Éire Óg for the second time in this year's championship.
When they met in the group stages, Éire Óg had a 3-08 0-10 win over the North Clare side but with more and more players becoming available, joint manager Douglas Hurley says their growing strength is evident.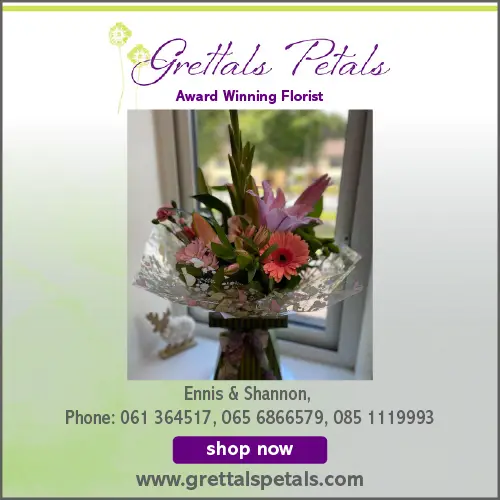 Speaking following their quarter-final win over Lissycasey, Hurley outlined, "Today was the strongest we togged all year, we had three extra backs togging today that didn't tog against Éire Óg, we need everyone, thirteen of those starters will be starting next Sunday (hurling semi-final against St Joseph's Doora/Barefield). We'd Conor Leen and Colm Rice back in today, we had Damien O'Loughlin to full fitness, today was the strongest we've been all year so hopefully barring injuries we will stay that way".
Crusheen native Cilléin Mullins a regular starter in their defence was introduced as their final substitute which served as another indicator of the increasing panel depth at their disposal. "Cilléin was injured when he played against Éire Óg, he shouldn't have played, he was unlucky but that's the competition. Kevin Keane another lad coming on, we've competition for places and that's what you need".
To reach the last four is a "fantastic" achievement but Hurley and the entire squad are eager to drive on. "They are a good crop of young players, we knew we had a fifty fifty chance here and a lot of people didn't give us a chance, we were 2/1 with the bookies but we knew we had a fifty fifty chance and it will be the same the next day, we'll look forward to another sixty minute performance and give it our lot".
Impressed with their spread of nine scorers in the quarter-final, Doug acknowledged that the dismissal of Mikey O'Neill was a huge turning point. "The sending off was a big turning point for Lissycasey, we scored 1-19, we probably left a few scores after us, we have a lot to work on, we conceded 0-15 but you have to be impressed with our spread of scorers, the Cahills, Robin Mounsey, Jamie Malone all scored".
He added, "They are a good side, they were bound to get a patch on the game and come on top. The red card was the nail in their coffin and we controlled it after that, Lissycasey are a good side, they were in the last two county semi-finals, we knew we had our work cut out for us".
Concentration and an alertness saw Corofin raid for the all-important goal on forty nine minutes. A Damien O'Loughlin block at the opposite end of the field prevented an Aaron Griffin score with Lissycasey netminder Thomas Collins producing a finger-tip save to stop Kevin Keane but the breaking ball was rescued and ended up with Jamie Malone palming to the back of the net.
Hurley maintained, "It was Kevin Keane showing us a point, today was the first day he was left off, no way was he letting the ball come out handy, we were in the habit of letting lads out handy, we said we wouldn't today and that's what it came from not letting the ball out handy and the will to win".
Part of the Corofin panel who last contested a Clare SFC semi-final in 1995, going down to the Faughs, Doug is hopeful his charges can advance to a first ever decider. First they have to focus on an intermediate hurling semi-final where St Joseph's Doora/Barefield are their opponents. "We won't get to see them until next Tuesday night because they've a county semi-final in hurling next Sunday but it's a great place to be".