*Photograph: Eamon Ward
A HPV vaccine jersey fitting day will take place at Clare County Council this Friday.
There was unanimous backing to a motion from Cllr Paul Murphy (FG) to the local authority earlier this year to hold such an event. The jersey fitting day runs from 10am to 2pm this Friday at the Council offices on the New Rd in Ennis. Fittings and orders will be taken on the day, there will be a selection of five jerseys each for sale at €17.
Shane Collins, the man behind Ború Sports, the sports company who has designed thousands of jerseys sporting the HPV vaccine logo told The Clare Echo they have been "honoured" to be involved in the campaign.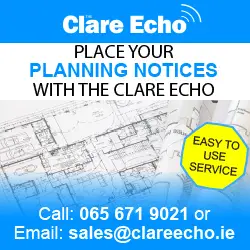 "At Boru Sports we were honored to be given the task of designing a jersey for this worthy campaign. For a small company with only five or six employees it made a massive difference to our business, it afforded us the opportunity to produce sportswear for clubs throughout the country and beyond for whom we hadn't previously worked with".
He added, "We are very grateful to Niall O'Connor, Kevin Brennan and the Brennan family for linking up with us for this initiative. It certainly went way above all our expectations and the volume of jerseys sold is a mark to Laura's legacy".
According to the Newmarket-on-Fergus native, jersey sales have dipped with the GAA season winding down. However Shane pointed out, "The initiative continues in other ways with Liscannor and Cratloe underage teams recently getting quarter zip tops incorporating the HPV logo. Various local businesses have come on board kitting out their staff while the Clare Ladies Cycling Club currently have an order in for cycling tops".