Two homeless men living in Ennis have criticised the stance taken by Fr. Tom Ryan in telling them "to disappear" from the Cathedral grounds but have praised the people of Clare for their kindness.
On Tuesday night, The Clare Echo sat down with Peter and Tomasz, two Polish natives that sleep on the streets of the county town, their location varies depending on the weather and they are grateful to the generous people that provide them with food, duvets and clothes.
Forty one year old, Peter was the best friend of Josef Pavelka the Czech national who slept intermittently in the public toilets of Ennis and was found dead in a laneway six years ago. In the past he has attended residential programmes for alcohol addiction and is currently on a three month suspended sentence of which he has ten days left, "It is my fault I am homeless", he stated.
From 2007 to 2013, he has lived in Ennis, after the death of Josef he moved to Limerick City for two years then returning to Poland for a few months before coming back to Clare. "I've been homeless in Limerick and Ennis but I prefer to be homeless in Ennis because the people in Ennis are very friendly, they let me sleep here, they give me food, tobacco, cigarettes, coins. I love Ennis".
His daily routine sees Peter wake at 7am and tidy up his belongings. He explained what he does for the rest of the day, "I spend six hours sitting in the street outside Dunnes Stores or wherever, smoking a cigarette, the people give me small coins, I don't ask' I just sit and smoke, the people give me the money themselves. It's a very lovely town, I love this town". When night comes, he admitted to feeling safe but tries to be alert whenever he hears noise. "I am homeless and you have to be very careful, you sleep like a cat if one person is coming you stand up because you don't know who, I still feel safe".
"Three nights ago I sleep across the road from [An O'Connell St business] then some lady, a very lovely lady gives me chips, chicken, coke and cigarettes, I said that was enough but she said 'No' and gave me all the change in coins. At two o'clock in the morning, I was sleeping outside and the Guards come, 'Peter wake up', I say 'why, I don't have any alcohol behind me, nothing, I have just the cigarettes just something to roll up in my pocket', they said 'you have to move' and it was raining".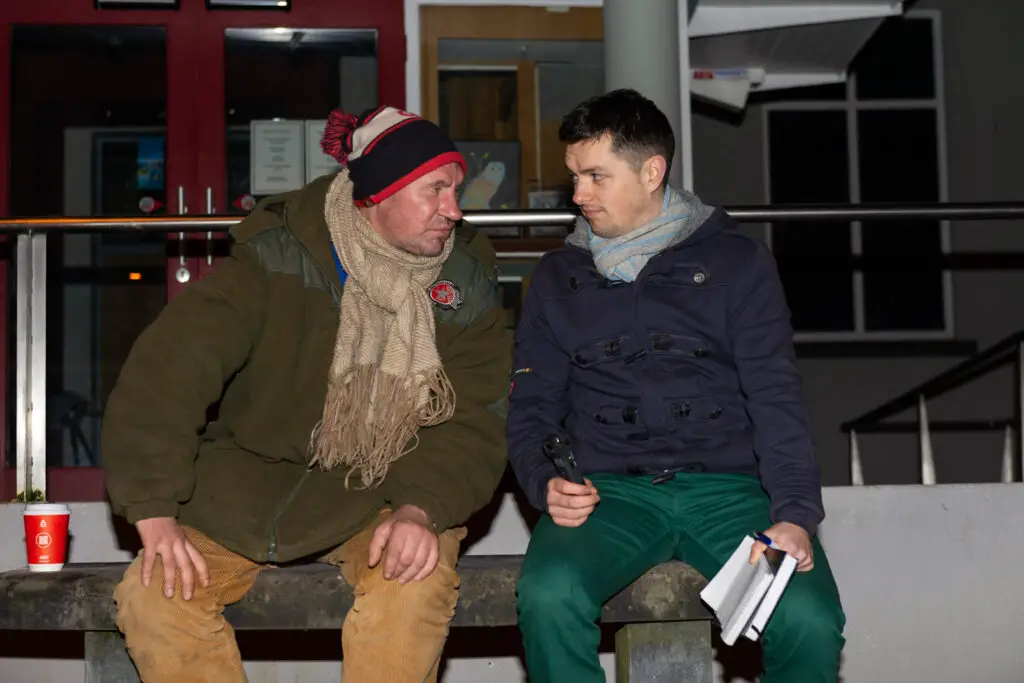 At Christmas, he was invited to the home of Josephine O'Brien where "I had a lot of food". He is also thankful to Pat Cahill of St Vincent de Paul's Laurel Lodge for allowing him to use their facilities "every second day I go for a shower and shave".
Following instances of people drinking alcohol, smoking, and urinating in Ennis Cathedral, Fr. Tom Ryan has adopted a zero tolerance policy to any individual frequenting around the Cathedral or its grounds. According to Peter who attended mass every morning, the priest behaves in different ways at different locations. "He is like the movie Dr Jekyll and Mr Hyde. Dr Jekyll in the Church, Mr Hyde in the street. In Dunnes Stores he shook my hand and I said to him 'excuse me, twenty minutes ago you pushed me out from church, now you shake my hand'. No mercy, it's stupid".
Peter hopes someday to live in a one bedroom apartment with a kitchen and bathroom. "I need just a one bed apartment, that's it. I don't care which part in the Ennis, maybe Limerick, maybe Dublin or Donegal I don't mind, just a one bedroom apartment, I don't care where, maybe Cork".
Tomasz agrees with Peter's criticism of Fr. Tom Ryan but unlike him, he has no aspirations to be off the streets. "I am a street man, I love my life and I don't need accommodation. I love my life and I am happy absolutely".
He has been in Ennis for twelve years having previously worked in Galway, Longford and Killarney. "Ennis people are absolutely perfect, they know me, I know them and I don't mind if they are travellers or settled people, I know lots of people and I love them, Ennis is the best town in this country".
Like Peter, Tomasz is a Roman Catholic who has been angered by the comments expressed by Fr. Ryan. "When I met Mr Ryan the priest, he said to me 'your name is Tom that's my name too and you are Polish I said yes', there was no cans or bottles around me, he said 'say to your friends tell them you must disappear from the Cathedral', he said 'this is my rules, my church, I am the boss', I said 'excuse me father all my life, I am nearly fifty next year so I've been told 'this is our church not your church and your rules'. As a homeless man it was very sad to be kicked like a dog. I am a Catholic and no one will move me like that, I don't want to fight with him, I miss Fr Hogan very much, he was a good guy, he gave me accommodation and told me that he would help me and I would help him, it was as simple as that".
However he has no intention of developing a bad relationship with the former Shannon parish priest. "I don't want to be an enemy of his, he is an Irishman, I am a foreigner I came to your country, I would like to shake his hand. I love the Irish people, I have lots of friends around. I love the people around the Church, they know me, I know them, they are absolutely brilliant. I know I am homeless but when someone would tell you to get out it's not nice".
Despite being on the streets, Tomasz manages to stay updated on what is happening in the town, he felt Clare County Council could have better spent the €1.75m which was the cost of the Ennis Market building. "When the Council built the white shed in the Market for nearly two million euros, I don't mind it's not my money they should have built something for the homeless women, it's important but they built that".
When speaking about the generosity he has encountered while on the streets, Tomasz recalled an instance in which a five year old girl and her mother woke him whilst sleeping. "When Fr Hogan was there twice I slept at the front of the parish office. There a child with a lady, she was five years old and she woke me and said 'I've got something for you', I looked at her this five year old child with her mother beside her, she said 'I've got a tenner for you', I told her I could not accept it because she was a child but the mother said 'When she wants to give you something, accept it'. I didn't want to take it but she said to take it".
It is less than six years since the death of Josef Pavelka. His funeral mass was celebrated by Fr. Ger Fitzgerald who in his homily stated, "We need to work with each other to improve on the wonderful work already happening. We need to unite to ensure what happened to Josef will not happen to anyone else. To those in power here in Ennis and in Ireland, I ask you, I plead with you on my knees, to you as a representative of Jesus here in Ennis, I ask you to please review the policies we have towards the homeless and the weak."
The Clare Echo's attempts to contact Fr. Tom Ryan at the time of going to print were unsuccessful, a spokesperson for the Ennis Parish Office said, "Fr Tom is out of the country and unable to comment at this particular time".